How to become a handyman: A step-by-step guide
---
8 min read

If you're proficient around the house and have a knack for building, maintaining or fixing minor repairs, you can turn your passion into a lucrative profession. 53% of homeowners will not attempt to make small repairs and choose to call in a professional instead[1], so a job as a handyman can lead to consistent work.
Like most trade jobs, there are a lot of perks that can come along with it if you decide to go at it alone and become a self-employed handyman. These can include choosing your working hours, picking what jobs you want to do and setting your prices[2]. Starting a business out of odd jobs isn't plain sailing though, as self-employment is a big responsibility.
Read this guide to learn more about how to become a handyman, what the average handyman hourly rate is and if you need a licence to become a handyman.
8 steps on starting a handyman business
      Make sure you have the relevant licences and qualifications
      Be trained in the skills required to be a handyman
      Decide on domestic or business environments
      Purchase handyman tools and equipment
      Register as a self-employed handyman or handyman business
      Choose your handyman hourly rate
      Get business insurance that's relevant for a handyman
      Market your handyman business
1) Make sure you have the relevant licences and qualifications
When starting your career as a handyman, you are not legally obligated to gain any educational qualifications. The only requirement is to prove you have competent DIY skills, though there are a few steps that you can take to make getting started in the handyman business that much easier[3]:
        Take a short DIY course at college – these courses have no set entry requirements for application and there are various ways to fund this, including bursaries or an Advanced Learning Loan if you're 19 and older[4].
        Consider an apprenticeship – various GCSEs are the entry requirement for getting a place as a handyman apprentice[6].
        Volunteer – you can build your DIY skillset with volunteer work helping charities.
2) Skills required to be a handyman
If you're looking at starting a professional career as a handyman, you might be unclear on what  skills you may need for the job. Depending on what area you want to go into – domestic or business environments – you may encounter different tasks. These are some of the daily tasks you can face:
Understanding building and construction
Painting and decorating
Moving heavy items like upholstery and furniture
Changing light-bulbs and light fixtures
Clearing and maintaining rooms or gardens
Repairing and maintaining tools and equipment
Installing windows and doors
Fixing taps and unclogging drains[5]
 3) Decide on domestic or commercial environments
Thorough research and fully understanding what area of handyman work you want to venture into can help you on your way to starting your own handyman business. The two sectors of handyman work you may want to go into are either the domestic or commercial environment. These areas can require similar skills but can differ when it comes to what type of work is carried out.
Domestic handyman
A domestic handyman usually works primarily in the private home or garden of a client[7]. If you feel you are more skilled attending to domestic clients, your own home DIY projects and experience can give you a good idea of what to expect[8].
Commercial handyman
If you feel that domesticated handyman work is not the right market for you, a commercial environment might be better suited. This means you can expect to work on-site for a business and can primarily focus on the one facility[9]. Handyman jobs in a business setting can focus on general maintenance and upkeep to ensure that nothing hinders the movement or work of visitors and staff[10].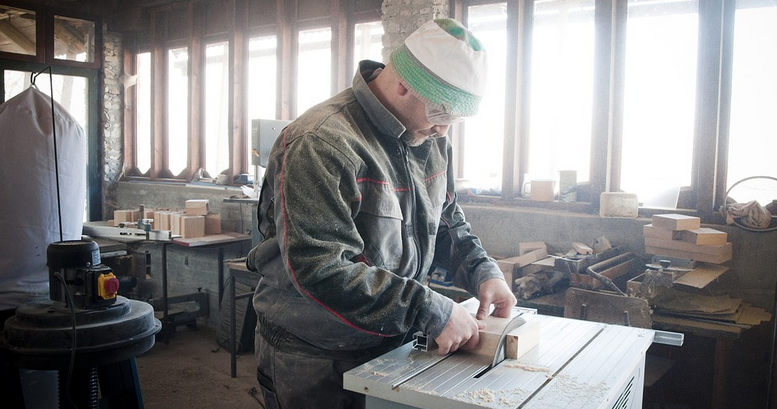 4) Purchase tools and equipment
As a self-employed handyman, you'll need to purchase your own tools to complete the jobs you accept. Equipment is vital to your profession, so make sure they are protected against theft and damage with tool insurance. Depending on what you want to specialise in, the required tools can differ but there are a few staples that you'll likely need:
        Toolbox
        Painting supplies
        Step ladder
        Stud finder
        Circular saw
        Electric drill
        Spirit level
        Tape measure
        A van [11]
5) Register yourself as a self-employed handyman or a handyman business
There are a few legal requirements that you need to fulfil if you decide to become a self-employed handyman. You have to register as self-employed with HMRC and you are responsible for filling out your taxes every year[12]. Although, once your taxes are paid the profits that you make are yours.
It's most likely that you will be the only person in your business when it is in its infancy, but once you start to gain a solid reputation and begin to expand, you may find yourself in the position to take on staff.  It's likely that you'll have clients scheduled in – but you may also have work pop up at almost any given time, especially in the case of emergencies[13]. So, hiring someone to help share the workload can be beneficial for you and your potential customers.
6) Choose your handyman hourly rate
If you're wondering how much a handyman can charge, it can vary quite a lot depending on many factors. These factors can include experience level, what service you provide and if you work for someone or you're self-employed. Your location can also make a difference in the amount that you can earn. The average cost of handyman services is around £10 per hour and salaries range between £15,000 to £36,000[14].
As a handyman, you can be known as being a 'Jack of all trades', but you can decide to specialise in certain areas and build your business offering in those services. What you decide to specialise in may require training and specific qualifications[15] but can potentially open you up to a more consistent market.
7) Get business insurance
In a profession that can see you fixing and completing a host of odd jobs, it can be costly for you and your business if something goes wrong. No matter if you're a domestic or commercial handyman, self-employed or managing people in your handyman start-up business, investing in business insurance is something you may want to take into consideration.
Specialist insurance for a handyman is tailored to ensure that your business is protected while you go about your job. This is how it covers you:

8) Market your business
When you are up and running as a professional handyman, getting your name out there is the first step to creating a successful business.
There are a few ways to get maximum visibility for your handyman business and creating a website can be one of the easiest. It's a great way for people to find you and examples of the work you can provide for them[16]. Ensure your branding and name is clear so they know who to contact if they like your work.
If you're planning on going into domestic work, you'll likely be on the move so placing your business branding and information on your uniform and your van is a good idea[17]. This can act as constant advertising for your business while you work.
In this day and age, it can be helpful to utilise social media, like Facebook, Twitter and Instagram to get your name out there locally. This provides you with a platform for recommendations from previous customers, too[18]. It's free and easy to use to showcase what your handyman business can do for potential customers.
Keep your customers
Loyal and regular customers can be invaluable for self-employed start-ups and there are a few things you can do, alongside excellent service, to help encourage people to call you back for further work.
Consider offering discounts or incentives to customers if they are willing to hire you again or refer you to other potential customers. [19] This word-of-mouth advertising can help your business reach further and leave the original customer with a pleasant experience.
It can be a little tricky to get your own handyman business off the ground, but this guide can help you to excel in your specialty skillset and earn money while doing it.
Hiscox can protect you every step of the way with specialist insurance for any handyman business, tailored to cover issues that you can face on the job. This financial cover can help you rest easy if an unfortunate accident or incident happens, so your handyman business won't suffer.
[1] https://www.bplans.com/handyman_maintenance_business_plan/market_analysis_summary_fc.php (external link)
[2] https://work.chron.com/pros-cons-handyman-work-23331.html (external link)
[3] https://nationalcareers.service.gov.uk/job-profiles/handyperson (external link)
[4] https://www.gov.uk/advanced-learner-loan (external link)
[5] https://nationalcareers.service.gov.uk/job-profiles/handyperson (external link)
[6] https://nationalcareers.service.gov.uk/job-profiles/handyperson (external link)
[7] https://www.randstad.co.uk/career-advice/job-profiles/handyman-job-description/ (external link)
[8] https://www.handymanstartup.com/handyman-training-becoming-a-handy-man/ (external link)
[9] https://www.stathakis.com/blog/is-it-finally-time-for-commercial-building-maintenance-commercial-handyman-services (external link)
[10] https://jobdescriptionandresumeexamples.com/handyman-job-description-sample/ (external link)
[11] https://healthyhandyman.com/must-tools-handyman/ (external link)
[12] https://www.bytestart.co.uk/5-things-self-employed.html (external link)
[13] https://work.chron.com/pros-cons-handyman-work-23331.html (external link)
[14] https://www.payscale.com/research/UK/Job=Handyman/Hourly_Rate (external link)
[15] https://startups.co.uk/how-to-start-a-handyman-business/#costs (external link)
[16] https://www.powerhomebiz.com/business-ideas/marketing-a-handyman-business.htm (external link)
[17] https://quickbooks.intuit.com/r/growing-your-business/how-to-market-handyman-business-and-services/ (external link)
[18] https://www.powerhomebiz.com/business-ideas/marketing-a-handyman-business.htm (external link)
[19] https://www.handymanstartup.com/tips-tokeeping-customers-loyal/ (external link)