How to start an electrical business
---
9 min read

The introduction of smart technology and our continued reliance on all things digital, coupled with the UK government's targets to build 300,000 new homes per year by 2022[1], means the electrical business is thriving. And the reported talent shortage has meant there are not enough qualified electricians to meet the demand. Skilled trades, including electricians, are the most difficult skills to find in the UK[2] with 42% of vacancies proving hard to fill[3].
So, if you've been thinking about starting an electrical business, now might be the right time to go for it. Whether you're a qualified electrician with a wealth of experience, a trainee looking to their future or a DIY-er wanting to take their skills to the next level, you could help fill that skills gap and profit from the high demand.
Running a business isn't for everyone; it can be hard work, but it can also be incredibly rewarding, giving you the opportunity to be your own boss, have more flexibility with your time and grow your income. We've put together this guide to help you decide if it's the journey for you.
What does a self-employed electrician do?
Very broadly speaking, the job of any electrician is to install, maintain and repair electrical devices and wiring. What you do day-to-day will depend on where you work and what area you specialise in[4].
Here are some examples of specific tasks you may be required to complete as an electrician[5]:
Planning the layout and installation of wiring in a building
Installing telephone, security and fire alarm systems
Maintaining circuit breakers, fuses and wiring
Testing, finding and repairing faults or malfunctioning systems
Reviewing the work other electricians have done to make sure it meets safety standards
Teaching apprentices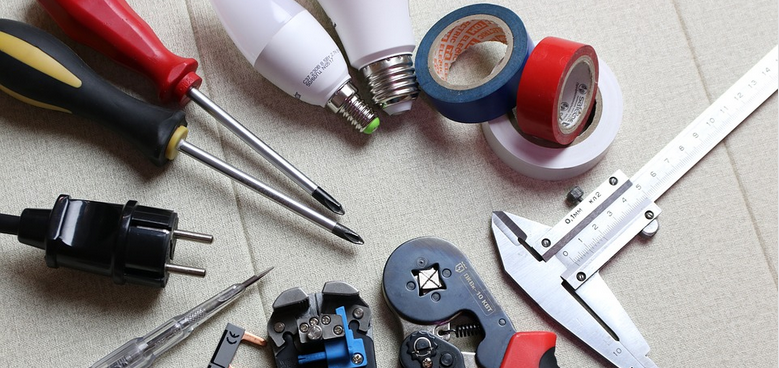 What is a self-employed electrician's salary like?
According to the Office of National Statistics, the average salary for an electrician in the UK is £32,315 and the average starter salary is £23,000[6].
As a self-employed electrician you can expect to earn more than if you're employed, possibly £35,000 – £40,000, more if you're based in the South East[7]. Your annual income would depend on how much you charge for your services and how much demand there is. Day rates typically range from around £180 to £350, and hourly rates and smaller jobs range from around £40 to £60.
Specialising is a great way of boosting your income. According to The Federation of Master Builders, the average earnings for electricians working in the construction industry is as high as £47,265 per year[8].
What to do before setting up an electrical business?
Become a qualified electrician
There are many routes to becoming a qualified electrician. You might start out as an apprentice where you can learn on-the-job or, if you're an adult learner or an apprenticeship doesn't suit you, you might do a classroom-based qualification. Doing your research and finding the right option for you is key[9].
Whichever route you choose, to become fully qualified, you'll need to gain the following qualifications:
Level 3 Diploma in one of the following subjects

Installing Electrotechnical Systems and Equipment (Buildings and Structures)
Electrotechnical Services (Electrical Maintenance)
Electrical Installations (Buildings and Structures)

BS7671: 2008 – Certificate in the Requirements for Electrical Installation
Award in Initial and Periodic Inspection and Testing of Electrical Installations Certificate in Electrical Technology Engineering[10]
There are many other courses you can do to further your training and make yourself more employable, but make sure you check that the qualifications are industry recognised.
For the most up-to-date information on recognised qualifications, contact your local trade body:
Electrical Contractors Association (ECA) (England and Wales)[11]
SELECT (Scotland)[12]
Electrical Training Trust (ETT) (Northern Ireland)[13]
Get some experience
Learning how other companies are run and how the industry works, as a whole, will be invaluable when it comes to starting your own electrical contracting business. So, you may want to work as an employee for a year or two when you first qualify[14].
Self-employment is like a stepping stone to becoming a business owner, so you may also want to get some experience at that before taking the leap. You'll have more flexibility than being an employee and the opportunity to earn more money, as well as being able to build up contacts and a client base[15].
Step-by-step guide to starting an electrical contracting business
Write a business plan
Decide whether to work as a sole trader or limited company
Get insurance
Register with a competent person scheme
Find good suppliers
Buy tools and equipment
Build your brand
Market to potential clients

1. Write a business plan
It's important that you fully understand how your business will operate, what your goals are and how you'll achieve them. Writing a detailed business plan will help you do this[16].
Your electrical business plan might include[17]:
Description of your business
Business goals
Analysis of the local market and competitors
Marketing strategy
Operations plan
Financial plan
It's helpful to review and update your plan regularly. This reminds you of your goals, shows you what you have achieved so far and helps your business evolve as you learn what works and what doesn't.
2. Sole trader or limited company?
You'll need to decide whether you want to operate your business as a sole trader or register as a limited company. Often electricians will start as a sole trader and then become a limited company as their business grows[18]. There are pros and cons to both options so it's well worth taking the time to do some research and consider which is best for you. And if you're struggling to decide or are unclear about the financial implications, think about speaking to an accountant[19].
Here are some of the main differences to help you choose:
Advantages of being a sole trader[20] [21]
It's easier to set up as a sole trader compared to going limited, which can be time-consuming and will cost you money.
A limited company comes with a lot of extra paperwork and legal responsibilities; it's not just an annual self-assessment tax return, so you may need to hire an accountant to help with it.
Sole traders don't have to be transparent, their details and earnings aren't publicly available from Companies House whereas those of a limited company are.
Advantages of being a limited company[22] [23]
When you register as a limited company, there's a legal distinction between you and your business, whereas sole traders are not viewed as a separate entity. This means if your business gets into debt, as a sole trader you would be personally liable and could lose personal assets, but as a limited company your personal assets would not be exposed.
It's easier to raise finance than if you're a sole trader, allowing you more opportunity to grow your business.
Tax rates tend to be better for limited companies as they're paying Corporation Tax and not Income Tax on their profits. And there are more allowances and tax-deductible costs that they can claim.
Sole traders have no protection against another company using their business name.
3. Get insurance
Accidents and unforeseen events do happen, even to the most diligent workers. So, as a business owner, it's vital that you have adequate insurance to protect you and your business should something go wrong, as well as any property, equipment or third parties involved.
You may want to look at a tailored electrical contractor's insurance package including cover such as:
Public liability insurance – protects you against a claim if a member of the public injures themselves as a result of your work or at your workplace, or if you accidentally damage someone's property.
Professional indemnity insurance – protects you if a customer claims they have suffered a financial loss due to work you completed or advice you gave.
Employers' liability insurance – if you have any employees this is a legal requirement and will cover you if they get injured or fall ill while working for you.
Electrical contractors' insurance – if you have any sub-contractors working for you on a supervised basis this is a legal requirement and will protect you against a claim if they get injured or fall ill while working for you.
Specialist tool insurance – to cover the equipment you use for your work.
4. Register with a competent person scheme [24].
5. Find good suppliers
Finding a good supplier allows you to provide a reliable service to your customers at a competitive price[25]. Look for a wholesaler that supplies high quality products and will deliver directly to your customer's address. A line of credit, for example, a 30-day rolling credit on all purchases, is preferable to paying up front as you don't want to pay for materials when you haven't been paid for the job yet[26].
6. Buy tools and equipment
Depending on where you are in your career, you may have already accumulated a lot of the tools you need to start your own business or, if you're new to the industry, you may almost be starting from scratch. If you are, tools and equipment will likely make up a large part of your electrical business start-up cost. It's a good idea to buy what you need from a specialist retailer[27]. And make sure you don't scrimp on quality, you don't want them breaking when you're on a job.
Investing in a van is something you could consider, as you'll need to be travelling and transporting equipment between jobs[28]. If you get it decorated with your company logo and contact details, it also acts as an advertisement on wheels[29]. So, keep it clean and looking professional at all times, and remember to drive carefully and considerately, you don't want it to reflect badly on your business.
7. Build your brand
Building a brand that customers perceive as trustworthy and professional will encourage loyalty, which means repeat business and word of mouth advertising for you.
8. Market to potential clients
Running a successful business requires customers, so setting aside some time and money for marketing is worth considering. It's all very well offering great services at competitive prices but if nobody knows your business exists, you're going to struggle to make a living. Here are some suggestions to help you build your client base:
Previous clients
Letting past clients know that you have opened up your own business may put you at the front of their mind when they need an electrician, generating work for you with little effort and cost attached.
There's a lot to do when it comes to starting your own electrical business, hopefully these insights have informed you and helped you decide if it's the right journey for you. If you choose this route, remember that success is never guaranteed but enough research, planning and preparation will give you the best chance at it.
[1] https://www.theguardian.com/business/2018/nov/01/home-registrations-in-uk-hit-highest-levels-for-over-a-decade (external link)
[2] Manpower 2018 Talent Shortage Survey https://www.manpowergroup.co.uk/the-word-on-work/2018-talent-shortage-survey/ (external link)
[3] Department for Education Employer Skills Survey 2017 https://assets.publishing.service.gov.uk/government/uploads/system/uploads/attachment_data/file/746493/ESS_2017_UK_Report_Controlled_v06.00.pdf (external link)
[4] https://neuvoo.ca/neuvooPedia/en/electrician/ (external link)
[5] https://www.electriciancareersguide.com/what-does-an-electrician-do-exactly/ (external link)
[6] https://www.tradeskills4u.co.uk/posts/2019-electrician-salary-survey (external link)
[7] https://www.tradeskills4u.co.uk/posts/2019-electrician-salary-survey (external link)
[8] https://www.fmb.org.uk/about-the-fmb/newsroom/construction-apprentices-will-earn-more-than-uni-students/ (external link)
[9] http://www.sparkyfacts.co.uk/How_to_become_an_electrician.html (external link)
[10] http://www.sparkyfacts.co.uk/How_to_become_an_electrician.html (external link)
[11] https://www.eca.co.uk/ (external link)
[12] https://www.select.org.uk/ (external link)
[13] https://www.ett-ni.org/ (external link)
[14] http://www.sparkyfacts.co.uk/Business_How_to_start_an_electrical_business.php (external link)
[15] http://www.sparkyfacts.co.uk/Business_Self-employed_subcontractor_electrician.php (external link)
[16] https://www.talk-business.co.uk/2017/07/10/how-start-up-own-electrical-business/ (external link)
[17] https://www.theformationscompany.com/how-to-write-a-business-plan (external link)
[18] http://www.sparkyfacts.co.uk/Business_Electrical_contractor.php (external link)
[19] https://www.simplybusiness.co.uk/knowledge/articles/2016/04/difference-between-a-sole-trader-and-a-limited-company/ (external link)
[20] https://www.simplybusiness.co.uk/knowledge/articles/2016/04/difference-between-a-sole-trader-and-a-limited-company/ (external link)
[21] https://www.rossmartin.co.uk/starting-in-business-77750/140-sole-trader-v-limited-company-key-tax-a-legal-differences (external link)
[22] https://www.simplybusiness.co.uk/knowledge/articles/2016/04/difference-between-a-sole-trader-and-a-limited-company/ (external link)
[23] https://www.rossmartin.co.uk/starting-in-business-77750/140-sole-trader-v-limited-company-key-tax-a-legal-differences (external link)
[24] https://www.homepro.com/competent-person-schemes (external link)
[25] https://www.talk-business.co.uk/2016/11/29/start-successful-electrical-contracting-business/ (external link)
[26] http://www.sparkyfacts.co.uk/Business_How_to_start_an_electrical_business.php (external link)
[27] https://startups.co.uk/how-to-become-an-electrician/ (external link)
[28] https://startups.co.uk/how-to-become-an-electrician/ (external link)
[29] http://www.sparkyfacts.co.uk/Business_How_to_start_an_electrical_business.php (external link)
[30][30] https://99designs.co.uk/blog/tips/brand-identity/ (external link)
[31] https://blog.hubspot.com/agency/develop-brand-identity (external link)
[32] https://blog.hubspot.com/marketing/free-advertising (external link)
[33] https://smallbusiness.chron.com/benefits-local-newspaper-advertising-39747.html (external link)
[34] https://www.eofire.com/7-ways-to-build-your-online-presence/ (external link)
[35] https://www.verticalresponse.com/blog/5-reasons-not-to-use-your-personal-social-media-accounts-for-your-business/ (external link)