The Hiscox University Challenge
---
12 min read

The Hiscox University Challenge is a national competition for students to develop creative solutions for tackling the challenges the insurance industry faces every day.

We're offering entrants the opportunity to win fast-tracked entry to the Hiscox graduate assessment centre, access to industry experts, networking opportunities and sponsorship for your university society or group.

Read more about the challenge and meet the competitors below
We challenged students to find the most effective ways an insurance business can measure and assess prospective customers in Florida, taking into account the potential risks and common claims across the state.
The goal of the challenge was to help reinsurance companies make educated decisions about which insurance companies they should work with. To help develop their findings, teams were provided with data-sets covering: historical hurricanes, claims made to Floridian insurance companies, the atmosphere, and ocean patterns in the Atlantic.
Students were also invited to attend two workshop events where they received professional training in presentation skills and storytelling, learnt about the world of insurance from industry experts and had the opportunity to network with Hiscox employees.
Three finalists will be invited to present their findings at the Hiscox London office in March 2019.
At $144 billion, the insured losses from worldwide disasters in 2017 were the highest ever recorded in a single year.
Flooding is the most common natural disaster in the US, but only 12% of home insurers have flood insurance.
Over 50 billion of premium is collected every year in the State of Florida.
Meet the team
University

Queen Mary University

Team leader

Maximillian Michaelides

Team members

Merel Turksema
Why did you enter?
Max: Merel and I are both studying maths and statistics at uni. The main reason we decided to do the Hiscox University Challenge is that we saw it as something interesting and different to what we do from day-to-day on our course. We crunch numbers a lot, but we wanted to test our knowledge in a real-life setting – something that would involve maths but also test our skills beyond it.
Merel: It's exciting to be able to do maths in a real-life working team setting. So, it was a great opportunity for us to work together and brainstorm together.
Why should your team win?
Merel: We're the smallest team with just two of us, which I think gives us an advantage. We're both very aware of what is going on at any given time and we work really dynamically together.
We found it really interesting to actually test our model at the end and see how much impact our KPI will really have. One of the things that was really exciting about working on insurance is that you can't use the same method over and over again, times are changing and you need to be creative.
What was the most enjoyable moment?
Max: The most enjoyable part so far was the introductory session we had with all the other teams at Hiscox. Not all of the teams could make it, but we got to meet quite a few of them and find out how they're doing with their projects. It was really nice to meet the others and understand why they decided to do the challenge.
The Hiscox staff running it were amazing too. They gave some informative presentations about the challenge and about the insurance industry in general. We even played an intro game, which was fun!
What's the most interesting thing you've learnt?
Merel: The concept of reinsurance is something I wasn't familiar with before the challenge, so being introduced to it at the intro session was eye opening – to see how different insurance companies can take shared responsibility for a single liability was really interesting. It's a concept that really makes sense but would never have occurred to me.
Talk us through your proposal
Max: We created a 'management score' to assess the companies' CEOs, COOs and CFOs. We considered factors such as if the CFO worked through the financial crisis, to gauge whether they are experienced looking after finances in times of turmoil. Also, did the CEO work through 2004-2005 when hurricanes hit the insurance market drastically? If they have experience during these tough periods, they get a better score. If they don't, it makes you question if they have been properly tested in their field. We also looked at how many complaints the companies get and if this reflects their product share in the market.
Meet the team
University

Leeds University

Team leader

Keiran Suchak

Team members

Grace Eardley

Lu Liu

Ausrine Rimeikyte

Nichapa Dejhomchuen

Leon Lok
Why did you enter?
Keiran: There are five of us in the team, with backgrounds in maths, psychology and physics. We were all motivated to take part because of our keen interest in working with data. As we move forwards in the 21st century, everything is data driven!
So, getting some experience working with data in a real-life setting is invaluable experience. It allows us to explore and develop our skills in more academic fields and apply them to a real-world scenario.
Why should your team win?
Keiran: When we looked at the project brief there were clear instructions centred around KPIs. But what we wanted to do is take it one step further, and hopefully create something more tangible which Hiscox could use, beyond producing a report and presentation. What we are doing is creating an online dashboard that Hiscox can log onto and interact with to see the impact of changing one small factor.
What was the most enjoyable moment?
Keiran: As students, particularly ones who are interested in data science, it can become very easy to work in quite a solitary way and think that we have to sit there and get on with our work by ourselves. But, having a group of people around us who are all working on the same project makes it a lot more interesting and fun. When we meet up as a team, we expose ideas that we wouldn't have thought of ourselves. In some ways it's a learning experience for all of us.
What's the most interesting thing you've learnt?
Keiran: Given the different backgrounds in our team, people contributed to the project with very different approaches and skillsets. Using myself as an example, a lot of more work is writing code, so I never would have thought of using some of the methods others used, such as ones that were far more visual. I've learnt how powerful something visual can be.
Talk us through your proposal
Keiran: We decided to split our KPIs into three groups. First, are traditional KPIs, such as loss ratio. Second, is environmental impact, like hurricane risk. Instead of being company-centric, these are more jurisdictionally distributed, specifically on a county level. The third set is socio-demographic – looking at income rates, age distribution, etc. in a county. Our goal at the end is to devise universal scores - one score for company risks, one for environmental risks and one score for socio-demographic risks. The idea behind this is that these scores can be rolled out for all regions, whether it is Florida or anywhere else.
Meet the team
University

Surrey University

Team leader

Xuhui (Kevin) Li

Team members

Nida Jafri

Stewart Hutchins
Why did you enter?
Kevin: We wanted to apply our analytical skills in a real-world scenario. But we also hope to hone our business advantage and presentation skills, both in a written and oral manner. We think we can gain some valuable experience from the challenge that will be beneficial to our future careers.
Why should your team win?
Kevin: Because we thoroughly considered every possible KPI, such as financial performance of the companies and the location of claims and claims that involve assignment of benefits (AOB). We also considered the average online search volumes, as this can determine an insurance company's performance in events such as hurricanes. A higher search volume may indicate that the company had better customer satisfaction and reputation. This formed the foundation of our project. We're very proud that we created a rating function on top of the KPIs we formed.
What was the most enjoyable moment?
Kevin: We really enjoyed meeting as a team and challenging each other with different ideas - and finally turning these ideas into a reality. We are all maths students, so we think it's very rewarding to have the chance to work together on something outside of our course. The project was a great opportunity to use a lot of our statistical knowledge.
What's the most interesting thing you've learnt?
Kevin: The most interesting things we've learnt and developed are the data analytical skills that we have applied to the project. We believe that with these skills we could make a huge impact on the business itself. It doesn't matter which toolkit we use. Simple ideas like Facebook analysis have had a huge impact on our project.
Talk us through your proposal
Kevin: So, our idea is to consider the top KPIs and evaluate whether they are actually beneficial. We've been looking at companies in general and their performance. For example, whether they suffer lots from AOB, which is a special scenario that only happens in Florida. We actually discovered there is a positive correlation between their loss and the number of claims including AOB.
We also considered the location of a claim – since we found that the pay out in counties near the coast tend to be more than inner areas. This may be due to the fact that hurricanes start from the coastline.
Exeter University - Team 1
---
Meet the team
University

Exeter University

Team leader

Hira Raza

Team members

Eloise Payne

Smruti Hiremath

Ignatius de Pedro

Sophinne Aikins-Sancho

Huseyin Akbayir
Why did you enter?
Hira: It's an interesting opportunity because I've never delved into the insurance industry before and it's not been known to me as a career option. The team we formed are really excited about it and while some have similar experience, others don't, but they were really eager to be involved. Even if some weren't particularly interested in insurance, they very much understand and enjoy the data analysis side of things. There are six of us in the team, including one who is really keen on social media and helped us to develop a brand new KPI that I hope will make us stand out.
Why should your team win?
Hira: Because we're a very diverse set of people with a range of backgrounds. We are very different people and I think that has created an interesting rapport and means our ideas are really varied.
I think Hiscox will benefit from hearing our ideas, because what I've learnt from this challenge is that they may need to delve into a new KPI in order to reinsure a new company. Of course, there are the basic KPIs, but we decided we needed to think of some new ones. I think we've come up with three innovative KPIs that aren't that conventional.
What was the most enjoyable moment?
Hira: We've worked so hard on it and it's been a great experience for all of us. I can definitely say we thoroughly enjoyed it all, but particularly the day with Jonathan and Saniya and the rest of the Hiscox team, who have been really helpful.
It's certainly been a challenge, but we have all pulled together and come up with great ideas and supported each other and I'm really proud of our team. Proud of the progress and the ideas.
We've learnt a lot from the challenge.
What's the most interesting thing you've learnt?
Hira: I've never had a leadership role before, so it's been great to develop my leadership skills. Everyone has learnt something from the experience, and we've found out where our strengths and weaknesses are. Some are great at data analysis but needed to develop their presentation skills, for example. We play to our strengths really well and I think it'll give us an edge in the competition.
It's definitely opened my eyes to insurance as a potential career – I can see it really could be interesting and intellectually stimulating.
Talk us through your proposal
Hira: We've done something based on social media, which I think is really important in this day-and-age. We emphasised how crucial it is for insurance companies to be engaged with their clients, in order to achieve customer satisfaction. For example, if someone has a complaint and they post it on Twitter, you can see how the company responds to it and in what timeframe. We tried to link this to the complaints data we received.
We also have a KPI that is related to political involvement as a company's political involvement is incredibly important, in the US especially.
Exeter University - Team 2
---
Meet the team
University

Exeter University

Team leader

Alex Keen

Team members

George Ford

Jakob Schmutz

Damon Tedder
Why did you enter?
Alex: We decided to enter because we wanted to build a better understanding of insurance. I want to get into underwriting, so it has been helpful to gain insights into the industry. What appealed to us the most about the Hiscox University Challenge is that we could network with their employees. It's also interesting to look at different areas of risk and risk management. Even if we don't go into insurance, it's always something to look at in any profession.
Why should your team win?
Alex: We entered because we honestly believe that we can win it! We have worked as a team before, so we already know how each other work and were able to tackle the challenge really efficiently. We broke down into smaller groups incredibly well and worked well to deadlines too.
Our KPIs are quite complicated as we each have our own strengths that we focused on, based on who is doing the most relevant course modules, etc. We were able to split the work to develop three different approaches – statistical, computer programming and geospatial.
What was the most enjoyable moment?
Alex: I'd say being able to apply the skills that we have learnt at university to a real-life financial problem. It's good to get a taster of a real-life scenario where we aren't really given much information or guidance. We just have to make our own way through it as a team. It's a nice change from the 'spoon-feeding' that we get at university sometimes. It's more of a challenge.
What's the most interesting thing you've learnt?
Alex: All of us have learnt that there is a more human aspect to insurance. A preconception of the industry is that it is very numbers based and to some extent, soulless, but actually the work we have been doing has a real impact on people. We've seen insurance in a completely different light and are much more interested in pursuing it as a career because of that.
Talk us through your proposal
Alex: We have KPIs that involve paid loss, exposure and county data, and are using them in a very mathematical way. We are definitely using our degrees to our advantage to make our KPIs as effective as possible.
The hard streak of hurricanes that happened in the early 2000s could happen again. We've been assessing whether companies could withstand it if it does, so Hiscox doesn't have huge losses to pay. These KPIs are not only useful for Florida for hurricanes. I think it's good that we are coming up with innovative KPIs that can be used across the industry.
Awards for the Hiscox University Challenge
Winners: Exeter University – Team 2
Most Innovative KPI: Exeter University – Team 1
Best Presentation: Exeter University – Team 1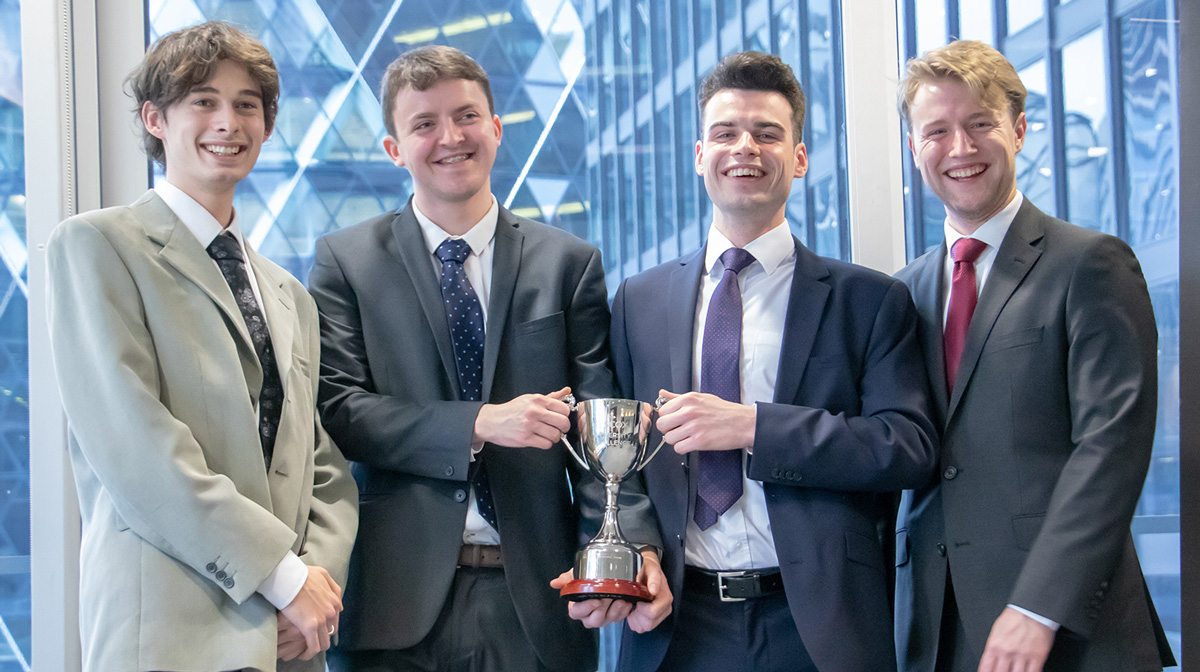 Exeter students Jakob Schmutz, Alex Keen, George Ford and Damon Tedder were crowned the winning team in the Hiscox University Challenge 2019.
The team really impressed the judges by creating KPIs that were not only highly useful to insurance companies functioning within the state of Florida, but were also applicable to the insurance industry as a whole. They demonstrated a good level of understanding of both the reinsurance market and the challenge set, while it was also clear they had done their homework, as their research heavily influenced their chosen KPIs. One specific KPI that they developed – 'the most premium for the smallest exposure' – allowed them to successfully identify insurance organisations that Hiscox work with in real life. Overall, the team delivered a well-reasoned report that achieved the challenge objectives.
For their great work, the group of Exeter mathematicians have been awarded a trophy, £1000 towards their Maths Society and fast-tracked entry to the Hiscox graduate assessment programme.
This year, we presented two new awards for the most innovative KPI and the best presentation. It was a clean sweep from Exeter University, as another team of Exeter students (from the Politics, Philosophy and Economic Society) bagged both of these awards.
Meet our Hiscox graduates
---
Mike Simmons
Only one year into his graduate programme at Hiscox Re & ILS, Mike Simmons has already completed two secondments, lived in Bermuda for three months, dipped his toes into the world of insurtech and rubbed shoulders with the best and brightest in the industry. Having already experienced so much of the Hiscox world, we've asked Mike to share 9 things he's learned so far.
Emma Watson
As a geophysics graduate, Emma Watson never considered reinsurance her 'dream industry'. One year into her role as a Catastophe Modelling Analyst at Hiscox Re & ILS, she's grabbing every opportunity available. We spoke to Emma about what she loves about her job, her aspirations for the future, and what piece of advice she'd give a new employee.
Disclaimer:
At Hiscox, we want to help your small business thrive. Our blog has many articles you may find relevant and useful as your business grows. But these articles aren't professional advice. So, to find out more on a subject we cover here, please seek professional assistance.