Create your own home office heaven
---
8 min read

With psychological insight from occupational health specialist Gail Kinman, (external link)interior design tips from Cathy Phillips, (external link) and real-life experience from entrepreneur Helen Lewis (external link) we'll explain how you can create a home office that will help you work smarter, feel better, and achieve that essential work/life balance.
"It's the chance to be who I want to be, when I want to be, where I want to be, with who I want to be. I choose who I work with, I choose the hours I work (pretty much), I choose how I manage my day."
— Helen Lewis, Business woman and entrepreneur
Running your own business from the comfort of home can be one of the most satisfying, personally freeing and financially lucrative decisions a person can make. You're not only the master of your own career — you are your own investment; developing your expertise, plus managing everything from tax returns to marketing, and building a network of suppliers and customers.
But while juggling the many roles you fill as a so-called 'one-man-band', you could be forgiven for forgetting an often overlooked, but crucial business consideration — your workspace.
Staying focused: Your privacy and productivity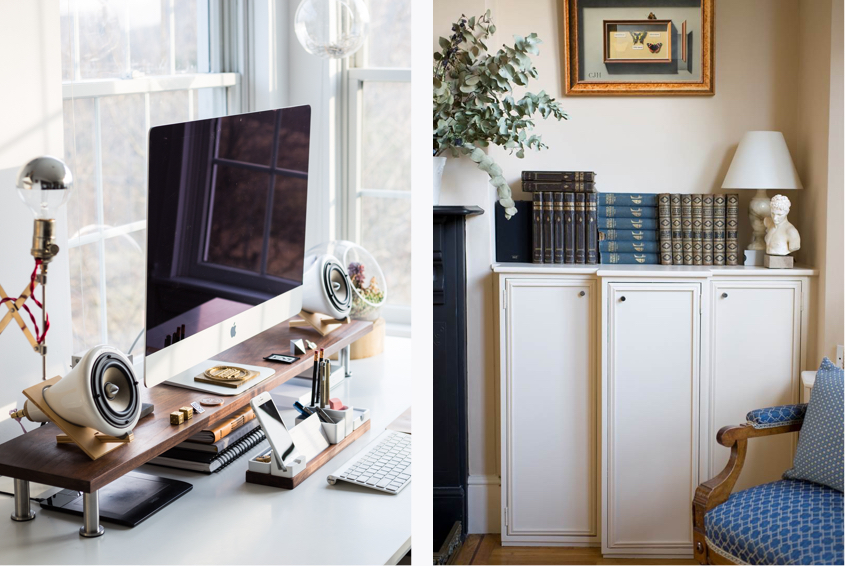 "Home is home and it has many distractions —wherever possible people should work from a space that is dedicated to work."
— Gail Kinman, Chartered Psychologist
Working for yourself is an opportunity to assert your dreams and desires on your professional life — but when you're blurring the lines between your home environment and your workspace, conflicts of interest can arise.
"If people are inclined to procrastinate there are many things that they can do to put off work when working from home," Gail Kinman, a professional expert in occupational health tells us. "If the home is shared by other people (especially small children) their demands can be distracting and time-consuming, making it difficult to focus on work."
"Even the benefits can become challenges," Gail continues. "Flexibility can mean that you work longer and harder. People often feel grateful for being given the opportunity of working at home, so they feel they need to prove they are working by putting in longer hours."
If you're torn between distractions and the temptation to overwork, Gail offers plenty of home office and lifestyle tips to help you stay focused.
Tips on keeping your space productive
Create a dedicated space with peace and quiet. Noise-cancelling headphones can help if you're in a busy home.
Keep work away from the bedroom — working in bed can encourage insomnia and lead to musculoskeletal problems.
Take regular breaks away from your workspace and your computer.
Make sure you set firm boundaries in terms of working space, working time and focus.
Consider the ergonomic impact of work on your body, as discomfort will affect your concentration. Take advice on how to best position equipment and try your desk chair before you buy!
"Beware of multi-tasking – the switching costs of moving from one task to another (whether work to household tasks, or from writing a report to checking email) can reduce concentration and add hours to the working day."
— Gail Kinman, Chartered Psychologist
Layout, lighting and colour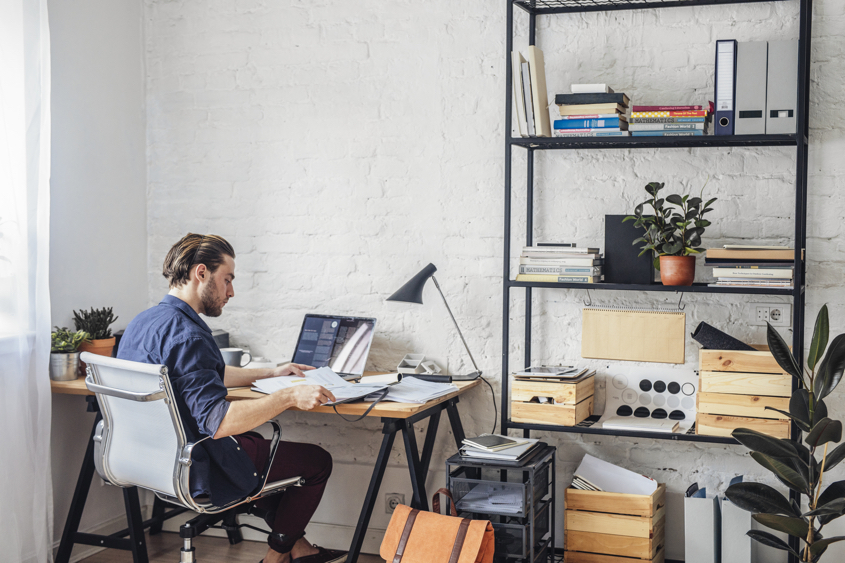 "Lots of people who work from home don't have the luxury of a dedicated room to work from. If this is the case, think about where you can set up an office that won't get in the way of everyday life — tucked into the corner of a kitchen maybe, or in a redundant space in your hall. Consider spending a bit on employing a carpenter to construct a built-in desk and storage unit that you can close up when not in use."
— Cathy Phillips, Interior Designer
Once you've found a spot to transform into your dedicated working space, your next challenge is preparing it for the ins-and-outs of your daily routine. Having clear boundaries in place will establish your work-focused territory. Regardless if you've kitted out your garden shed or set up your laptop in the kitchen, the status of your business doesn't change. Remember that any equipment or furniture which your venture is dependent upon requires specialist home office insurance as it may not be covered by your regular insurance policy.
We spoke to interior designer, Cathy Phillips for her recommendations on creating a home office that'll maximise productivity.
"Having everything in its place, and furniture arranged in a pleasing and practical way, will make for a calming environment."
She explains, "If you can't find what you need, or you can't reach that all important file, your mood is bound to be affected, after all!"
For people taking the first steps towards setting up an effective home office, Cathy outlines the following advice:
Tips on decorating your home office
Plan what furniture you need then do yourself a little sketch or plan out the room using newspaper shapes to represent each item. Make sure you can get in and out easily, and that storage is within easy reach of the desk.
Practicality is important — enough storage space for instance. But you should also consider the look, so that the office space reflects your personality.
You can be little creative when sourcing furniture. Some dressing tables make lovely desks, for instance, and for storage, look beyond the standard filing cabinets which — in these days of virtually paperless offices — are pretty much redundant anyway.
In a working environment calming colours are always best. Look at muted neutral tones for the walls and consider how these will work with the colour of the furniture. You can add bright touches with office accessories if you want to brighten things up!
Consider ideas that are useful as well as decorative. Pinboards come in all sorts of colours and styles now. If you work with overseas companies, you might consider a decorative map on display. Or if you keep magazines and newspapers for reference, have a look at magazine racks that you can hang on the wall.
Don't rely on overhead lighting alone — invest in an angle-able desk lamp to throw light on your work area. Remember, lighting can have a big impact on mood, so think about working near a natural light source if you can.
"Office furniture should fit the space — this may sound obvious but quite often people choose desks that are much too big for a room. You don't want your desk to dominate!"
— Cathy Phillips, Interior Designer
Maintaining motivation and mental health
"I love my work, but the biggest challenge is not having enough hours in the day! Sometimes my day flies by and I realise I haven't even managed to have a break. I get that break when I pick my daughters up from school and we go to the park, or to a friend's house, and then I get back to work when they're in bed!"
— Helen Lewis, Business woman and entrepreneur
Running a business out of your own home may ultimately come down to one thing: your own happiness. And creating an office space that allows you to make a psychological (and physical) break from your home life will go some way towards maintaining your mental health. Making sure you don't become a victim of monotony and ensuring variety in your work day, is also essential.
"People working at home often say they are lonely," Gail Kinman, who specialises in occupational health psychology, explains. "So, remember that human contact is vital. Schedule in lunch meetings with friends, Skype or at least have a phone call. Get a dog and take it for a walk! It's important to do something different to what you do in your job, so if you have been talking all morning, a session of mindfulness or other forms of relaxation might be helpful."
Whether you're running a helpline from your kitchen, or an accounting business from your spare room, your home office should enable you to work efficiently, and allow you to switch off when you need to.
"I spent three years trying to adapt to the whole 'office' and 'commuting' thing and quickly realised that it wasn't for me. It wasn't just being in an office — it was seeing the same people every day, the lack of inspiration in the four walls I spent 60+ hours in every week and the faff of commuting from one side of London to another. I have never looked back."
— Helen Lewis, Business woman and entrepreneur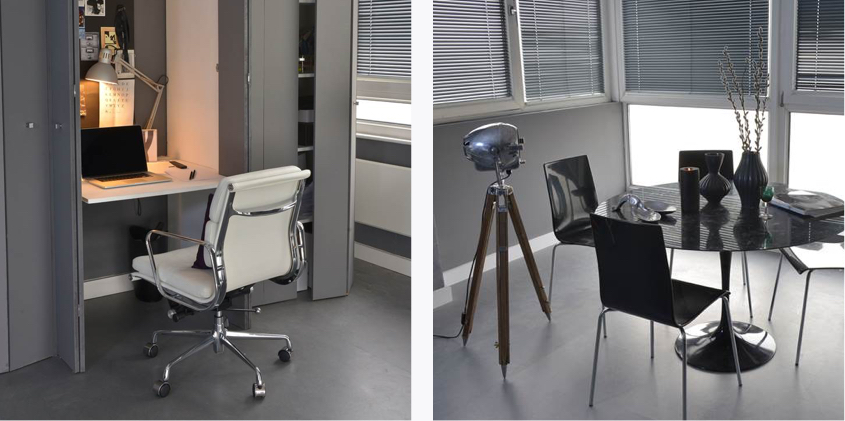 The quick Hiscox guide to home office heaven
Create a space in your home that's dedicated to work.
If you can't spare a whole room, set your office up in an unused area of your home.
Pay attention to space, and don't let your desk dominate.
Lighting will affect your mood. Try to go for natural and ambient options.
Invest in an angle-able desk light.
Keep things comfy with a desk chair that suits your ergonomics.
Personalise your work space with colour, and personal accessories.
Storage is essential. Keep all items within arms' reach.
Combine practicality with decoration — think colourful pinboards and hanging maps.
Take regular breaks and make sure you get enough human contact, and downtime!
Once you've created a space that will see your productivity and profit margins soar, make sure that you have the insurance to protect it. Even though you're operating your business out of your home, you face the same risks as an office-based company, so it's important to take out the appropriate cover to protect yourself.
For example, public liability insurance will protect your business against compensation claims if a customer were to have an accident and injure themselves on your business premises – even if those premises are your own home. And no matter how small your business, it's also crucial to have professional indemnity insurance, which will cover you for claims made against you such as for negligence in your work, or a breach of confidence. With the right insurance protection in place, you'll be able to operate your business from your stylish new home office with utmost peace of mind.
Disclaimer:
At Hiscox, we want to help your small business thrive. Our blog has many articles you may find relevant and useful as your business grows. But these articles aren't professional advice. So, to find out more on a subject we cover here, please seek professional assistance.