Not all home insurance policies cover the contents of rooms that are used for home offices. And even if they do, they often don't have provisions for increased costs if you're unable to work at home, or for retrieving lost data. Hiscox Home Insurance lets you add optional home office cover to protect you for both these possibilities.
Why you might consider home office insurance
Your home office furniture and equipment might not be covered under your home insurance policy
A loss of your power, phone or broadband supply might incur significant additional costs
Your accounting records could be lost or damaged meaning you might not be able to recoup all the amounts owed to you
How Hiscox Home Insurance cover can protect your home office
If you run a small clerical or administrative business from your home with no more than 2 employees, you can add home office cover to your Hiscox Home Insurance policy. This cover protects your home office against loss or damage, including:
Loss or damage to the furniture and office equipment of your home office business, up to £25,000
Increased costs of continuing work following accidental failure of utility services for more than 24 hours, or following physical loss or physical damage covered by your Home Insurance policy, up to £25,000
Costs of replacing or reconstituting your business documents, data and amounts owed which you're unable to recover following the physical loss or physical damage of your accounting records
Your liability arising out of revenue-generating activities
Call on 0800 247 1902
Mon - Fri, 8am to 7pm, Sat, 9am to 2pm. Calls are free from a landline
If the unfortunate happens and you suffer loss or damage in relation to your home office, simply call our award-winning claims team. If we can't settle your claim immediately, we'll assign a dedicated Claims Underwriter to your case who will handle your claim from start to finish.
To find out more about Hiscox Home Insurance, read our policy documents:
Please note, this cover only applies to clerical and administrative work. It does not apply to home office businesses which employ more than 2 people or use machinery other than office equipment. It is not designed to be a small business package policy. If you're looking for small business cover, including employers' liability cover, please visit our dedicated small business insurance site for a quote.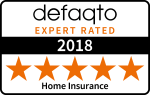 Buy your policy online today
0% interest on Direct Debits
Immediate coverage and documentation
No admin fees if you amend your policy
Need more help? Speak to our UK-based experts. Call us on 0800 247 1902