How coding became cool / Amelia Humfress, Steer Coding Academy
---
3 min read

Having moved from marketing at Jimmy Choo to starting her own coding academy, Amelia Humfress of Steer discusses how coding became cool for our Geek to Peak series.
I discovered the start-up world when I started learning to code. There was something almost magical about it; people were enthusiastic, friendly and often cared deeply about what they were doing. There was no 'living for the weekend', no working just for the pay cheque.
Related: From Geek to Peak – How tech schooled the world
I'd been working in fashion before, on the marketing team at Jimmy Choo. It was the e-commerce team that introduced me to the world of tech, and I quickly became fascinated with it. As someone who studied Theatre Studies and Fine Art at A-Level, I never thought that I'd be interested in code. I couldn't have been more wrong — writing code is inherently creative.
When I started getting interested in tech, people outside of this world were either completely disinterested in coding or didn't have a clue what it was. High-profile acquisitions and the introduction of coding to the national curriculum have since brought the industry into the spotlight. Now, coding is seen as a must-have skill.
Yet despite this newfound recognition of all things digital, there's still a big gap between the number of roles requiring technically skilled people and the number of candidates to fill them. Demand for developers is high and supply is low.
Related: "I was that girl who sat in the computer lab at lunchtime" / Alicia Navarro
Competitive job market aside, there's something else that's attracting people to a career in the industry; dip your toe into the world of tech, and you're opening the door to the fascinating world of start-ups and the work ethos that goes with it.
With flexible working hours, 4-day work weeks, beautiful workspaces and remote opportunities, technology isn't just creating enormous amounts of wealth, nor is it just offering creative roles with lots of opportunity for growth. It's rethinking the way that people work.
The company I founded, Steer (external link), creates educational experiences to help people achieve more. We teach people to code on short courses in London. In less than two and a half years, we've taught over 800 people how to code, make websites and iPhone apps. Our students come from all sorts of backgrounds — we've taught designers, entrepreneurs and marketing experts, not to mention a ballet dancer, a dentist, and a handful of writers.
Coding skills are a first-class ticket to getting into this exciting, vibrant industry. Not only that, but when you know how to code, you can build anything that you dream of. That's why we all want to code now.
Are you learning to code? Is your business learning from the tech sector? Get involved using #geektopeak (external link) or comment below
Related: "The geeks are now the masters of the universe" / Piers Linney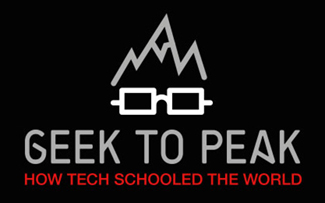 Disclaimer:
At Hiscox, we want to help your small business thrive. Our blog has many articles you may find relevant and useful as your business grows. But these articles aren't professional advice. So, to find out more on a subject we cover here, please seek professional assistance.