The Hiscox Business Demystified Survey - Challenges for UK SMEs in 2020 and beyond
---
8 min read

There's no doubt that 2020 presented many businesses with challenging circumstances. From not being able to generate enough revenue, to caring for staff mental health and retaining employees, the COVID-19 pandemic has had a profound effect on businesses worldwide.
While there have been issues impacting small and medium-sized enterprises (SMEs) across the board, businesses in different sectors have faced varying testing situations. However, although there have been great mountains to climb, SMEs remain optimistic for the future.
Research from the Office of National Statistics on the Business Impact of COVID-19 (external link) reveals why this might be. The October 2020 survey showed less than 4% of UK businesses have permanently ceased trading while more than 82% were currently trading.
The Hiscox Business Demystified Survey features more detail collected from 1,000 SME business decision makers across the UK. We aim to shine a light on the challenges small businesses faced in 2020 and learn what barriers they envisage 2021 to hold for them.
In this article, we highlight our key findings, try to understand how problems have been managed and summarise what this might mean for the future of SMEs.
SME business challenges during 2020
---
Perhaps unsurprisingly, 37.5% of SMEs stated that their main challenge in 2020 was generating revenue – this was considered to be the biggest barrier overall.
However, when looking a little closer at certain sectors, you'll see that revenue isn't always the top worry. Possibly due to increased workload and heightened stress, 42% of the healthcare industry was mainly concerned about employee mental health.
Meanwhile, 45% of the accountancy, banking and finance sector saw staff retention as their difficulty.
The hospitality and events industry was impacted in terms of often not being able to operate at all, therefore, the principal concern of these businesses in 2020 was closure risk.
How do you solve a problem like working from home?
With a focus on working from home, the greatest challenge in this regard generally was the IT infrastructure (16.5%). This could be down to the increased reliance on technology for connectivity and the need to maintain hardware and bespoke software while being at home.
The second largest challenge SMEs considered working from home to pose was people management (16%). Accounting, banking and finance is the most likely sector to have issues with productivity and maintaining morale – these two are very possibly linked.
A look ahead – what might 2021 have in store?
---
Top five challenges
After the year of challenges businesses have worked through, SMEs are now looking to pre-empt what 2021 and beyond might have in store. Unsurprisingly, businesses foresee generating revenue to be their biggest problem, with 37% predicting this, while employee mental health and wellbeing came a close second with 31%.
Employee mental health is set to be a priority for many. This is due to a year of performing roles from home in isolation, accompanied by a completely transformed work life, in combination with concerns about livelihood and work-life balance.
In fact, CIPD research (external link) shows that stress-related absence from work increased in the year up to March 2020 – 37% higher than the previous 12 months - and these figures were recorded pre-pandemic. This increase is predicted to have grown as a result of 2020's barriers.
There's a lot to navigate for businesses in this new working landscape, but official advice is available from charities such as the Mental Health Foundation (external link) and Mind (external link) and also the NHS (external link).
The circumstances provided by a global pandemic aren't ideal for SMEs, therefore the fear of customer and staff retention are prevalent – as is the concern that you could face closure. That's why these factors also rank among the five biggest problems SMEs predict they may face during 2021.
However, with a view of the bigger picture in advance, decision makers can bolster their processes and safeguard against these future challenges.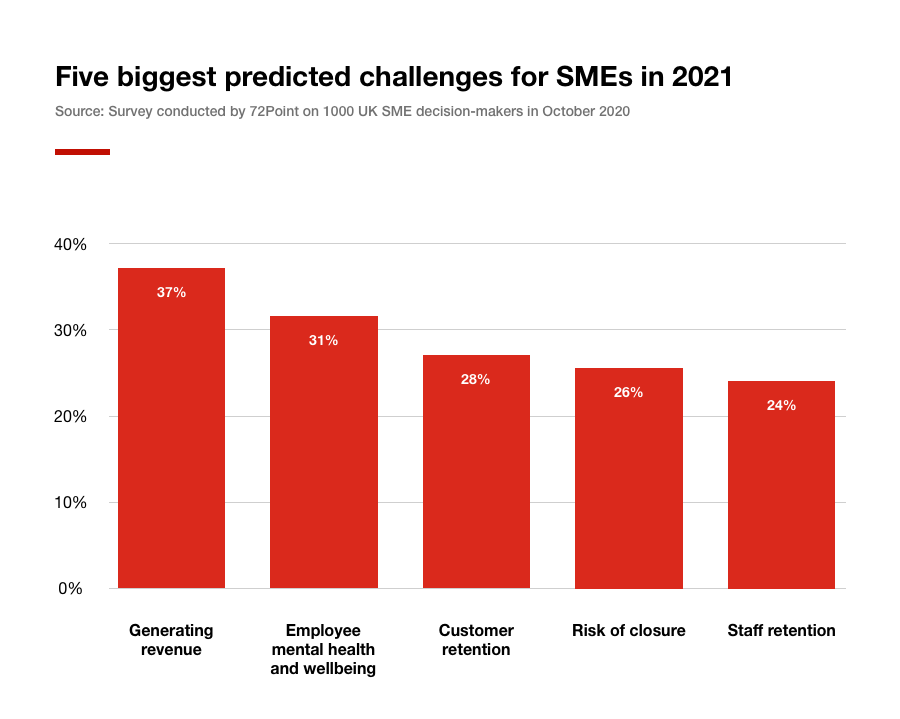 Challenges by sector
As we can see from the first graph, the top five challenges SMEs predict they'll face are certainly reflected in the breakdown by sector. The problems businesses felt they experienced in 2020 also carry over into their fears for 2021.
For instance, both the accountancy, banking and finance sector and the business, consulting and management industry still see staff retention as their biggest challenge in 2021.
Understandably, five sectors see employee mental health and wellbeing to be their main test in 2021. Charities, healthcare professions and teaching and education businesses answered the same for both 2020 and 2021.
Whatever your business sees as their toughest barrier during this year, it might be a good idea to read our article featuring five lessons for UK businesses in 2021 for helpful tips.
How did UK SMEs handle 2020's challenges?
---
While 2020 posed a number of problems for SMEs to tackle, there were many ways in which those challenges were taken on proactively.
Main concerns businesses had included retaining staff, caring for their mental health and wellbeing and also the impact on their top line.
So where did businesses seek help for these challenges and which solutions were sought as the year unfolded to keep the wheels of business in motion?
Even working from home was a challenge in itself – here we'll dig a little deeper and discover how businesses strived to alleviate the burden and mitigate risk.
 
Solutions – an overview
From upskilling and seeking advice to increasing preparation for scenarios such as home working, businesses dealt with the implications of the pandemic on the move.
Revenue concerns were, of course, one of the biggest hurdles for many businesses last year. Almost 41% of UK SMEs took part in government schemes to absorb the impact as a result. Also proving that no business need navigate a situation such as this alone, 37% have sought advice from government services during the pandemic.
The nature of the global situation meant many ventures were unable to trade in a way they were previously used to. This meant upskilling was a popular way to handle the circumstances, with over 40% of businesses planning to upskill in an area that's not their original expertise.
 
Handling general challenges
Many sectors were dealt a bad hand in 2020, but the hospitality industry's ability to trade at all was impacted by the restrictions the Coronavirus Bill placed on life in the UK.
In fact, 56% of the SME decision makers from this industry said their biggest challenge was risk of closure in 2020 and view generating revenue as being a potential issue in 2021. Therefore, it's unsurprising that the action 54% of hospitality businesses chose to take was to reduce their workforce.
Accountancy, banking and finance businesses adopted a multi-layered approach. Of the businesses in this industry, 62% took part in a government scheme, 46% sold office space or found alternative working spaces and 30% closed shops.
One sector that moved quickly was that of business, consulting and management – 41% of these SMEs worked proactively to expand their services.
How optimistic are SMEs about the future?
---
Despite the challenges SME's faced in the context of this unprecedented working landscape, it's encouraging to learn that attitudes remain largely positive about the future.
Certain sectors view the coming months and beyond in a more optimistic light than others. However, a common theme is that SMEs across the board have discovered a toolkit of methods to navigate similar challenges in different ways in the future.
 
Optimism for the future
As we navigate 2021, many of the businesses that survived 2020's challenges have an encouraging optimism about what the future holds.
The sector with the highest spirits is business, consulting and management – 65% of the decision makers from these SMEs feel very or quite optimistic. Accountancy, banking and finance weren't far behind with 61% feeling positive about 2021 and 59% of the charity and volunteer work sector also feel hopeful.
Perhaps unsurprisingly, considering their lack of ability to trade during 2020, the most pessimistic about 2021 is the hospitality and events management sector. While 30% of these businesses are quite or very pessimistic, 24% of energy and utilities businesses share their worries, as do 23% of the retail sector.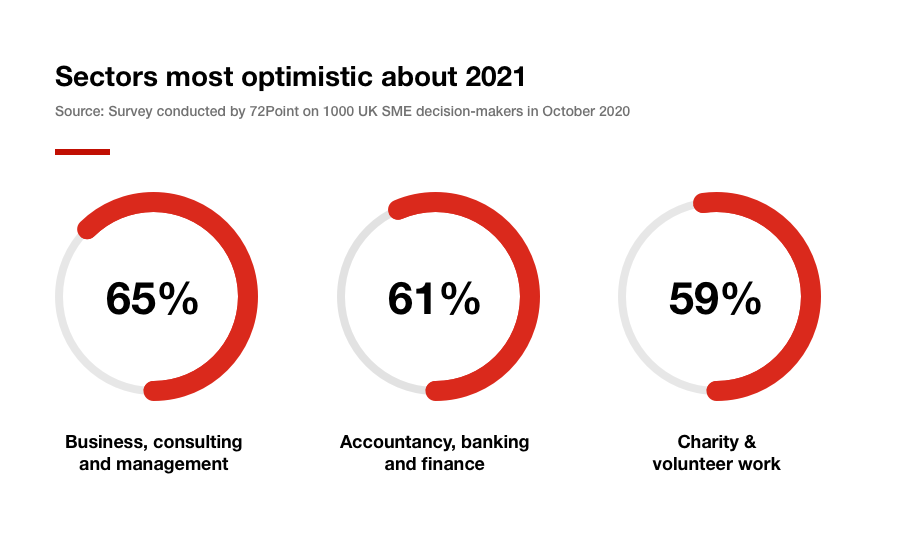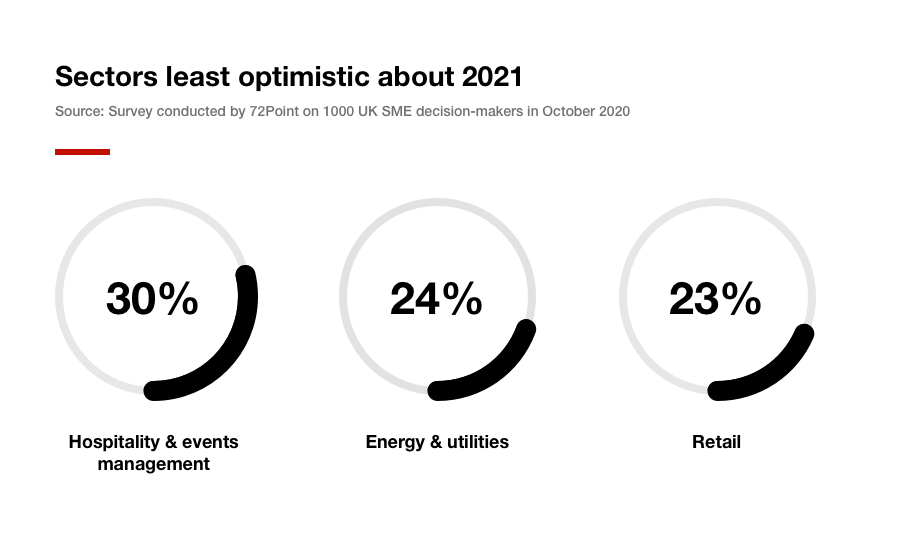 Five things SMEs would do differently
Hindsight can genuinely help SMEs moving forward. Navigating your business through what should hopefully be one of the most difficult and unique experiences will provide invaluable learnings for the future.
For many of our Business Demystified SMEs, the pandemic has created an opportunity to learn lessons for what they would do differently in a similar future situation.
Firstly, there would be a more robust investment in IT infrastructure across the board, with more than 26% of businesses agreeing they'd tackle this in a more effective way.
Almost 27% of the surveyed SME decision makers stated they'd also get remote working underway far sooner in the pandemic.
Both of these points suggest businesses feel they could have ironed out any home working issues far earlier to get the productivity ball rolling and provide better care for their employees.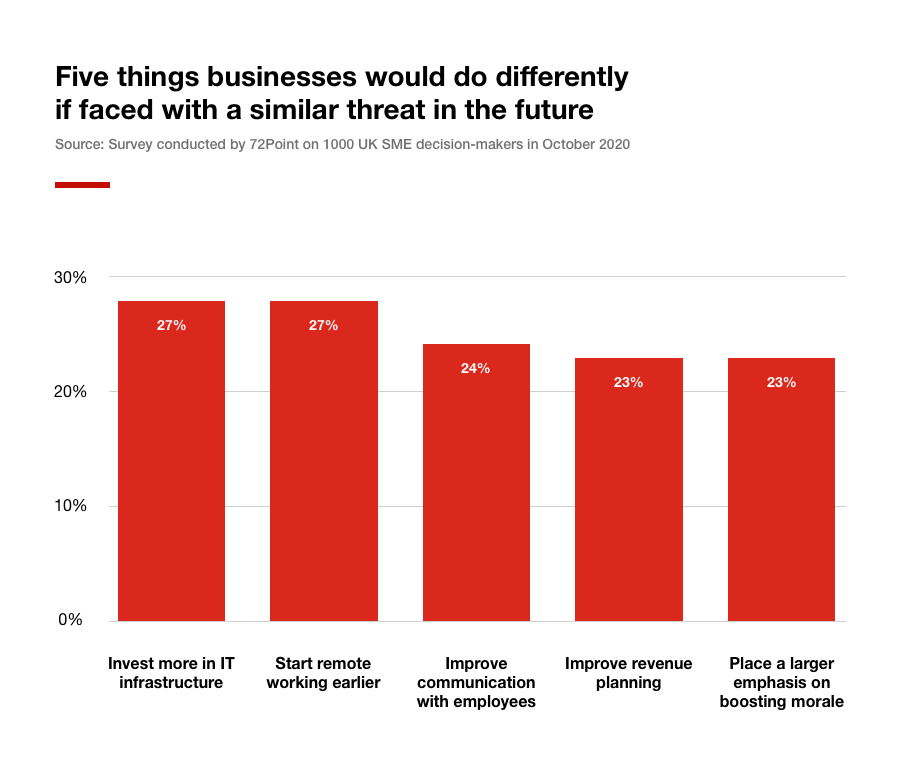 So, what's next for SMEs in 2021?
---
We've learnt that SMEs shared similar worries during 2020 – from the ability to safeguard their top line, to keeping staff within the business and caring for their health.
Unfortunately, these worries haven't ceased and with the introduction of a third UK lockdown in early January, will certainly last for a little while longer. The challenges many sectors faced in 2020 also mirror their concerns for what 2021 and beyond holds.
However, despite such a turbulent time for small and medium-sized enterprises, the outlook remains optimistic for the future. It's not all been doom and gloom, either, with many citing positives to have come from the situation, such as increased productivity, better communication and expansion of business offerings.
A plethora of learnings have come from the COVID-19 pandemic, including how agile these businesses have found they can be in the face of adversity. While most have bolstered their SMEs with smart solutions, others have a clear idea of how they would cope with a similar situation in the future.
Although there are still challenging times ahead, many of our SMEs are feeling positive about the future. More than 25% predict their sector will be operating in a 'pre-pandemic normal' in the second half of 2021. With a proactive approach, well thought out preparation for similar circumstances and precise planning, 2021 and beyond can certainly be productive and profitable for UK SMEs.
Disclaimer:
At Hiscox, we want to help your small business thrive. Our blog has many articles you may find relevant and useful as your business grows. But these articles aren't professional advice. So, to find out more on a subject we cover here, please seek professional assistance.
Related articles and guides
---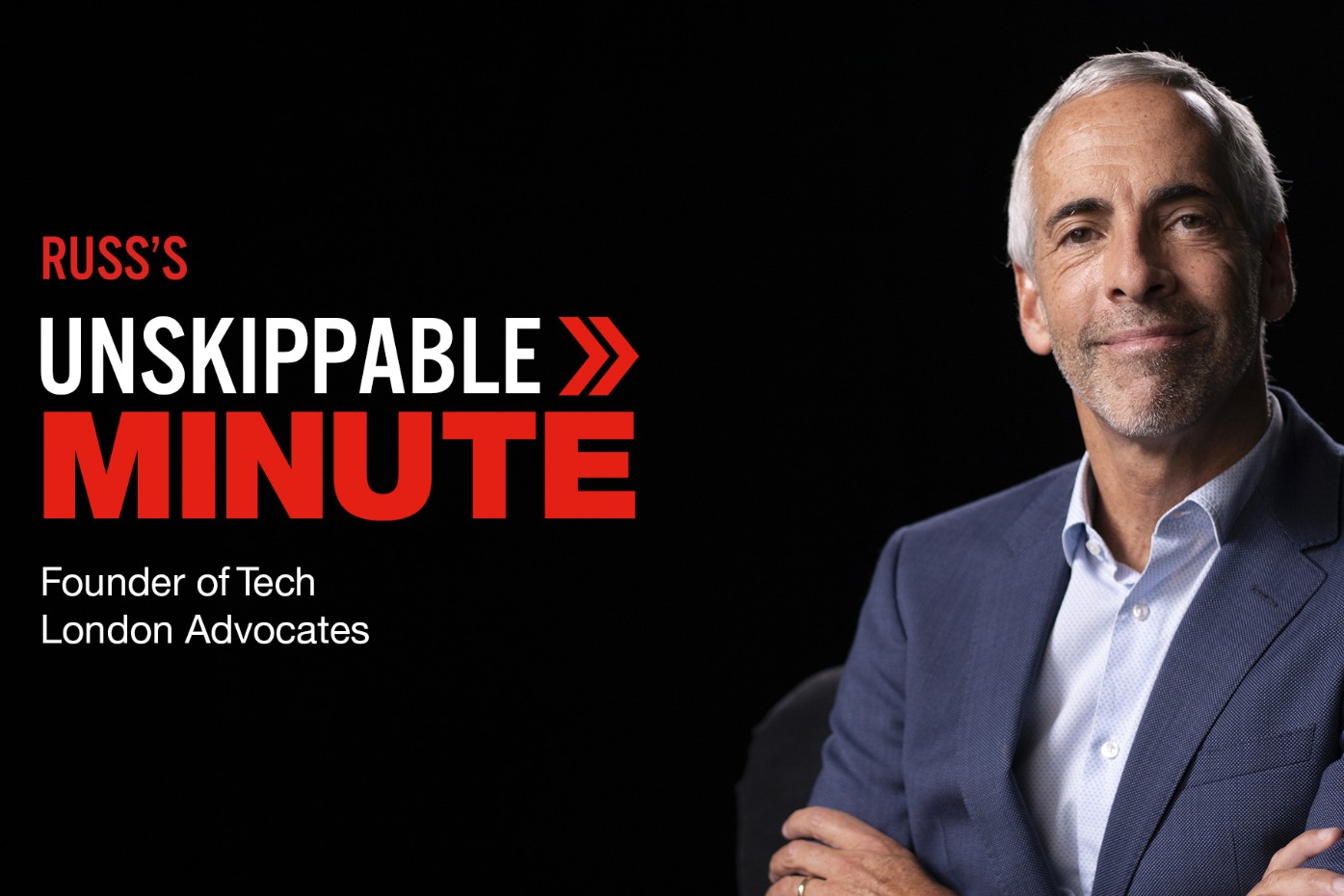 Russ Shaw: Find a trusted mentor
Many of our Business Demystified SMEs sought advice during the pandemic – having somewhere to turn can be invaluable. Watch Russ Shaw's tips for finding a trusted mentor.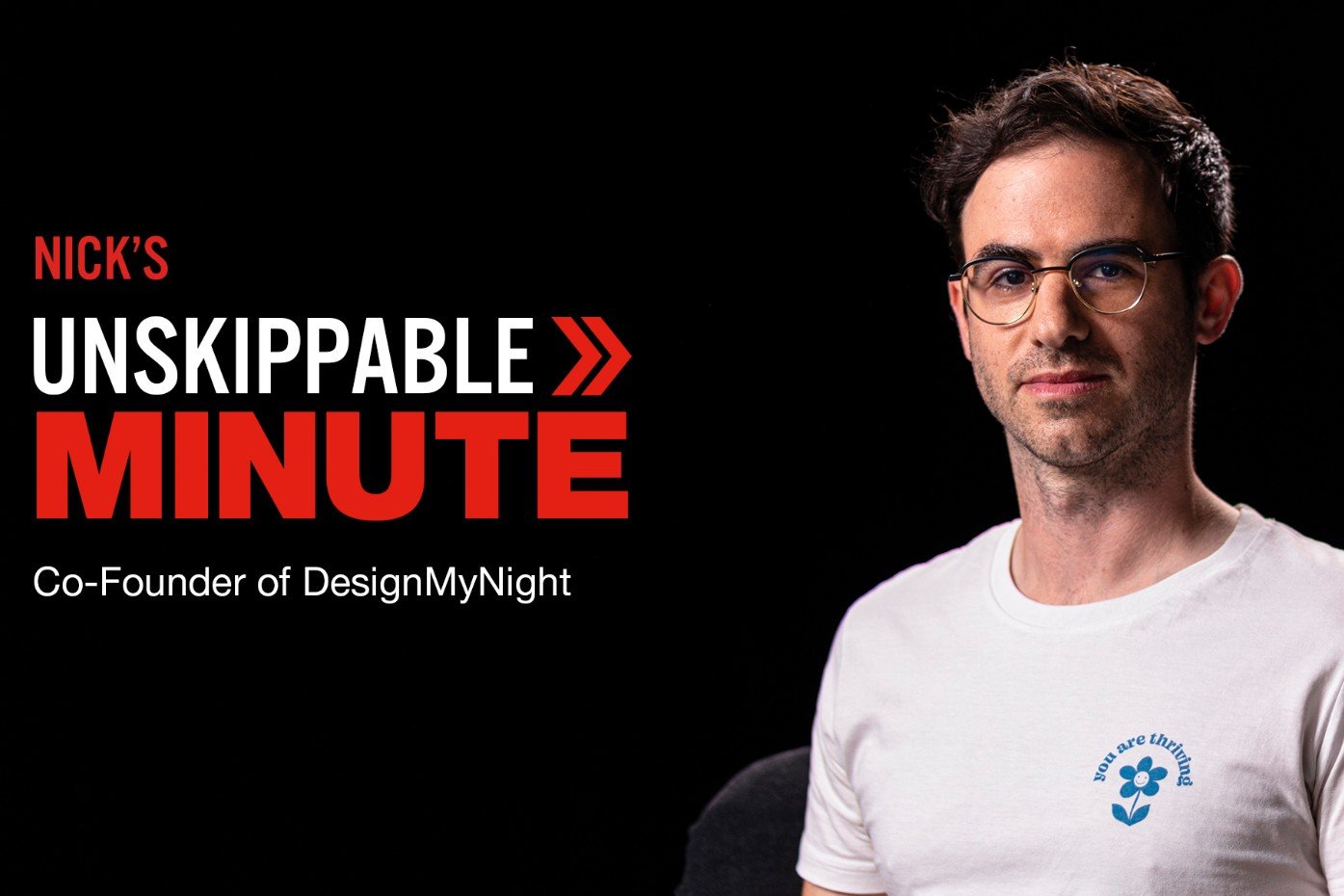 Nick Telson: Create a financial roadmap
SMEs discovered during 2020 that having a strong financial base is incredibly important in business. Nick Telson discusses creating a financial road map in this guide.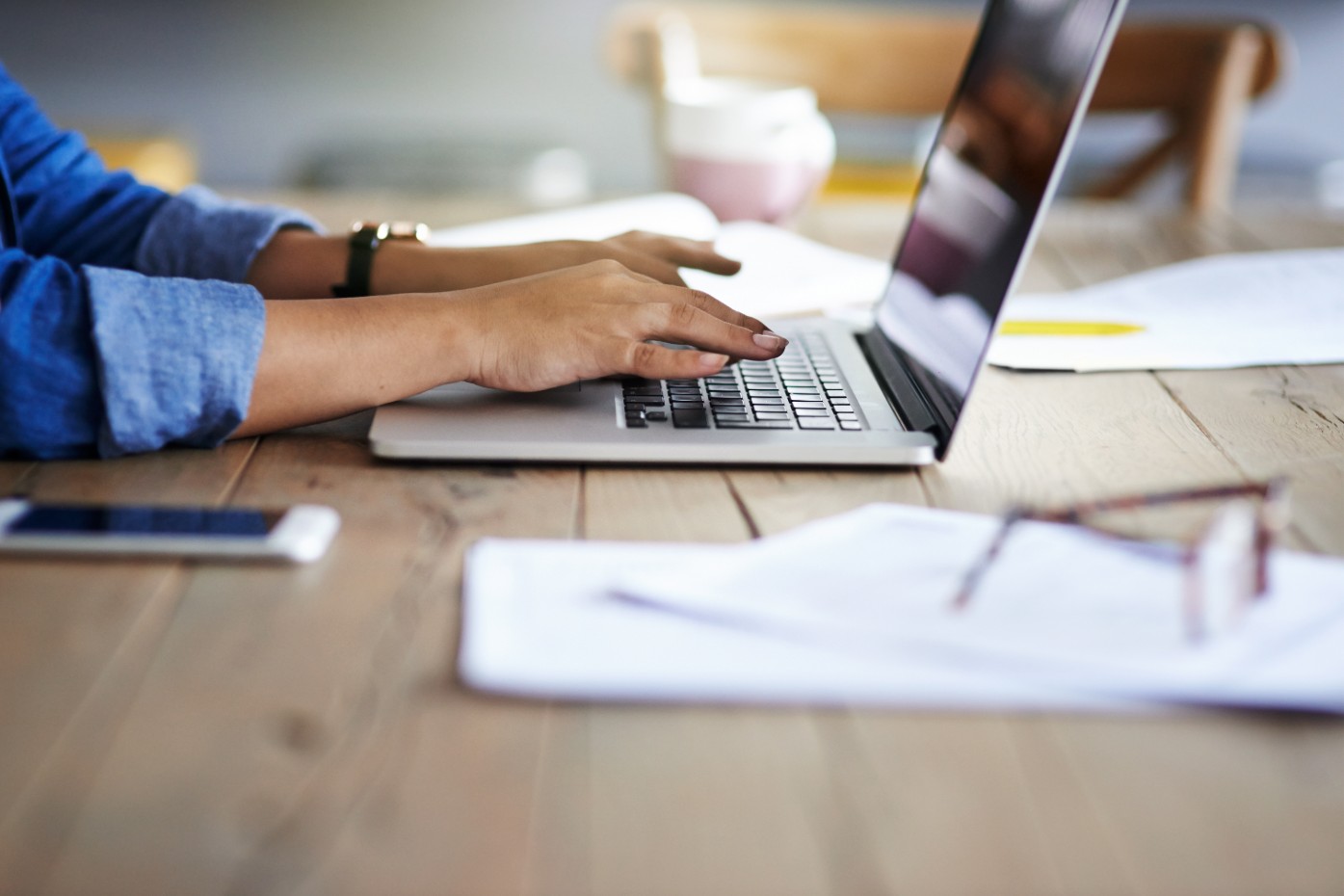 Five key lessons for SMEs in 2021
The global pandemic certainly created a challenging business landscape, so we've selected the five key lessons SMEs can carry forward into 2021 for a brighter future.