"Our mission is to make every day a hat day" – The City Milliner
---
6 min read

With a passion for hats and realising that there was a gap in the market for bespoke everyday hat wear, Tamara Williams traded in her corporate job with an ambition to bring back the hat (and in the process became Hiscox's first hatter customer).
How did you get started?
I've always liked hats… It started with an idea about having a hat company and, in doing my research, I became seduced by the history of the hat trade, the demise of hat wearing and hatters.
Days spent in the British Library made it easy to compare the hat-filled images of the past with the hatlessness of the present, and question why, what, how? Why did this functional, stylish everyday accessory become a special occasion accessory? What stops people from wearing hats? How do we bring the hat back, every day, everywhere, on everyone?
Having asked hundreds of people why they don't wear a hat, most people either lack confidence or have not been able to find the right hat for them. As most of the hats available are ready to wear, sizes and shapes are often limited.
The fact that the hat market doesn't readily provide the solution for the wearer means that clients believe they have a unique problem – their head is too small, too big, or that they don't suit hats. Which is not true. If I had £1 for every time someone tells me their head is too small or big, I'd be rich.
Most people admit they'd love to wear a hat, if they could find the right one. This is what really shaped the idea for The City Milliner. We act like a bespoke tailor, but instead of suits, we make hats.
Each hat is designed and handmade exclusively for the wearer. Instead of focusing on special occasion wear, we work with our clients to create something that they could wear every day. Clients can choose the colour, material, shape, crown height, brim length, lining, type of band and it will fit them perfectly.
We have a saying: 'Your hat. Your Way'.
Working alongside bespoke tailors and other bespoke makers means we can collaborate on a head-to-toe look, incorporating materials and colours. We were very lucky to be hosted from the start by Richard Wainwright and Choppin and Lodge tailors in the city. In trying to build a bespoke hatting trade from scratch there is so much to learn from the bespoke tailoring trade.
Our mission is to 'make every day a hat day', and bring hats back in a big way. I like to think that one day in the future I'll be standing on the steps of the Royal Exchange in London and seeing everyone emerging from Bank Underground station wearing hats of all shapes, sizes and colours – fedoras, trilbies, homburgs, cloches, flat caps.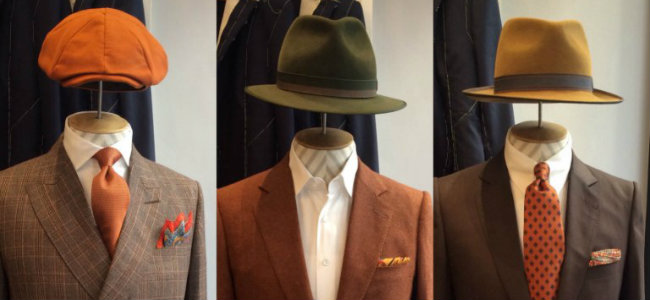 Has it been easy to set up as a hatter?
Before I started as a Hatter, I had 12 years' experience in business and consulting. Years in fashion and design? Zero.
I'm a negotiation skills trainer by trade. I didn't know how to make a hat when the idea took shape. However, where there is a will there is a way. When the fashion courses didn't teach what I wanted to learn I found a fantastic milliner who would. When we couldn't get our suppliers to supply samples the way we wanted, we sat in our suppliers' offices creating our own sample packs.
When we couldn't find the answer to a hat-making problem online we looked through books from a hundred years ago. When we wanted to understand more about the artisans who weave our panama bodies, we travelled to Ecuador to meet them (external link).
Entering the hat trade as a bespoke hatter requires time, money, insatiable curiosity and loads of enthusiasm.
The tools of our trade are all handmade and hard to find. These might include the handcrafted brim cutter, the hand-carved tolliker, puller downer, stretcher and most probably a hat block – hand crafted wooden blocks which the felt or panama body is stretched over- creating the mold of the hat. Each of these has been made by a skilled artisan. You need to pay for their time and art.
The market for materials is small and you are a very small player which means you can't really use scale to negotiate prices. Sometimes your order is delayed as the supplier prioritises larger orders.
You have to love what you do because until you're more established, there is no financial gain. I haven't taken a wage from the business since I started. Everything the business earns goes back into the business.
There are loads of variables in hat making, and as we are unique (there are no other bespoke hatters who operate like we do) there is no 'how-to guide' which means you have to learn by doing. Making mistakes can be expensive but are a vital part of the learning process.
So, easy? no. Worth it? Yes. I don't think I have been happier. The joy of being a craftsman, is making something with your hands and your heart. When you bring to life someone's hat ambitions, and tweak it until it is just right, and they later send you a note telling you how thrilled they are with it… big grin.
What's the bravest thing you've done in this business?
Every day is a little bit scary. As we're the first bespoke hatters in London there are so many people to convince at each step of the way, from the client, to other craftsmen, to journalists. Yet each little victory, from the customer's repeat orders, the support from tailors and cloth merchants, or being featured in the Financial Times or Germany's Süddeutsche Zeitung (external link), makes it all worthwhile.
I've never worked as hard in my life. I have had to learn everything on the hoof, but I'm really enjoying it. Every time I make a hat, I think it's better than the previous one I made. That's what makes me happy; constantly learning.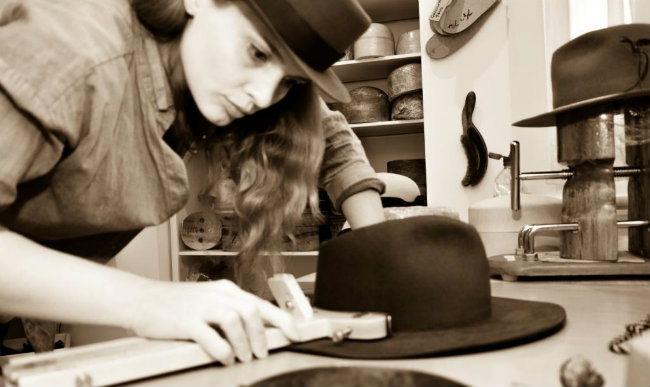 Why did you choose Hiscox?
When it's your business, you have control over who you do business with. I want to work with companies whose values align with The City Milliner, challenging convention, quality, courage… these values are important to me. I saw Hiscox's campaign for the 'small and the brave' and thought, that is us!
Working from home, I only wanted my work materials covered by my insurance, as well as anyone directly connected with the business*. In addition, as I travel to meet clients and may have tools or hats on display in different tailors' windows, I needed a policy to cover these goods too.
Hiscox listened to my needs and offered to create a bespoke policy. As a bespoke business – where the customer is at the centre of what you are producing – a bespoke policy for the The City Milliner made perfect sense. A bespoke policy for a bespoke hatter.
Customer service is very important to my business and to me and I have to say the customer service from Claire at Hiscox was excellent! She communicated my needs to the underwriters, kept me up to date with progress and addressed any concerns I had and had amends made very quickly.
*Anyone working under the company name is covered for public liability. If they injure someone or cause property damage to a member of the public, or another client or contractor, then the business would be covered.
What are your future plans?
Grow, grow, grow. More awareness, more locations, more sales, more hatters. We have hundreds of stories in our business which we want to share with the world. We want to be collaborating with more tailors and craftsmen creating head-to-toe looks. And if you're interested in joining a small and brave hatter – on their mission to make every day a hat day – we'd love to hear from you.
Fancy a hat? Go to the thecitymilliner.com (external link) to find out more.
Disclaimer:
At Hiscox, we want to help your small business thrive. Our blog has many articles you may find relevant and useful as your business grows. But these articles aren't professional advice. So, to find out more on a subject we cover here, please seek professional assistance.