Five minutes with an entrepreneur: Jon Pickering
---
7 min read

Block Solutions was formed in January 2006, but its rapid growth has earned it inclusion in this year's Sunday Times Hiscox Tech Track 100 list. An IT consultancy that helps organisations become more efficient and productive through the intelligent use of technology, Block has 75 employees and had revenue of £15.2 million in the year to end-March 2012. Jon Pickering is Block's Managing Director and co-founder.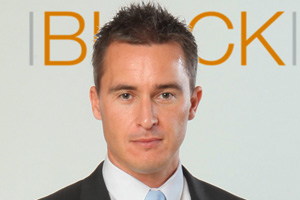 From where did you get the idea to set up your business?
I used to be a senior manager at Colt Telecoms and had contact with a lot of technology resellers [which resell big-brand IT vendor products to end users]. I believed there was a gap in the market for a company that focuses on customers' needs, rather than opportunistically selling them technology products. Our idea was to sit down with the senior IT people in organisations and spend time to try to really understand what problems they have. Then we would design IT solutions that would solve their problems for them. Quite simple really, but something product-focused resellers struggle to offer – our differentiator would be our people, the expertise.
Marc [Chang, Block's co-founder] and I knew each other well: we'd worked together and were friends, and we thought along very similar lines. So we decided to set up a business together.
Why did you want to set up your own business?
I felt unsettled in my previous job. I'd been through a number of re-organisations and restructurings and the teams I led had experienced a lot of upheaval. I had the opportunity to take voluntary redundancy, which came at the perfect time because I'd already decided that I would like to set up my own business.
From where did you get the start-up capital for your business?
Marc and I agreed that we would work as consultants for 12-18 months to generate the capital to start up our own business. I left my old job on a Friday and the next Monday I went to work as a freelance IT consultant. During those assignments we developed our reputations in the industry and we made enough money to set up Block.

We've had no seed capital or venture capital, sold no equity – it's just been cash out of our own back pockets.
How has your business plan changed since you originally wrote it?
All the business books tell you to have a business plan, but it's very easy to spend far too much time producing a long-winded plan that has very little practical relevance. That was the trap I fell into at the start.

Today, the business plans I write are far more concise and cover all the key areas of the business: finance, sales, technical strategy, people, etc. Our plans now are more concise, can be clearly measured, but most importantly are entirely relevant and useful.
What has been your biggest mistake since starting your own business?
In our first couple of years we hired sales people that were too senior for how mature we were as a business. The plan was for them to help build a team for us, when what we really needed were good-quality sales people who could go out and win new customers for us. In hindsight I should have managed the sales team myself, not got people in to do it for me. Even during that time we still managed to develop good sales and quickly adapted.
What has been your biggest achievement?
It is difficult to identify one particular achievement. Getting our first customers were special moments. Hitting big revenue milestones – £5 million, £10 million and £15 million – has also been great, because the whole company got behind us to do that. Picking up the Cisco Global Solution Innovation Partner of the year award on behalf of the company this year was a proud moment. But I think the standout achievement has to be creating a company which enjoys a high profile in our industry and which has a great culture where people like working with each other.
Did you expect the company would grow as rapidly as it has?
We've been pleasantly surprised by how we've managed to maintain our growth rate. We've never been complacent; we've been mindful that for every target we've set we need to do a lot of hard graft to achieve it. But it's easy to become obsessed with the numbers – I have at times. So we work hard to remember that we always need to do the right thing by our customers. That's why we set up the company in the first place. So long as we keep them happy then the figures should take care of themselves.
Has Block's rapid growth created any problems for you?
Not at first, but it's become more difficult recently as we've hit a certain size. It's become a challenge to recruit high-quality people fast enough to keep up with our pace of growth, but we know that our competitors face the same challenge.
Do you expect to continue to grow as quickly?
We're forecasting growth of 50-60% this year [to £24 million], which we're pretty confident we'll achieve based on our half-year figures. But we know that maintaining this level of growth while maintaining our quality might be quite challenging. I wouldn't want to compromise our culture or our reputation just to keep striving for high growth.
Having said that, I have a sales team in position now that is capable of delivering more growth next year. We just need to deliver that in a measured way so as not to affect our quality, which is our differentiator in the market.
Is being an entrepreneur nature or nurture?
In my own case, it's more nurture than nature. You've got to be a risk taker, because in setting up a business you are leaping into the unknown. You've also got to be confident in your own abilities, but running your own business is also about intuition. As an entrepreneur you're always learning from your mistakes.

In my old job I learnt my trade in a good technical environment, and I was given the opportunity to learn how to manage people. It was an amalgamation of all of these elements that culminated in me thinking: "I can set up my own company."
If you were Prime Minister for the day what would you do to help small businesses?
I would do more to support and encourage people to become entrepreneurs. The UK needs to breed more firms that are industry leaders and the only way they'll do that is by encouraging more entrepreneurship. There needs to be more encouragement to do that; there also needs to be more rewards for doing it. People who set up their own businesses are putting everything at risk to create something that is new and good for the UK economy. Personally, I had two small kids when I set up Block. I would like to think the government would recognise that. Lots of people I speak to want to set up their own business, but they wonder: "What's in it for me if I take the risk?"
What plans do you have for your business?
We would like to take our sales towards £100 million within five years and we can already see how we could do that, but again we need to be mindful of not just focusing on topline revenue.

We want to dominate in the markets in which we operate, which include healthcare, enterprise finance and education. But, most of all, we want to create an enduring, mature business that makes a real difference.
Do you have any heroes?
I like to read books by successful entrepreneurs, but I don't hero worship anyone. I have a lot of respect for Steve Jobs, but I've created a circle of friends and mentors around me whom I respect and whose advice I value. One is the CEO of a large UK business, another is an entrepreneur who runs a technology company and the third is an executive coach. We share our ideas and experiences of running different businesses over a beer or dinner.
What tips do you have for people who want to become entrepreneurs?
Don't think it will be easy and that it will make you rich quickly. Setting up your own business won't make you a lot of money in the first few years, and you've got to be prepared to work really hard. Also, you don't just need an idea for a business – you need a purpose as well. What does your business stand for? Why does it exist? It's got to have some core values or principles, as well as a good idea, to be successful. Finally, make sure you have good systems in place to control the key areas of your business – finance, sales etc. – right from the start, because they will give you all the information you need to run the business as it grows and develops.
Disclaimer:
At Hiscox, we want to help your small business thrive. Our blog has many articles you may find relevant and useful as your business grows. But these articles aren't professional advice. So, to find out more on a subject we cover here, please seek professional assistance.