Exeter University students win first prize in the Hiscox University Challenge
---
4 min read

Read on to find out what made the team of mathematicians from Exeter University worthy winners of the Hiscox University Challenge 2019.
The Hiscox University Challenge has come to a close for another year, and this time round we saw a group of Exeter University students awarded first prize in the competition.
The annual challenge enlists students from across the UK to tackle a task related to a specific challenge in the insurance industry. The idea is to put their data analysis skills to the test and encourage them to develop creative solutions for real-life scenarios.
Focused specifically on the insurance industry in Florida, this year's challenge required each team to come up with some innovative new KPIs that reinsurance companies can use when assessing potential insurance customers in the state – to decide whether they want to insure them or not. Florida is particularly prone to hurricanes, which means businesses there are at much higher risk of making claims related to storm damage and loss of earnings. The KPIs needed to consider these factors among other, more generic indicators.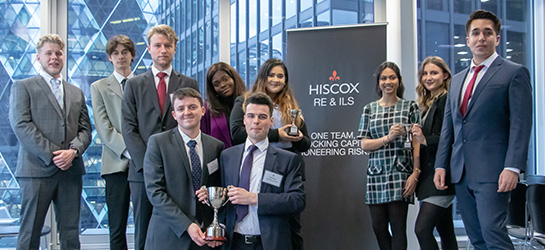 It was a clean sweep from the University of Exeter with both teams coming away with awards. From left, Ignatius de Pedro, Damon Tedder, Jakob Schmutz, Sophinne Aikins-Sancho, Hira Raza, George Ford, Alex Keen, Smruti Hiremath, Eloise Payne and Huseyin Akbayir.
Mathematics students Alex Keen, George Ford, Jakob Schmutz and Damon Tedder really impressed the judges with their approach to the challenge. They created KPIs that would be incredibly useful within the state of Florida, but also to the insurance industry as a whole. They demonstrated a good level of understanding of both the challenge set and the reinsurance market, and went above and beyond to find additional data sources to verify their work.
Team captain Alex Keen told us:
"Our KPIs are quite complicated as we each have our own strengths that we focused on, based on who is doing the most relevant course modules, etc. We were able to split the work to develop three different approaches – statistical, computer programming and geospatial."
As part of the challenge, all contending teams were invited to the Hiscox head office in London to attend two workshops hosted by the University Challenge team. The first workshop offered an overview of the world of reinsurance, a topic that many entrants probably weren't familiar with at the start, but soon got up to speed with.
The second workshop was a lesson in public speaking and presenting. While this is something they may have touched on during their university courses, it's a skill that is really worth honing for their future careers and came in very handy when it came to the presentation stage of the challenge. As well as providing the teams with the essential information and training to take on their challenge, these workshops also gave them a unique opportunity to have conversations with professionals in the insurance industry.
Alex explained, "what appealed to us the most about the Hiscox Challenge was that we could network with the Hiscox employees. I want to get into underwriting, so it has been helpful to gain insights into the industry.  It's also interesting to look at different areas of risk and risk management."
For their efforts, the winning Exeter team have won a trophy, a £1,000 cash prize for their Mathematics Society and fast-tracked entry into the Hiscox Graduate Assessment Programme. Due to the high calibre of work submitted in the University Challenge this year, we also decided to issue two more prizes – one for the most innovative KPI and one for the best presentation.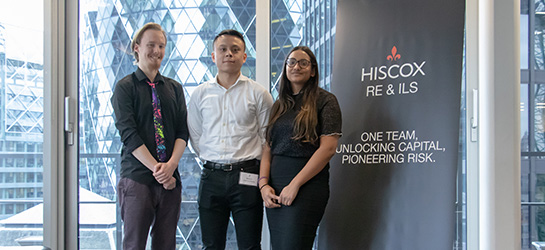 The calibre of students this year was exceptionally high. The University of Surrey was no exception making it to the finals for a second year in a row. From left, Stewart Hutchins (mentor), Kevin Li, and Nida Jafri.
The Most Innovative KPI prize was awarded to another team from Exeter University (Politics, Philosophy and Economics Society) for their creative KPI that focused on political involvement. They also received the Best Presentation Award for their fantastic presentation style on the day.
For more information about this year's challenge, the university teams that took part, and their innovative competition entries, visit our dedicated Hiscox University Challenge page.
Disclaimer:
At Hiscox, we want to help your small business thrive. Our blog has many articles you may find relevant and useful as your business grows. But these articles aren't professional advice. So, to find out more on a subject we cover here, please seek professional assistance.