As a self-employed professional, you may not be sure whether you need public liability insurance or not. If you think you do need it, you may be confused about what level of cover to buy.
Public liability insurance covers you in the event that you are sued for damages by a member of the public (including clients) arising out of bodily injury or property damage incurred as a result of your work. You may also benefit from the protection of a freelance public liability policy if you visit client homes or external business properties.
Specialised self-employed liability will cover you for the legal costs incurred in defending the claim and the costs you may need to pay as compensation to the person making a claim.
Why do I need it?
As a self-employed professional, you undoubtedly have customers or clients of some variety. If one of these were to, for example, visit your office for a meeting, and trip over on a loose piece of carpet, they may claim that the injury sustained had left them unable to work. That client could sue you for compensation as you have a duty to ensure the environment in which you work poses no harm to members of the public.
Even if you do not have clients visiting you, you may go to see clients at their workplace. If you caused an accident in a client's office, such as spilling a cup of coffee over a computer or leaving laptop cables across a pathway causing someone to trip, you could be liable for any damage or injury caused.
For the self-employed, public liability insurance is not mandatory by law but is often a contractual requirement as your client may want to ensure you have adequate protection in the event of an accident. If the worst should happen, liability cover will help your business deal with the legal costs of a claim. This cover is available to freelancers, sole traders and contractors as part of specialist self-employed insurance policies.
Reasons for having public liability insurance as a self-employed person include:
A claim could be made against you even if you don't have people visiting you on your work premises. For example, if you were to accidentally damage a client's property in their office or even their home. 
The 'no win, no fee' culture means that it was never been easier for people to bring claims for compensation against businesses. This essentially means that people may be more likely to take a stab at making a claim for compensation even if their chances are slim, because the cost to them will be minimal. 
Many companies and organisations will also insist on their suppliers having public liability cover in place.
Anyone you employ could be the cause of a public liability claim being brought against your business, so there are more than just your own actions to consider.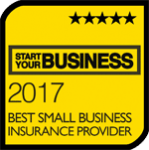 Winner 8 years running
Get a public liability insurance quote online
0% interest on Direct Debits
Immediate coverage and documentation
No admin fees if you amend your policy
Need more help? Speak to our UK-based experts. Call us on 0800 2800 351