The formula for business success
---
5 min read

It could be said that behind every successful business, there's a great leader. But, is there a recipe for successful business leadership? Does it stem back to an individual's schooling, an innate ability ingrained in their personality, or is it simply a by-product of hard work throughout their careers?
We surveyed SME (small and medium enterprise) owners across the UK[1], to investigate if there were similarities among their childhood behaviours and early career aspirations. With these affinities in mind, we've considered whether these factors could be the making of a successful business owner. For additional expertise, we also spoke to Tom Froggatt, Director at Singular Talent, to gain an understanding of what qualities, experience and attributes he believes are the most valuable for running a business.
Combining the two insights into the habits and backgrounds of business owners and leaders, we've identified three components that could make up a formula for business success.
They're creative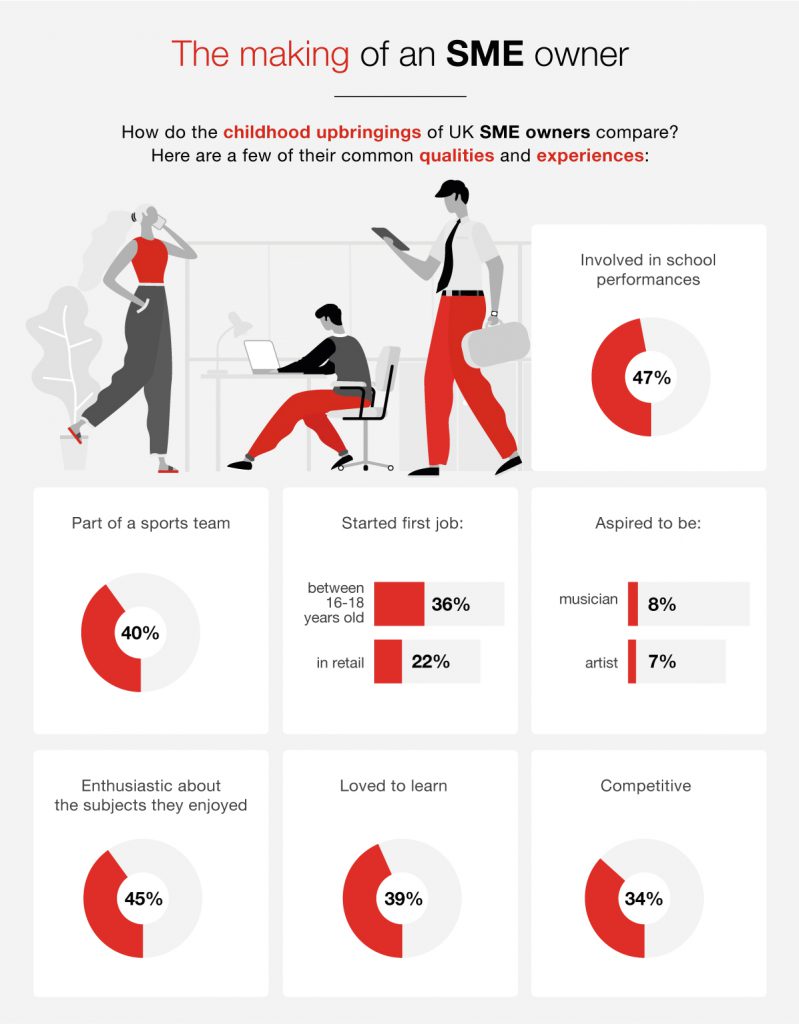 Firstly, we learnt that the SME owners involved in the study were creative children. When asked what their favourite subjects were at school, the top three ranking subjects were Art & Design, English, and Science. Furthermore, nearly half (48%) were involved in school performances.
The theme continued when they were questioned about what their dream job was as a child, with the top three most popular answers being a musician, artist and teacher. Of course, a level of creativity is required to become a musician or artist, perhaps demonstrating their key strengths. The aptitude for building a piece of music from scratch could be likened to skills required for building a business. Just as a musician builds his harmonies, bass and beats, a business owner builds a brand, culture and partnerships.
Creativity is often associated with the arts, though creative flair can be put into practice in numerous ways. In a business setting, it could equate to generating innovative new ideas and solutions – without a dose of creativity, all businesses would follow the same patterns and provide identical products or services[2].
They're confident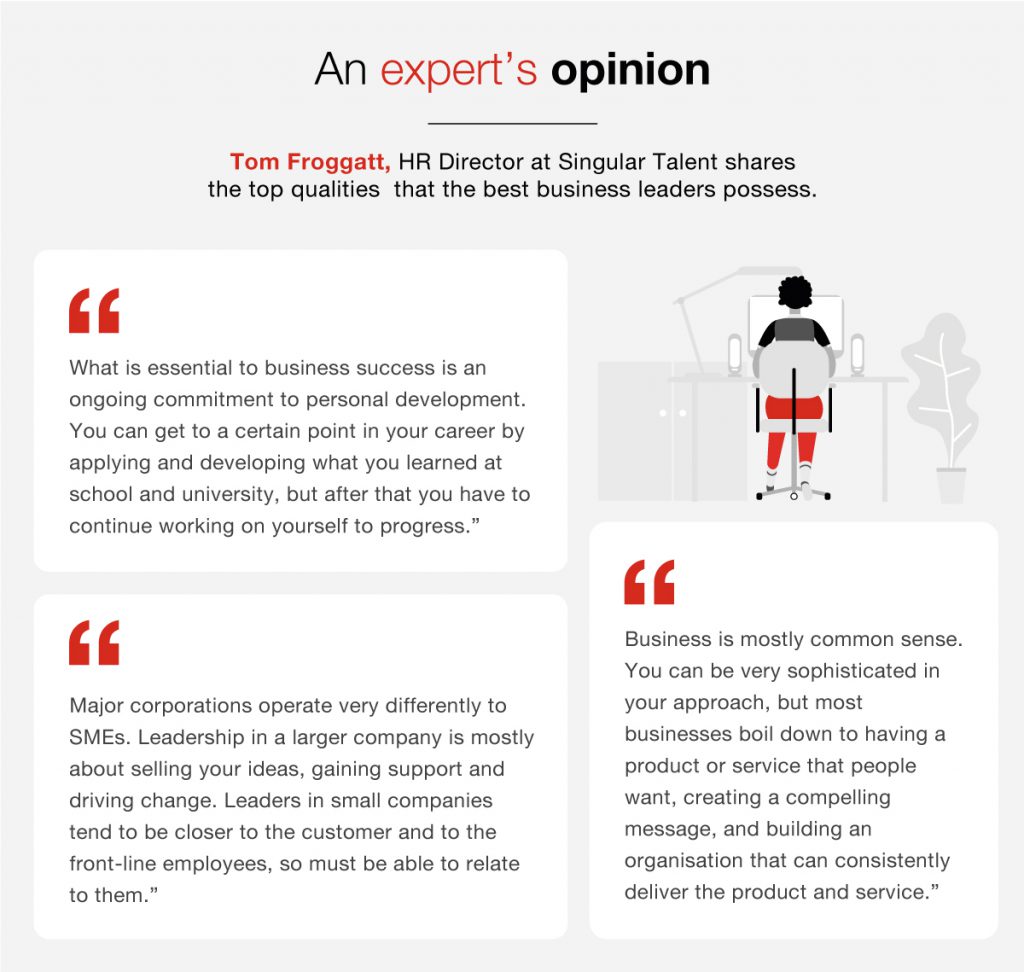 "Not all successful people are incredibly smart, or lucky, or talented, but they are, almost uniformly, confident," says Froggatt. "That doesn't mean they never have doubts, but that they back themselves to deal with challenges that arise and to find solutions."
Like creativity, confidence can come in many forms, of course, and doesn't necessarily equate to being outgoing by personality. For example, referring back to our earlier points, it could be said that the confidence it takes to put yourself out there creatively or to stand up and perform in front of a crowd are both very different forms of confidence but are equally as valuable in their own way.
Linking this to the business world, leaders need confidence in order to feel empowered to put their ideas into action and to stand up and inspire their team. Furthermore, they need the determination to close more deals and build relationships with clients who know the business' worth.[3] It takes a great deal of self-assurance, belief and motivation to get a business off the ground and to forge the essential relationships needed to drive success and grow the company[4].
They're great communicators
The foundation of a business is people – the employees, the clients, the suppliers and the customers[5].  For this reason, good communication skills are essential for forging positive professional relationships, motivating and inspiring employees to strive towards business goals and values, and driving innovation within the business and industry[6].
It's true that qualifications can help an individual to secure a new job – and in some industries are essential[7] – but according to Frogatt, there's much more to being 'qualified' for a job than the actual qualifications, suggesting the 'school of life' has a massive part to play:
"There are some positions that have qualifications as a pre-requisite, but most don't. Running a business is about having vision and influencing people (both internally and externally), and neither of those can be learned academically," says Frogatt.
In order to investigate where these interpersonal and leadership skills are developed, we asked the SME owners about their first jobs. The survey results revealed that the most common first jobs among them were in retail (23%) or the food and drink industry (18%), when they were aged 16-18 years old.
This indicates the motivation to put themselves out there into the world of work at a young age. With both industries being customer-facing, there is also plenty to learn from these roles in terms of communication skills, such as liaising with colleagues and customers. Not to mention these jobs teach valuable lessons in handling money, managing time, attention to detail, business awareness and more[8].
Customer and client manner is a talent that Frogatt highlighted when asked about the crucial skills a leader needs. He emphasised that this is of particular importance in an SME setting:
"A leader in a smaller business tends to be close to the customer and to the front-line employees, so must be able to relate to them and their challenges and concerns," explains Frogatt.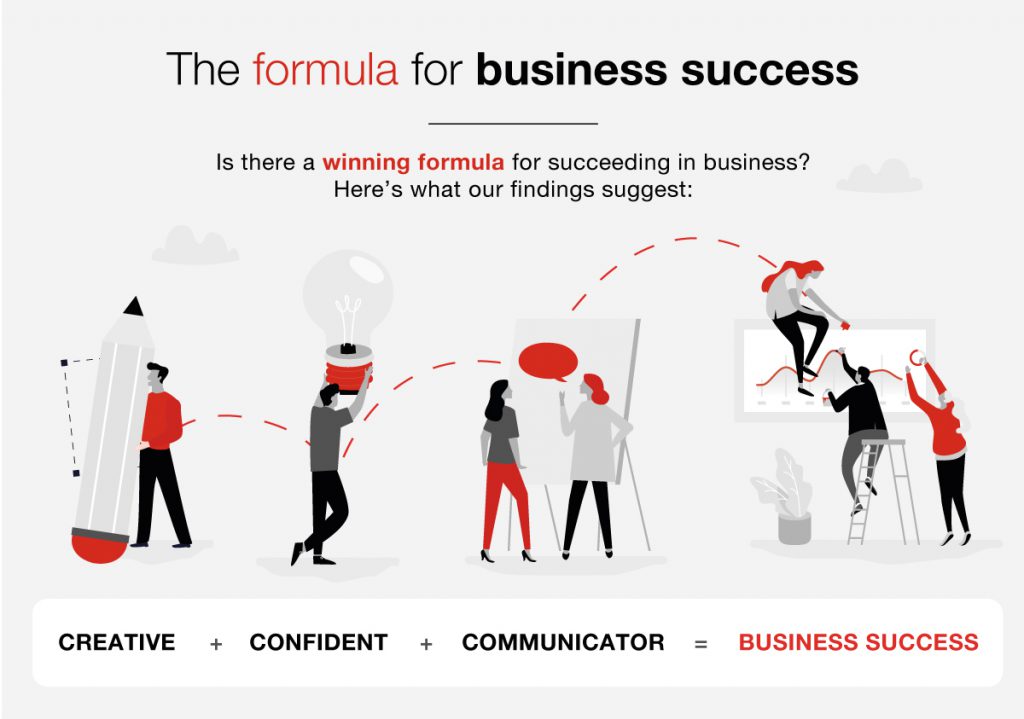 So, with all this considered, is it possible that a combination of creativity, confidence and communication skills are the building blocks of a great business leader? While previous experiences at school and careers can help develop these attributes, our findings suggest that success in business is just as much about personal qualities as it is about the qualifications.
Running a business is incredibly rewarding and if you're thinking of starting one of your own, it's worth being aware of the challenges and processes you will face along the way. Hopefully things will go without a hitch, but on the chance that things don't go exactly to plan, you may want to consider business insurance.
Hiscox's public liability insurance could protect your business from the financial implications of client disputes, accidents involving a member of the public, damage or loss of equipment and more.  Once your business gets off the ground you should make these protective measures a top priority. Securing your finances in the event of an unexpected mishap could mean securing the future success of your business, so don't leave it to chance.
Get a public liability insurance quote from Hiscox today. If you need more information on this cover, please visit our liability FAQ center and get the answers you need.
[1] The research was conducted by Censuswide, with 501 SME owners in the UK between 29.05.2019 - 05.06.2019. Censuswide abide by and employ members of the Market Research Society which is based on the ESOMAR principles. 
[2] https://catmediatheagency.com/creativity-its-important-to-your-business/ (external link)
[3] https://www.lifecoach-directory.org.uk/lifecoach-articles/why-is-confidence-so-important-as-a-business-owner (external link)[4] https://hbr.org/2018/07/great-leaders-are-confident-connected-committed-and-courageous (external link)
[5] https://upwardsleader.com/2014/07/23/business-is-people/ (external link)
[6] https://www.breathehr.com/blog/effective-communication-is-key-to-your-business-success (external link)
[7] https://www.thebalancecareers.com/different-types-of-jobs-a-z-list-2059643 (external link)
[8] https://www.thebalancecareers.com/list-of-retail-skills-2062476 (external link)
Disclaimer:
At Hiscox, we want to help your small business thrive. Our blog has many articles you may find relevant and useful as your business grows. But these articles aren't professional advice. So, to find out more on a subject we cover here, please seek professional assistance.