A good reputation takes time and effort to build, and can be your greatest asset. That's why Hiscox Media Professional Insurance helps you to protect yours if things don't go quite as planned. Our tailored professional indemnity policy offers cover for claims of negligence from a dissatisfied client. Although you undoubtedly strive to perform your work error-free, sometimes disgruntled customers are simply unavoidable in the marketing and media industry. And with even an unfounded claim being expensive to handle, you can work with greater peace of mind knowing you have financial backup from a good insurance plan.
You can also trust us to protect you against many of the other risks faced by small businesses. Choose the products that are right for your business and create one single and comprehensive insurance package, tailored to you.
Marketing and media professional indemnity insurance
The simplest mistakes can be the most damaging. Marketing, media, advertising and communications professionals are particularly vulnerable to claims of negligence for simple errors. This could be where a client believes you've made a mistake when booking in an advert for them or where you have to defend a claim for copyright infringement for not having the right permissions in place. At Hiscox, we understand that situations like this can happen to anyone, no matter how experienced you may be.
Hiscox Professional Indemnity Insurance for marketing and media professionals can help protect you against the cost of settling or defending a client's claim that there is a problem with the work you have done for them. This policy also includes free crisis containment cover. This provides access to specialist public relations support if a covered claim looks likely to damage the reputation of your business.
What about social media agencies?
Social media agencies are eligible for Hiscox professional indemnity cover, as they fall under our media and marketing insurance category. You can combine PI with other insurance products that are right for your business to create one single and comprehensive package to meet your needs.
Why choose Hiscox marketing and media professional indemnity insurance?
Our policy will cover you for:
Unintentional breach of a written contract – for example if a client claims your work doesn't fit the agreed brief (not available for publishing or broadcasting companies)
infringement of intellectual property rights – for example using content from a website or publication without permission
negligence or breach of duty of care – making a mistake in your work or giving bad advice
breach of confidence – sharing confidential or sensitive information without consent
defamation – making false or damaging claims about a person or organisation
civil liability – if a claim occurs because of your business activity for a client and we haven't specifically excluded it, it's covered.
More information about Hiscox Professional Indemnity Insurance
Your PI policy
We want you to understand the PI cover we offer for marketing and media companies. They are covered under our professional indemnity policy for marketing, advertising and communications companies.
Our guide to professional indemnity insurance for marketing, advertising and communications
Tailor your business insurance quote
Award-winning claims service
Immediate coverage and documentation
No admin fees if you amend your policy
Need more help? Speak to our UK-based experts. Call us on 0800 2800 351
Mon - Fri, 8am - 7pm, Sat, 9am to 2pm, excluding bank holidays. Calls are free from a landline and some mobile contracts
Marketing and Media Liability Insurance
If your business provides marketing and media services, public liability insurance from Hiscox can help protect you against the cost of paying or defending a claim for compensation from a member of the public for bodily injury or property damage. You might think your business has little exposure to members of the public because you just deal with other businesses, but public liability includes claims made by clients too. For example, you or an employee could be visiting a client and accidentally damage an expensive piece of their equipment. Without the right liability insurance in place this could be a messy and expensive problem to resolve.
More about Hiscox Public Liability Insurance
If you have employees then your business is probably required by law to have employers' liability insurance in place. It's designed to protect against the cost of paying or defending a claim for compensation from an employee for injury or disease because of the work that they do for you. This could be where a member of your staff slips or trips and injures themself in your office.
More about Hiscox Employers' Liability Insurance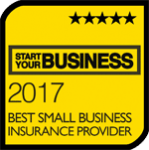 Winner 8 years running
Office insurance
Our office contents policy protects home or office-based small businesses against the cost of replacing or repairing your business equipment if it is accidentally damaged, lost or stolen. You can also add a range of specialist covers to your policy such as:
portable equipment – cover for equipment outside of the office, such as laptops and phones
business interruption – cover for the financial losses that result from being unable to trade due to an unexpected interruption
equipment breakdown – cover for the sudden electrical or mechanical breakdown of your office equipment.
More about Hiscox Office Insurance
Cyber and data risks insurance
Our cyber and data risks insurance supports and protects businesses if they experience a data breach or are the subject of an attack by a malicious hacker that affects their computer systems. It provides comprehensive cover, simplicity, reputation protection and a trusted partner in the event of a claim.
More about Hiscox Cyber and Data Risks Insurance
Personal accident insurance
What would happen to your business if you, or a key employee, are unable to work due to an accidental bodily injury? Hiscox Personal Accident Insurance can help protect against the financial impact of this by providing your business with a lump sum or weekly amount.
More about Hiscox Personal Accident Insurance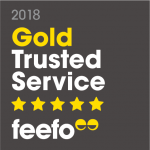 What is your profession?
Find out more about the range of insurance covers we offer to specific industries and professions in the list below: