If you've had a home insurance policy for several years and have made very few claims, the chances are you've built up a healthy no claims discount. Your no claims discount, also known as a no claims bonus, is a discount on the price your insurance provider will charge you based on the number of policy years you have been claims-free.
When you buy home insurance with us, we offer a discount if you've made no claims on your previous insurance policy in the last full year. If you've made no claims during the last five years, we'll apply a no claims discount of 25% to your premium.
Why you might consider no claims discount protection
You've had five or more claims-free years as a home insurance policyholder
You want to be able to make a claim if you need to
You don't want to lose the no claims discount you've built up over the years
How we can protect your no claims discount
When you take out home insurance cover with us, you can choose the option to add no claims discount cover to protect your discount. This way, you can make one claim in any policy year and still keep your discount intact when you come to renew your policy.
If you have added no claims protection and need to make a claim, simply call our UK-based award-winning claims team as usual. When you renew your policy, if this is the only claim you've made that year, we won't reduce your number of claims-free years meaning we won't reduce the no claims discount we apply.
If you make more than one claim in a policy year, we'll reduce your no claims discount by two years for each subsequent claim you make. For example, if you had a 5-years' no claims discount and you made two claims, the first claim wouldn't impact your claims-free years or your discount, but the second claim would reduce your claim-free years from five to three, and your discount from 25% to 18%.
Rest assured, if the number of your claims-free years reduces below one, we'll withdraw your no claims discount protection and you will no longer be charged for this cover.
Add no claims discount cover to your policy
To find out more about adding no claims discount protection to your home insurance with us, speak to one of our friendly UK-based insurance experts.
Call us on 0800 247 1902. Lines are open Monday to Friday, from 8am to 7pm, and Saturday from 9am to 2pm.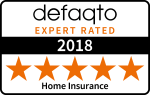 Get a home insurance quote online
Accidental damage for buildings and contents included as standard
Dedicated claims handler assigned to all home insurance claims as standard
Award-winning claims service
Speak to our UK-based experts. Call us on 0800 247 1902
Existing customer
If you already have a policy with us and need to get in touch, our home insurance specialists are here to help.
Make a claim
When things go wrong, we're the experts in putting it right
Need to make a claim?
Our claims promise
Our UK-based claims handlers are here to act swiftly and in your best interests. Find out more about our superior claims service.