We offer cover for accidental damage and loss as optional add-ons to your home insurance policy. If you choose not to select them, we'll reduce your premium. When deciding whether or not to add these covers to your policy, it may help to know that over the last three years, accidental damage was the cause of 1 in 5 of the claims we paid and accidental loss was the cause of 1 in 6.
Call on 0800 247 1902
Mon - Fri, 8am to 7pm, Sat, 9am to 2pm. Calls are free from a landline
You should consider taking out accidental damage and loss cover if:
you have lots of expensive portable equipment, like laptops, tablets, smartphones and cameras that you often take out of the house
you have pets that could easily damage your furniture
you own expensive jewellery that can be accidentally lost or damaged
you often carry out DIY projects in the home and would like to know that you're protected in case something goes wrong.
When you might need to use your accidental damage and/or loss cover
Accidental damage covers you against expensive accidents such as kicking a football through your window, spilling paint on your carpet, or dropping your watch on a stone floor. It's designed to give you protection for all of life's mishaps that sometimes simply can't be avoided.
Accidental loss covers your personal possessions for accidental loss both at home and while away from your home – for up to sixty days at a time. It covers you against expensive and distressing losses such as losing wedding rings and other jewellery, leaving bags on trains, and misplacing expensive phones.
If you decide to select these cover options for your policy and you later suffer an accidental loss or some damage, simply call our award-winning claims team. If we can't settle your claim immediately, we'll assign a dedicated Claims Underwriter to your case who will handle your claim from start to finish.
To find out more about Hiscox Home Insurance, read our policy documents: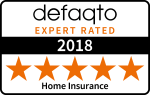 Buy your policy online today
0% interest on Direct Debits
Immediate coverage and documentation
No admin fees if you amend your policy
Need more help? Speak to our UK-based experts. Call us on 0800 247 1902
Existing customer
If you already have a policy with us and need to get in touch, our home insurance specialists are here to help.
Make a claim
When things go wrong, we're the experts in putting it right
Need to make a claim?
Our claims promise
Our UK-based claims handlers are here to act swiftly and in your best interests. Find out more about our superior claims service.