How to choose a home insurance policy
At Hiscox, we understand that no two homes are the same. Those who value insurance as much as the value of their home often need a little more safeguarding – after all, peace of mind is priceless.
We can help you decide which home insurance policy best fits your needs. Perhaps you need to know the difference between our home insurance policies, what happens once you've made the decision, details on our claims policy or maybe you would like to know what our current customers think about us. Once you've made your decision, we can make it happen.
Which policy?
How much is building insurance? How much contents insurance do I need? We answer all these questions, and more, right here.
Claims philosophy
Our client relationships are based on trust and we handle all our claims with speed, efficiency and courtesy. Common sense comes as standard. And we never look for loopholes.
Claims Case Study: Coming Up Roses (And Rings)
When a customer lost his late dad's signet ring while doing a spot of gardening, we didn't beat about the bush. We brought in a metal detectorist to track it down and ensure a happy ending.
Claims Case Study: Coming Up Roses (And Rings)
Awards & Achievements

Hiscox have been awarded the 2017 Consumer Intelligence award for claims. Voted for by householders this is based on a survey carried out by Consumer Intelligence of over 24,000 consumers between January 2016 to December 2016.

In February 2017, Hiscox won the Feefo Gold Service award, an independent seal of excellence that recognises businesses for delivering exceptional experiences, rated by real customers. Hiscox met the criteria of collecting at least 50 reviews between January 1st 2016 and December 31st 2016, and achieved a Feefo service rating of between 4.5 and 5.0.

Hiscox was awarded the 2016 Consumer Intelligence Most Trusted award. Voted for by consumers this is based on a survey carried out by Consumer Intelligence of over 24,000 consumers surveyed between January 2015 to December 2015.

For the past eleven years running, Defaqto (external link) have awarded Hiscox home insurance five stars. Defaqto is an independent financial research company, who rate products from 1 to 5 depending on the level of quality and comprehensiveness of the features and benefits it offers.
Customer stories
Our word is our bond. We also like sharing how our current customers think our customer service stands out from the crowd.
Home insurance reviews
We always ask our customers to leave a home insurance review so we can continue to improve our services. Read the feedback we've received from people we've been privileged to insure.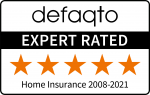 Get a quote online
Worldwide cover for up 60 days as standard
Dedicated claims handler assigned to all home insurance claims as standard
Award-winning claims service
Contact our UK-based insurance experts 0800 247 1902
Mon - Fri, 8:30am to 5:30pm