For a small increase in the cost of your home insurance, you can receive £100,000 of legal expenses cover. This add-on is designed to protect you if you're faced with paying for legal action or advice.
What is legal expenses insurance?
As a policy add-on to our home insurance, legal expenses cover can protect you against the cost of taking legal action should a situation arise where it's needed. When you take out our home insurance, you can choose to add legal expenses cover to your policy. This provides up to £100,000 per claim for the cost of negotiating or pursuing your legal rights against a wide variety of legal issues.
This cover also protects all permanent members of your household and includes, among other things:
certain types of employment and contract disputes
bodily injury claims for sudden injuries or illnesses
property disputes for damage worth more than £100
court expenses relating to any of the claims we cover
expert legal advice before making any claim
no excess to pay
Telephone enquiry hours
Mon - Fri, 9am - 5pm, excluding bank holidays. Calls are free from a landline
Why take out legal expenses insurance?
Facing a trial, whether it's over an argument with a neighbour or a dispute about an employment contract, can be very expensive. But with our legal expenses insurance, you'll have access to expert advice and your costs will be covered. For example, if a member of your family was hurt and you wanted to seek damages, our home insurance add-on would cover the cost of pursuing this up to £100,000.
You might think about taking out legal expenses insurance if:
you've had to pursue your legal rights in the past and know how costly it can be
you'd like the peace of mind of knowing that if legal action was ever necessary you'd be covered
you want to be in a position to pursue your family's rights if you ever had to
How does our legal expenses insurance protect you?
If you've added legal expenses cover to your policy and would like to seek confidential legal advice, please contact DAS Legal Expenses Insurance Company Ltd on 0117 934 0449. If we agree to an action or claim, we'll appoint a law firm, an accountant or another suitably qualified expert who will act on your behalf.
To find out more about Hiscox Home Insurance, read our policy documents:
Home Emergency cover is underwritten by DAS Legal Expenses Insurance Company Limited.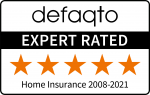 Get a home insurance quote online
Accidental damage for buildings and contents included as standard
Dedicated claims handler assigned to all home insurance claims as standard
Award-winning claims service
Speak to our UK-based experts. Call us on 0800 247 1902
Mon - Fri, 9:00am to 5:00pm
Existing customer
If you already have a policy with us and need to get in touch, our home insurance specialists are here to help.
Our claims promise
Our UK-based claims handlers are here to act swiftly and in your best interests. Find out more about our superior claims service.