Some like it contemporary while others might be more convinced by an Old Master, but whatever your taste in art, we understand that you'd prefer to display it where you can see it rather than hide it away. That's why Hiscox Home Insurance includes £10,000 of cover for your art and collections as standard, so there's no need to take out a separate art insurance policy.
Our standard Direct Home insurance automatically covers your newly-acquired pieces, as long your collection remains below £10,000. Simply let us know if your collection is worth more than this, and we'll make sure your art insurance policy has it covered.
With our art insurance, we'll pay out the market value for each item that's lost, stolen or accidentally damaged.
Why you might need art insurance
Whether it's paintings, sculptures, or photographic prints, your art collection may be worth more than you think and may not be covered by your existing home insurance.
You might have recently inherited or been gifted some valuable art pieces.
You would prefer to display your art in your home to enjoy it rather than hide it away in a safe.
One all encompassing policy to cover your home and contents
Unlimited (Home Generic)
Be confident with unlimited cover for your home and contents
Read more about our unlimited cover
Dedicated (Home Generic)
Claims are managed by a dedicated claims handler
60 days (Home Generic)
Valuables you take away from home are covered for up to 60 days
How Hiscox Home Insurance cover protects your art
With a Hiscox Home Insurance policy, you don't have to take out separate fine art insurance as we provide cover for your art and collections as standard.
£10,000 of cover as standard for all your art and collections
If your collection is worth more than this, simply tell us how much total cover you need.
No need to list all your pieces
Only tell us about items, pairs or sets worth more than £15,000, so you don't have to spend time listing all your art.
Newly-acquired art is covered automatically if your total value stays under £10,000
If your new total value exceeds this amount, call us and we'll provide the extra cover you need.
We pay for loss in value
If we repair a damaged item of fine art or a collectable, we'll pay for any loss in its market value.
Many types of items of art and collectables are covered
Drawings, etchings, prints and photographs, statues and sculptures, antique furniture, clocks and barometers, books and stamps, dolls and toys, medals and militaria, and much more.
Exceptional claims service


99% of customers surveyed who made a claim would recommend us


(

Insight Now, 249 surveys, Feb 2017 - Jul 2017

).
If the unfortunate happens and you suffer a loss, simply call our UK-based award-winning claims team. They're highly experienced in dealing with art-related claims and will quickly provide you with the expertise you need, such as putting you in touch with a professional restorer. We'll also assign a dedicated claims handler to your case who will take care of your claim from start to finish.
Find out more about Hiscox Home Insurance
Product information
A summary of the key facts and limitations of our home insurance
Download Product information (PDF)
Policy wording
The full terms and conditions of our home insurance
Download Policy wording (PDF)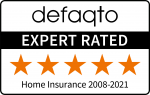 Cover your art as part of a home insurance policy
Get a personalised quote online 
Award-winning claims service
£10,000 of cover as standard for all your art and collections
No need to list all your pieces
Get a quote tailored to your collection. Speak to one of our UK-based experts. Call us on 0800 247 1902