2017 is a significant year for the York Early Music Festival, as the internationally acclaimed 10-day summer festival celebrates its 40th anniversary and announces a new three-year partnership with specialist insurer, Hiscox.
The York Early Music Festival is a firm favourite on the UK music and arts calendar, and has garnered international acclaim as one of the jewels in the crown of the region's many festivals. Attracting visitors and musicians from across the world to its unique mix of concerts, illustrated lectures, workshops and educational activities, the Festival also celebrates the myriad of historic buildings, which make up the City of York.
Delma Tomlin MBE, Director of the National Centre for Early Music – the administrative home of the York Early Music Festival – said, "We are delighted that in such a significant year in our history, Hiscox has taken the opportunity to work alongside us. 2017 marks both our 40th anniversary and the 17th International Young Artists Competition to be held in the City, attracting emerging professional ensembles from across the world.  An ideal year to celebrate with such an internationally established partner."
Phil Thorn, Head of Direct Home Insurance, Hiscox UK, commented: "As a major employer in York, we are committed to supporting the community in which we operate and playing an active role.  We have a long-held passion for the arts, as do many of our customers, and so are delighted to be involved in the York Early Music Festival in what will be a momentous year."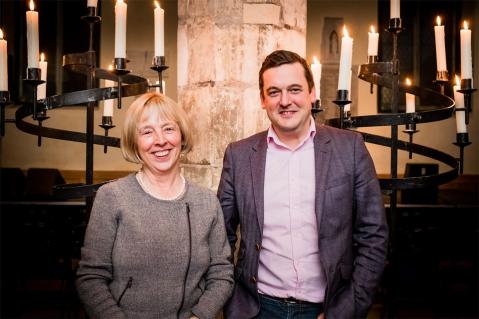 Five Festival highlights in 2017
Guest artists during this landmark year include the internationally acclaimed vocalists I Fagiolini, directed by Robert Hollingworth, honouring the music of Italian composer Claudio Monteverdi with a promenade show in York Minster. The performance is together with virtuoso period instrumentalists, the English Cornett & Sackbut Ensemble.
The Sixteen, widely recognised as one of the world's greatest choirs, with an international reputation for excellence, are much-loved regulars at the Festival.  Here in the UK, they are 'The voices of Classic FM', and are revered the length and breadth of the country thanks to their annual Choral Pilgrimage. Directed by Harry Christophers, this concert – featuring the music of Palestrina and Poulenc – will make full use of the Minster's magnificent acoustic.
Winners of the 2015 NCEM International Young Artists Competition Ensemble prize, the Consone String Quartet has gone on to acquire more prestigious awards and scholarships, and has given performances at the Cadogan Hall, Edinburgh Festival and at Buckingham Palace. This is an exciting return to York.
The 2017 York Early Music International Young Artists Competition takes place during the festival week, culminating with a grand finale on Saturday 15 July.
9 days, 30 performances, 10 venues and 50 hours of music.
York Early Music Festival 2017: Friday 7 – Saturday 15 July
Further programme details available early 2017. Tickets on sale March 2017: www.ncem.co.uk/yemf (external link)
Accommodation bookings at: www.ncem.co.uk/hotels (external link)