Check your policy
Many insurers don't provide cover for items like antique furniture, pieces of art or statues under standard home contents policies. Some contents insurance policies have a 'Single Article Limit' that assumes that no single item covered by the policy is worth more than the amount stated.
Hiscox Home Insurance provides £10,000 of cover for fine art, antiques and collections as standard. If yours are worth more, please tell us the total value of the items you wish to cover. And if you'd like us to provide cover for any antique jewellery and watches, simply tell us how much cover you need.
If your collection is worth up to £250,000, Hiscox Collections may be suitable for you. Here you can insure your collection online, without having to list any individual items with a value of less than £15,000. We'll give you an immediate quote and cover in minutes.
Top valuers and furniture restorers Gurr Johns (external link) have assembled the following tips to enhance the pleasure you get from your fine art, antiques and furniture and also help protect them for as long as possible.
The most secure way to hang a painting of any scale is to use two hooked plates screwed onto either side of the back of the frame, then suspend with brass chains onto rawl-plugged screws. The advantage of this method is that if a fitting on one side fails there is still a good chance that the other side will hold reducing the resulting damage to the frame, painting or items below.
Direct light and heat are detrimental to works of art and paintings. It is the fluctuation in temperature rather than excesses in temperature that causes the most damage. As wood expands and contracts so also does the canvas or panel support of a painting. This movement causes the less malleable paint surface to peel or crack. A stable temperature should be sought around paintings and furniture, and a humidifier installed where possible.
Oil paintings that have been wax lined should not be exposed to the heat of the sun as this will melt the wax and badly buckle the painting.
Watercolours should not be hung in direct sunlight as ultraviolet rays bleach out certain colours selectively.
Avoid using gold paint to fill areas of lost gilding on frames. It discolours in a short time and is time consuming and therefore costly to remove and restore.
Do not use Brasso or similar products on furniture handles. The residue from the product seeps into the grain of the wood and discolours it. If you have damaged wood in this way, the surrounding layers of wood will need to be taken back and recoloured.
Furniture should not be spray polished. It should be dusted, and every six months polished using a pump polish - your restorer can advise you on a quality product. Avoid traditional yellow dusters that are prone to snag and lift wood veneers and brass inlay.
To avoid fissures, never carry marble on the flat - always on its end. Much damage occurs in transit to salerooms and between properties. Invest in fine art specialists to pack, move and store items. Ask in advance for a full specification of the proposed treatment for each piece.
Wash any delicate items one by one with warm soapy water, over a towel in the bottom of the sink.
Secure any external statues with alarms or chain them to bulky objects such as garden benches to discourage burglars.
Why choose Hiscox Home Insurance?
At Hiscox, we're experts in insuring homes like yours with high value possessions. With Hiscox Home Insurance, you don't have to list any items, pairs or sets worth less than £15,000 and you only need to give us an overall value for any jewellery, art and collections.
We provide £10,000 of cover for fine art, antiques and collections as standard, but if yours are worth more, simply tell us the total value of the items you wish to cover.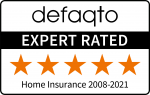 Get antiques cover as part of a home insurance policy
Get a personalised quote online
Award-winning claims service
Immediate coverage and documentation
No admin fees if you amend your policy
Speak to our UK-based experts. Call us on 0800 247 1902
Mon - Fri, 8am to 7pm, Sat, 9am to 2pm. Calls are free from a landline