What is cyber and data risks insurance?
Cyber and data risks insurance is designed to support and protect your business if it experiences a data breach or is the subject of an attack by a malicious hacker that affects its computer systems. It provides comprehensive cover, simplicity, reputation protection and a trusted partner in the event of a claim.
Telephone enquiry hours
Mon - Fri, 8am to 7pm, Sat, 9am to 2pm excluding bank holidays.
Save 5% on your policy
Award-winning claims service
Immediate coverage and documentation
No admin fees if you amend your policy
Need more help? Speak to our UK-based experts. Call us on 0800 280 0354
Mon - Fri, 8am - 7pm, Sat, 9am to 2pm, excluding bank holidays. Calls are free from a landline and some mobile contracts
Cyber and data risks insurance cover information
Hiscox Cyber and Data Risks Insurance offers comprehensive protection for your computer systems and data, all available in a single insurance policy.
Costs your business may incur directly as a result of an incident.
Ransomware - Cyber extortion
We will protect you if a hacker tries to hold your business to ransom by covering  the ransom you have paid, as well as the services of a leading risk consultancy firm to help manage the situation.
Breach costs
We offer practical support in the event of a data breach (electronic or otherwise) including forensic investigations, legal advice, notifying customers or regulators, and offering support such as credit monitoring to affected customers.
Cyber business interruption
We will provide compensation for loss of income, including where caused by damage to your reputation, if a hacker targets your systems and prevents your business from earning revenue.
Hacker damage
We will reimburse you for the costs of repair, restoration or replacement if a hacker causes damage to your websites, programs or electronic data.
Crisis containment
We provide expert support to mitigate reputational damage. In the event of a data breach, prompt, confident communication is critical to help minimise the damage to a company's reputation. We include crisis containment cover with a leading public relations firm who can provide expert support, from developing communication strategies to running a 24/7 crisis press office.
Amounts you may be liable to pay to others
Privacy protection
We will pay to defend and settle claims made against you for failing to keep customers' personal data secure. We will also pay the costs associated with regulatory investigations and settle civil penalties levied by regulators where allowed.
Multimedia liability
The policy includes protection if you mistakenly infringe someone's copyright, for example by using a picture online without permission, or inadvertently libel a third-party in an email or other electronic communication.
Find the right level of cover for your business
You can choose from different levels of cover to ensure you get the right protection for your business. When working out the amount of cover you need, you should consider:
the amount and type of confidential, personal or sensitive data you hold
the size of your business
your dependence on computer systems.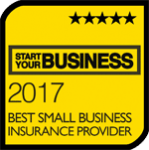 Winner 8 years running
You may need cyber and data risks insurance if you:
hold sensitive customer data, such as names, addresses or banking information
are reliant on computer systems to conduct your business
have a website
are subject to a payment card industry (PCI) merchant services agreement.
As businesses become ever more reliant on technology, the risk of suffering a loss related to problems with computer systems or holding sensitive customer data continues to grow. It could be that your business holds personal information on clients or customers, including names, addresses and banks details. Maybe your systems and data are held on physical servers or in the cloud. Or perhaps you are reliant on a website for the running of your business. Damage or unauthorised access to any of these could lead to reputational damage and legal or regulatory costs.
How Hiscox Cyber and Data Risks Insurance protects your business:
When it comes to cyber security, insurance is one of the only ways to ensure your back is covered should the worst happen.
A trusted partner in the event of a claim. Financial compensation is not all that's needed to deal with these new and evolving risks. So Hiscox will not just pay out when you suffer a loss, but will also provide you with access to a team of experts who will actively work with you to minimise your loss and the possible damage to your business.
Specialist expertise. We've been providing cyber and data insurance for 14 years, so we understand the changing risks that businesses face and have evolved our product to protect them.
Access to a worldwide network of privacy lawyers and technical specialists who will offer expert support and guidance in the event of a claim.
Access to Hiscox eRiskHub. We give access to tools and resources to help you stay up to date with evolving risks, understand your exposure and establish a response plan.
Protect your hard-earned reputation
Although you undoubtedly strive to work with as much precision and care as possible, mistakes can happen which is when the reputation of your business could come under threat. Hiscox Cyber and Data Risks Insurance includes free crisis containment cover. This provides access to specialist public relations support if a covered claim looks likely to damage the reputation of your business. So, should the worse happen, you can let the experts manage your response to events while you focus on running your business.
Your policy
We want you to understand the cyber and data risks cover we offer.
Save 5% on your policy
Award-winning claims service
Immediate coverage and documentation
No admin fees if you amend your policy
Need more help? Speak to our UK-based experts. Call us on 0800 280 0354
Mon - Fri, 8am - 7pm, Sat, 9am to 2pm, excluding bank holidays. Calls are free from a landline and some mobile contracts