Super home extensions guide – part 2
June 23, 2016
After the dust has settled and the builders have packed away their tools, property expert Nicola Venning finds out what words of wisdom homeowners can pass on about their new extensions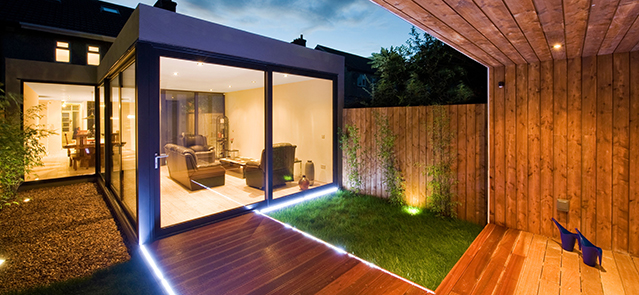 Photograph: Alamy
Your home is more than just four walls, it reflects your character and records the choices you have made. The same can be said of extending your home, with owners sometimes making the decision to transform their living space at pivotal moments in their lives – whether it's more space for a new addition to the family or a change of pace following retirement.
As the 'don't move, improve' mantra has taken root, extensions have moved beyond a simple loft conversion or conservatory to embrace bold architectural visions and ambitious designs that can introduce split-level basements and blend kitchens into the garden.
Of course, with bigger ideas come bigger projects and bigger responsibilities. We meet two homeowners who've been through the process to find out why they made the change and get some tips about how to create the super-extension you've always dreamed of.
Fulham hospitality
When Elizabeth and John Dickens (not their real names) needed extra room for visiting friends and family, they decided to rebuild the loft in their terraced house in Fulham, London.
The couple, who enjoy entertaining, hired BTL Property, a south-west London design and build company, to create three additional bedrooms and two more bathrooms in the unused space.
The project took about four months and cost just over £100,000, including carpentry for cabinets and bookshelves. 'It is really nice to create a sort of guest suite on the top floor where friends have privacy,' says Elizabeth Dickens.
Keep it collaborative
Good communication at the design stage was very important for Dickens and she enjoyed the collaborative nature of the process.
The design was altered and tweaked until everyone was happy. The new family bathroom was enlarged and an ensuite became smaller. A skylight, which doubled as roof access, was also added at the last minute. 'BTL also came up with great ideas, like sliding pocket doors, to make things feel more spacious,' says Dickens.
Because the couple had detailed discussions at the beginning with their architect, there were very few problems when building work actually began. 'The key is to stay very involved because most things can be changed if you spot them quickly and don't quite like them,' says Dickens.
Having a good relationship with the architect meant that the couple felt comfortable cancelling some planned for but as it turned out unneeded extra cupboards. Being able to ring up the project manager was also something Dickens found extremely helpful.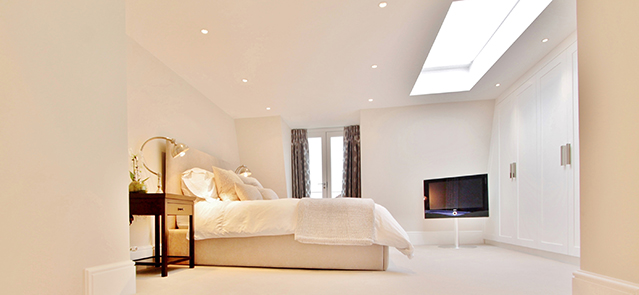 A couple in Fulham created a top floor guest suite in their terraced house. Photograph: BTL Property Ltd
Ease and comfort
The additional rooms have improved the design and configuration of the property, which Dickens says makes the home now feel more balanced and comfortable.
The new family bathroom is closer to the main bedrooms, while one of the guest bedrooms doubles as a playroom for their young daughter. An old spare bedroom was also turned into a much-needed study with fully built-in shelves.
The finished property is a roomy six bedroom and four bathroom home. 'It flows beautifully and feels like part of the house and not at all like a loft conversion,' says Dickens. 'We are just really, really pleased with what we did.'
Wiltshire quality
It is a similar story for retirees Nigel and Jeni Payne whose new extension has greatly enhanced the quality of their family life. When their four children who live around the world visit, they now all have somewhere comfortable to stay.
Two years ago, the couple added a 100sqm ground-floor extension to their 300-year-old cottage in Aldbourne, near Marlborough, and doubled the size of their home.
The rooms, which have replaced an old smithy and stables, include a new kitchen as well as an expansive living area, study and utility room. 'It's given us a contemporary part of the house, which we always use,' says Nigel Payne. The building cost £125,000 and took four months to create.
The right architect
Payne was careful to hire an architect with relevant experience and chose Weaver Khan architects, based in Oxfordshire as he felt they were 'not only used to working on the local building style, but also with contemporary structures'.
The cottage is in a conservation area and the couple was keen that the new extension would be in keeping with the character of the original buildings. 'It was a real opportunity to define what we wanted,' says Payne.
The extension was built with weather-boarded walls along with a slate roof. Large sliding glass doors overlooking the patio added a contemporary flourish. 'When the weather is right, the outside comes in and vice versa', says Payne.
Eco-friendly additions include low-energy lighting, triple glazing, integrated solar panels and a ground-sourced heat pump for the underfloor heating. According to Payne, the new rooms are virtually energy neutral and have greatly reduced their energy bills.
Progress monitoring
Payne project managed the build and contracted the building team directly himself – a builder, electrician and plumber. 'Choose contractors who are used to working together,' he advises. 'And never lose your sense of humour!'
Building works invariably mean your home is exposed to different risks. 'These vary greatly based on the nature of the works being carried out,' says Tim Slattery, Hiscox Personal Lines Underwriting Manager. 'Some common issues include accidental damage, for example from contractors, or escape of water when, for instance, the entire water system is drained for major plumbing works.'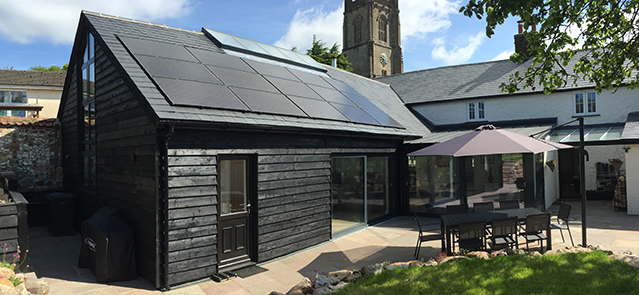 This 100sqm extension in Aldbourne keeps in character with a 300-year-old cottage. Photograph: Nigel Payne
Snagging issues (the little things that haven't been finished properly, such as crooked light sockets or tricky locks) were kept to a minimum on Payne's build as every evening the couple would 'walk the site to monitor progress, and then discuss them with the contractors the next day,' he says. 'Also as the main builder lives in the same village, he was always available.'
Although there is little that he would do differently, Payne recommends getting the opinion of more than one structural engineer (who will verify the best construction methods and cost).
The entire works were finished just in time to make a large family Christmas very enjoyable. 'The surprise was that it has worked out as we envisaged,' says Payne. 'We like the contrast between the light and space of the new build and the cosiness of the old part of the house. We have the best of both worlds.'
Nicola Venning is a regular property contributor to The Sunday Times, The International New York Times, Billionaire and Country Life
Find out more about our Renovation and Extension Insurance