Diamond jewellery trends in 2018
July 02, 2018
The popularity and price of other gemstones may be on the rise, but for Sarah Royce-Greensill diamonds will always be the jewels in the crown. She takes a trip to Paris to view the most spectacular examples from Haute Couture Fashion Week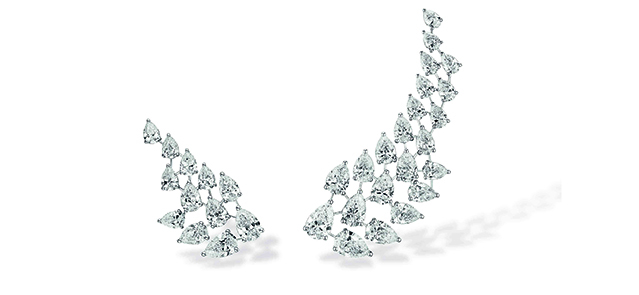 Two floating pear-cut diamonds enhance the top of the ear in Valérie Messika's Beloved Feather mono earring
From July 1-5, the world's elite are flocking to Paris to see the latest Haute Couture collections from celebrated fashion houses. But it's not just the catwalk models who will be shining this week. The world's most prestigious high jewellery houses will also reveal their newest creations, bringing together valuable diamonds, expert craftsmanship and a keen understanding of what the world's wealthiest 1% crave. So, what can we expect this year?
Brooches are back
Once a de rigueur part of a Victorian woman's wardrobe, brooches fell out of favour as clothing became lighter and less formal. Many were broken up so that the diamonds could be reused, but they've made a comeback in recent years. New materials such as titanium and aluminium make them much lighter, and clients are styling them in modern ways: worn at the hip, in the hair or pinned to a hat.
Jewellers relish the opportunity to demonstrate their creativity and craftsmanship without the constraints of wearability. Van Cleef & Arpels, which released a high jewellery collection entirely dedicated to brooches in 2016, includes several in its new collection, Quatre Contes de Grimm (Four tales by the Brothers Grimm). A tiny pair of diamond shoes balance on a lapis lazuli cushion, while a polished-gold prince proudly holds his golden bird, perched atop a purple sapphire.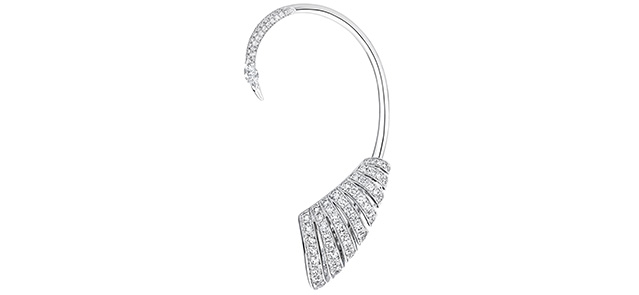 Piaget's Graceful Ballet ear cuff dresses the entire ear in diamonds
At Chaumet, brooches are the centrepiece of Tresors d'Afrique, the final instalment in the Les Mondes de Chaumet series. Having taken inspiration from Russia and Japan, the latest collection pays homage to modern Africa, with diamonds interspersed with wood, onyx, emerald and sapphires.
Chaumet has collaborated with Kenyan-born artist Evans Mbugua on six brooches that translate the graphic exoticism of his art on a tiny, bejewelled scale. On 7 and 8 July, the collection is on display in a public exhibition in the salons above Chaumet's Place Vendôme store.
Size isn't everything
For diamond connoisseurs, size matters – but not as much as rarity. Coloured diamonds are rarer than white stones and command much greater prices per carat. The desirability of pink diamonds is set to rise even further as Australia's Argyle mine, which produces 90% of the world's supply, prepares to close in 2020, while yellow, blue and – rarest of all – red diamonds are all highly sought after.
'De Beers' clients are collectors and are mostly interested in adding rare colours of diamonds to their collections,' says Sidonie Robert-Degove, De Beers Diamond Jewellers' Managing Director for Europe and the USA. 'The increased demand for rare colours may be partly linked to the recent, highly publicised auction sales of large, rare-coloured diamonds and diamonds with important historical provenance, whose final sales prices reached record-breaking figures.'
Clients visiting De Beers' showroom on Rue de la Paix can expect to see something extraordinary: last year's pièce de résistance was the Soothing Lotus necklace, comprising an array of rough and polished coloured diamonds which took more than a year to source.
Millennials want glamour too
Like all luxury brands, high jewellery houses are making efforts to attract a new generation of customers. Millennials want versatile styles that they can wear every day, styling their diamonds with jeans and a T-shirt or with glamorous gowns. In recent years, historic houses have loosened up accordingly.
Ear jackets, which dress the entire ear in diamonds, are becoming more common: Piaget's 2018 high jewellery collection includes the Graceful Ballet ear cuff, in which a marquise-cut diamond dangles over the front of the helix. Chokers are another modern take on high-end diamonds, and Piaget's Starry Night necklace has a 9.48-carat Sri Lankan sapphire balanced between the clavicles, held in place by shards of diamonds.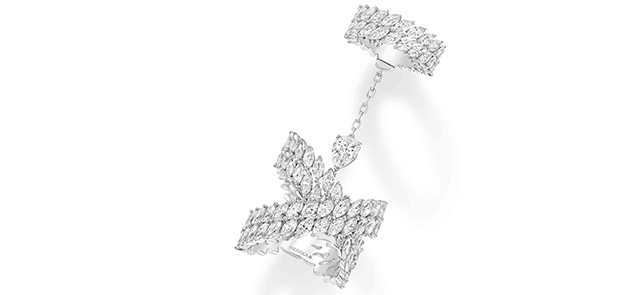 The Magic Spell ring from Messika Paris wraps around different parts of the finger
Parisian brand Messika specialises in this contemporary take on diamond jewellery. Its founder, Valerie Messika, pairs her designs with jeans and leather jackets, embodying the rock 'n' roll spirit her brand is known for.
'In the past, most women only wore diamonds on special occasions or on their engagement ring,' she says. 'I created Messika to modernise diamonds. They have become more daring and accessible, and my clients opt for ultra-contemporary looks. Chokers, ear cuffs and double rings are all popular: they're rebellious yet feminine.'
Invest in rose cut
A trend to watch this year is the increase in rose cut diamonds, an antique style that dates back to the 16th century. Traditionally cut by hand, they have a flat base and fewer facets, giving them a subtle sparkle.
Having been mostly replaced by brilliant-cut diamonds in the 20th century, rose cuts tended to only be seen in vintage or Indian jewellery. But recently their antique feel and romantic history – they're said to be 'cut for candlelight' – has led to an increase in demand.
Van Cleef & Arpels and Piaget are both unveiling rose cut creations in this year's high jewellery collections. Van Cleef's Victoire earrings feature 14 rose cut yellow diamonds in various shapes and sizes, lending a pleasing irregularity to the design.
Piaget, meanwhile, uses rose cut stones in its Mirror of Lights suite, contrasting them with smaller brilliant cut diamonds in order to emphasise the different way they refract light. Rose cut diamonds are a signature of London jeweller David Morris, and his store on Rue St Honoré is sure to be stocked with one-off delights for clients keen to invest in this trend. So what are you waiting for?
Haute Couture Fashion Week runs in Paris from July 1-5
Sarah Royce-Greensill is Jewellery and Watches Editor for The Telegraph
Find out more about our jewellery cover