Grade II Listed Building Regulations
January 25, 2016
The regulations and consent involved in buying and renovating listed buildings, explained by our Personal Lines Underwriting Manager, Tim Slattery.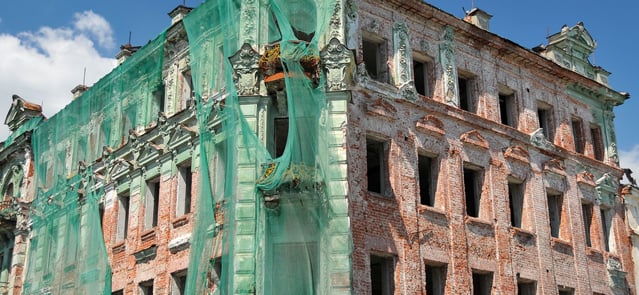 Grade II listed buildings are subject to regulations which protect their historical and architectural significance. These buildings are of special interest, meaning alterations and building work can't be carried out without written consent from the relevant authorities.
If you've fallen in love with a listed building, and are thinking of buying, renovating and living in it – you might want to read up on the rules and regulations that surround what you can and cannot do with the property. Over 92% of all listed buildings in the UK are Grade II, so chances are, your property falls into this category. We've compiled a handy list of some of the key things Grade II homeowners need to know.
Listed building consent
It may seem strange to need consent to make alterations to your own home, but this heritage protection is designed to make sure that our built environment, and your dream home, maintains its unique character.
Consent must always be applied for through local authorities before material changes are made to listed properties. If consent is granted, owners are required to pay a listed building consent fee – the amount will vary depending on the scale of the project.
The unanticipated costs associated with owning a Grade II Listed building can take some owners by surprise. Listed building insurance will help to make sure that no matter what happens, you can respond to the specialist needs of your building, responsibly.
Carrying out works on a listed property without consent is a criminal offence, which can carry serious penalties. If work has already begun, a listed building enforcement notice may be issued. This notice allows authorities to reverse the alterations done to a property, or to lessen the effects of the unauthorised works. Not only will you have to pay to restore the building, you might also be liable for unlimited fines and even time in prison.
It is possible to apply for retrospective listed building consent, however if this is denied you may be penalised for any unauthorised work.
When is listed building consent required?
Listed building consent is required if you own a Grade I, II* or II listed building and wish to make significant material changes to the property. Changes can include:
Repairs to listed buildings may require consent depending on whether it's considered that the work would affect the character of the building. Often, a repair made with like-for-like materials will not need consent. This is not always the case, however, and it's best to seek advice from local authorities.
Listed building status applies to the entirety of the building, so internal works and alterations also require planning consent. This not only applies to changing the plan of rooms by, for example, removing a wall. It also includes (but is not limited to):
– Demolishing and rebuilding features
– Exposing timbers and brickwork
– Installing double glazing
– Removing internal features, like fireplaces and paneling
While repairing a faulty or substandard window may seem like a purely functional alteration, windows can have a huge impact on the appearance of a building.
As a result, window detailing, the timber used for construction and even historic glass panes are often protected under listed building regulations. This can cause problems for repairing draughty or rotting frames, bringing listed buildings up to modern energy efficiency standards, and receiving consent to do the necessary work.
Although tricky, the task is by no means impossible. In most cases, Historic England state that 'repair is preferable to replacement'. However, by using original materials, and designs which are authentic to the original detailing, it is possible to obtain consent for window replacement. Where double-glazing is desired, it can be easier to use alternative solutions, such as secondary glazing, to achieve the same result.
Renovations and extensions
The charm of a listed building is hard to resist, but for many homeowners so is the desire to make their mark on a property. Making renovations and extensions to a listed building is a careful process – one which demands patience, planning and attention to detail.
Equally important is making sure that your interests are protected throughout the building process. This includes receiving consent for every aspect of your project, and considering the need for adequate and comprehensive building insurance or renovation and extension insurance, should anything go wrong.
Consult with your local authorities before considering an extension or renovation, and look into the history of your building. Obtaining consent is rarely a speedy process and you will need a detailed plan to have your application approved. Together with the professional advice of an architect, designer and builder with experience in working with historic buildings, you can redesign your home in-keeping with its historical character.
Grants for listed buildings
Before beginning work on your listed property, research the grants available for the repair and maintenance of historic sites. Listed building regulations do not exist to freeze buildings in time, or prevent their development. They simply recognise that a building is a permanent feature of the local environment and should be respected and preserved in this way.