A guide to living walls for your home
January 02, 2019
Innovative landscape architects and gardeners are bringing walls to life and nature into homes – with aesthetic, environmental and practical benefits.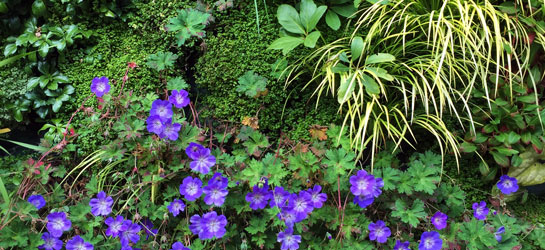 The concept of green walls, or 'living walls' as they are also called, is blooming. Perfect for both exteriors and interiors, these vibrant creations are a brilliant way to bring greenery to a home.
We are used to thinking of walls as functional things that seperate spaces and keep out the elements, rather than bases for nature within urban homes. But living walls make great sense, with benefits that span the aesthetic, the environmental and the practical. And almost any vertical space can incorporate a living wall.
"Living walls are beautiful – but each one is unique too," says landscape architect and living-wall specialist Adam Shepherd. "The combination of plant varieties and the surroundings that they are in will give a living wall its own character, different from any other."
All of Shepherd's living walls are hydroponic. "The nutrients are supplied in the water, controlled by an automatic timer system, so clients don't have to worry about watering or feeding," Shepherd says. "We recommend quarterly maintenance, so that we can prune the wall, check that everything is running smoothly and replace any plants that need replacing."
An essential part of what makes any garden or living wall interesting is the plant selection, something that excites Shepherd as much as his clients. "Finding and testing out new plants is an exciting, fascinating and important job," says Shepherd. "Nothing quite beats the tingle of anticipation from stumbling upon a new plant – I'm constantly finding new ones. The pleasure of watching a plant working its magic amongst others within a wall is one of the great joys of my life. I am always happy when I'm planting. That's why I constantly have mud under my finger nails."
By dint of their dimensions, living walls are spaces where plant varieties compete fiercely on space. Choosing combinations that work well together is vital, Shepherd says, and this limits how prescriptive clients can be.
"If you are having a living wall put in, it's important to let the horticulturalist decide what's going to work best in the wall," Shepherd says. "I might ask the client if there's a particular colour they like or dislike, so that we can avoid or focus on that. But apart from colour, it's more a question of selecting the right plants for the right situation."
Exposure to direct sunlight, wind and rain are all factors that will affect which plants will or won't thrive. "The most important factor is the overall amount of light – or lack of it," Shepherd says. "If we are doing something in a basement lightwell or lower-ground floor, then we'll choose woodlandly, shade-tolerant plants."
There's are also choices to be made between evergreen, which look good all the time, and deciduous, which give you your flowers. "Clients like the walls to look good all year round, so you have to strike the right balance. It's taken me years of experience to get right – and of course it's a constant learning process."
If there are young children in the house, Shepherd avoids plants that secrete any toxic resins. "Children of all ages adore these walls, so you have to think with lots of contact in mind. I did a wall in Blackawton, Devon, where my kids go to school, and I chose to put in lots of wild strawberries. The kids love visiting the wall and picking the fruit."
There are plenty of edible plants that can be incorporated into living walls, from herbs such as parsley and thyme, to tomatoes and green beans.
Living walls can help to keep homes warmer in the winter and significantly decrease energy use through the insulation provided by the vegetation and substrate. By contrast, on hot summer days, the shading provided by the vegetation combined with cooling through evapo-transpiration renders the temperatures indoors far more pleasant.
Depending on the type of wall, where it is located, and who is designing and fitting it for you, the average cost is about £500 per square metre. "Living walls seem expensive compared to alternatives, and I think that's why you don't see them more frequently," says Dusty Gedge, an expert on living walls and president of the European Federation of Green Roof Associations. "Even for property developers, the cost of green walls can be daunting. But people absolutely love them."
One of the biggest factors in the cost is the irrigation system, Gedge says. "There's a lot of technical things with plants at ground level that you need in a green wall, including irrigation systems. If you are considering small-scale, domestic level installations, you have the option of hand-irrigating, which will keep costs down. But in general, the green-wall market is designed to provide everything, so that things like feeding and irrigation can easily be automated. It really depends on what you want to go for."
"If you want to keep the price to a minimum, then climbing plants are the way forward," Gedge says. "You can make green walls just by having climbing plants in the ground, or in boxes, such as using ivy, clematis or honeysuckle. But then you have to have the patience to wait for them to grow. And a full green-wall system will give you more insulation, more cooling, more wind protection – and diversity of flora."
How much can living walls take air pollution out of the environment? Gedge warns that while living walls do have an important function in terms of cleaning the air, it's important to be realistic about the extent to which they reduce emission levels. "Green walls are not going to solve our air pollution issues, because the problem in cities is the very high levels of diesel fumes – end of story. But aside from diesel, there is peripheral pollution that green walls can absorb, so they do have an important function, no question."
"Installing living walls and roof gardens in the heart of our cities sends out a very positive message," Shepherd says. "There are lots of facts and figures being published about the possible positive effects of greenery in the city, some of which may well be proven to be true, others may not. But they look great and they will have a positive effect on anyone who is lucky enough to have a home or office that looks out onto one."
Gedge agrees. "I think they are just a great way of transforming people's properties. They are great for wildlife, they look beautiful and they make people feel really good."
Further information:
Adam Shepherd
http://thelandscapearchitect.net
Dusty Gedge