Making the kitchen the focal point of your home
June 02, 2016
Whether it's the place where you share the day's events during an evening meal or catch up with friends over a glass of wine, kitchens are now the most important room in the house. Here are five ways to help transform your kitchen into a modern hub of family activity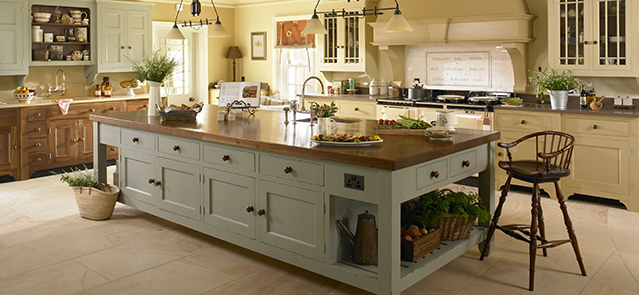 Photograph: Alamy
Domestic bliss is no longer dictated by the television schedule. The modern home revolves around the kitchen – a space where you can dine, relax, socialise and even catch up on some work.
The evolution of the kitchen has seen it embrace our love affair with technology and can feature hidden charging stations to store devices like phones and tablets so that they are always at hand. But these changes are not just about bringing the rest of your home into the kitchen – they're also about reinventing what's already there.
From the return of rustic design to coffee-making perfection, here is our pick of the latest developments that are helping turn your kitchen into the room that everyone wants to be in.
1. The farm house look
The first step in designing your kitchen is deciding on an overall theme for the room. Last year called for chic minimalism, block colours and Scandinavian-inspired practicality. In 2016, it's all about warmth and homeliness. Homeowners are increasingly moving towards the traditional design of a farm house kitchen.
The ideal is to create a room that looks as if it's been in use for decades, while ensuring it's stocked with all the latest appliances and technology so you can work quickly and efficiently. Companies like Parlour Farm Kitchens and Hill Farm Furniture will design a bespoke kitchen to perfectly suit you and your family – whether that means incorporating a lower worktop where the children can help with cooking, or an expansive wine rack to store your collection.
2. Island living
Whether it's long and slim; neat and round; or big and broad, a kitchen island is the natural focal point for entertaining in your home. Bold finishes, vibrant colours and contrasting materials can set the island apart from the rest of the kitchen to make a talking point. From a functional standpoint, the island can provide extra space for guests to sit round, create a useful boundary for the chef and direct traffic away from the preparation hotspots.
Bespoke kitchen designer Artichoke advises that you choose either function or form in a kitchen island – is it there to impress with a minimalist slab of marble or do you want the island to be a working area incorporating storage and chopping space? Attempts to blend the two will invariably result in an unsatisfactory compromise.
3. Energy-efficient cooling
While we haven't quite reached the stage where your fridge can monitor your food consumption, intelligent appliances can still make a big difference to your home. Fridges and freezers consume a great deal of electricity – some estimates say up to 30% of your domestic usage – so any energy-efficient appliance that can reduce this is a welcome addition to most homes.
Swiss manufacturer Liebherr was one of the first in Europe to sell fridges and freezers in the world's top energy-efficiency class, and remains a leader in the market today. The latest smart fridges, like those championed by Samsung, also use technology to keep your food fresher for longer by isolating the air streams between fridge and freezer.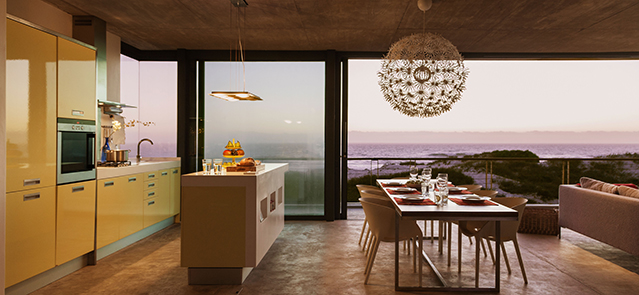 The modern home revolves around the kitchen. Photograph: Alamy
4. The at-home barista
Kitchens aren't just a place for dinners – they can also be a great space to entertain if you're having friends over for a quick lunch and coffee. Elegant in-house coffee machines can easily rival the java served up at your local chain. Choose one with a stylish and compact design to complement your kitchen's elegant feel.
Real coffee buffs wanting a bean-to-cup machine should browse the Miele range for some high-end options, several of which can be built into the wall of your kitchen. For modern design, Heston Blumenthal's foray into espresso and coffee machines with Sage appliances is worth a look, and if convenience is your top priority, you can't go wrong with a Nespresso Lattissima One Touch.
5. Switched on
A good lighting system in the kitchen can make a real difference to the room's atmosphere and functionality. Much like a fully customised kitchen, a bespoke lighting plan can transform your kitchen from a functional space to an ambient room in which you and your family will love to relax. Companies like The Lightworks and Brilliant Lighting will help you consider the most intelligent options for your kitchen.
A professional eye will assess whether you need under-cabinet lighting to illuminate kitchen surfaces – useful when you need to see what you're doing but don't want to spoil the room's atmosphere – or automated in-cabinet lighting to save you time rummaging around the back of a darkened cupboard.
For something more fun, think about colour-changing bulbs. These are an easy way to boost a room's ambience, whether you're looking to create some warmth in winter months or just liven things up. Those in search of something unique should make for Olive & the Fox's handpicked collection of lighting solutions.