Listed Buildings Insurance FAQ
January 01, 2016
Underwriter Tim Slattery answers some of the most commonly asked questions about insuring your Grade II listed building.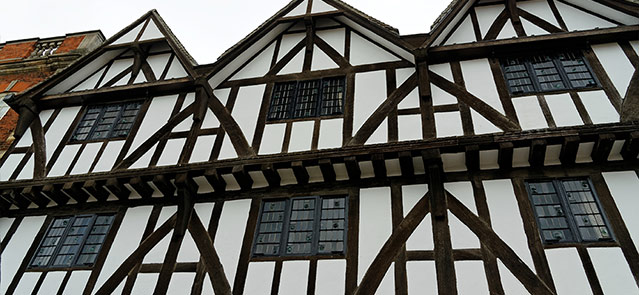 What is a Grade II listed building?
Grade II listed buildings are the lowest category of protected building in the UK; they're designated as 'special interest' while Grade II* are of 'particular'- and Grade I 'exceptional'- interest.[1] Listed buildings are categorised in the National Heritage List for England, which catalogues all historic places legally protected in the UK.
Assessing the comparative 'special interest' of one building over another is no easy task. Homes built with a certain level of craftsmanship, or that are associated with people of national importance, are likely to be listed.[2] Maintaining the authenticity of such buildings is important to the communities in which they exist. As you can imagine, this means that making repairs and alterations can be more expensive than with non-listed properties, as specialist workmen and materials need to be sourced.
Is my building listed?
If your home was built before the 1700s, or is at least 30 years old, it may be listed.[3] Thankfully, it is easy to discover by searching the listed building database. This online tool can confirm if your home is listed, and under what Grade.
What can you do to a Grade II listed building?
There are significant rules and restrictions surrounding what can be done to a listed building, however, Grade II listed buildings can be altered more than you might think. Just like any home, listed buildings are intended to be enjoyed by their homeowners. If you own a Grade II listed building and are hoping to renovate, this list will explain vital information you need to know before starting the work.
Permission for making alterations to Grade II listed buildings
Before altering, extending or demolishing any part of a listed building, you must apply for, and receive, Listed Building Consent. Since listed buildings are preserved as 'special interest' properties, your local authority will determine whether the proposed work affects your home's character.
Check with your local authority first to see if consent is necessary for the work you plan to carry out.[4]
Repairs to a Grade II listed building
Although not always necessary, some repairs to Grade II Listed buildings will require consent from your local authorities. If consent is not obtained, authorities have the right to issue an enforcement notice. This will allow them to reverse the alterations done to your property and charge you for any work they do.Damp, and the need for double-glazing, are two of the most common problems encountered by listed building owners.
Damp is found in almost all listed buildings and although an unpleasant problem, it is one which can be fixed. Rather than turning to a surveyor, often the removal of inappropriate cement or Gypsum plaster will allow the building to breath naturally again.[5]
Double glazing is difficult to work into historic windows without damaging the narrow glazing bar. For this reason, secondary glazing is recommended, while 'slim' double-glazing within original bars is sometimes acceptable.[6]
Click here for more information on Grade II Listed Building Regulations.
How to get a building listed
In some unfortunate circumstances, a building which has always been a part of your community may one day be at risk of demolition or face character-changing repairs or alterations. If you wish to intervene, apply for the building to be protected by completing an online form. This is a three-step process:
Check the nominated building is not already listed
Find out if it qualifies to be nominated
Complete the form and await a response
The Department for Culture, Media and Sports will make the decision regarding the listing and grading of the property in question. Obtaining a response can take some time, so if you feel the request is urgent, there are paid, fast-track options.
Owning a listed building is a privilege, and while you may face challenges when making repairs and alterations to the existing structure, specialist listed buildings insurance will help to accommodate any complications you face.
[1] https://historicengland.org.uk/advice/hpg/has/listed-buildings/
[2] https://historicengland.org.uk/advice/hpg/has/listed-buildings/
[3] https://historicengland.org.uk/listing/what-is-designation/listed-buildings/
[4] https://historicengland.org.uk/advice/your-home/making-changes-your-property/permission/
[5] https://www.lpoc.co.uk/pdf/Guide-to-Owning-a-Listed-Building.pdf
[6] https://www.lpoc.co.uk/pdf/Guide-to-Owning-a-Listed-Building.pdf