Intriguing collections
May 12, 2014
For some people, one beloved object is never enough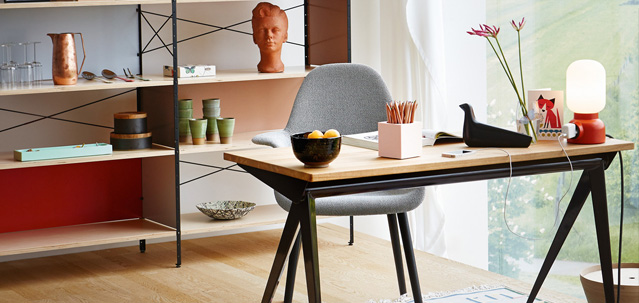 I always look in the bargain sections in galleries, car boot sales and online

Martin Cotterell
Kelly Rose Bradford
Collects: China cake stands
'There is just something so deliciously chintzy and twee about a cake stand; they instantly take you back to a bygone era of linen tablecloths, dainty sandwiches and slices of cake. I started collecting them about 15 years ago. I bought my first one from eBay — it was a 1940s stand, still in its original box. It cost me about £12.
'I have around 40, but not all of them are made up. Some are in bubble wrap in the loft and a few are always out on loan to friends for their parties. My absolute favourite is a pale yellow, gilt-edge James Kent Old Foley stand. It's from the Staffordshire Potteries and is neither very old nor valuable. I think it was made in 1955, but it's my favourite because of the colours — it has a real faded elegance.
'I keep the stands all around the house — the accessible ones always end up with odds and ends on them. I have stopped adding now; it was getting ridiculous and I was running out of space. I was so obsessed at one point that I abandoned my car on double yellow lines after spotting one in a charity shop window, and another time
I pushed a note under the door of a second-hand shop after hours, begging them not to sell the pink Churchill Willow Rosa they had in the window until I could return to the area. I spent too much time on eBay, and trawling car boot sales and charity shops. But I will always love them.'
For more information on vintage cake stands, see www.cakestandland.co.uk
Martin Cotterell
Collects: Pop art
'I began collecting as soon as I had some disposable income. I bought my first piece in a King's Road gallery in the mid 1990s. It's a Jasper Johns-esque canvas I got for the bargain price of £100. I love it for its colour, the techniques used and its graphic nature.
'I always look in the bargain sections in galleries, car boot sales and online. You never know what you might find. I try to find something I really like, rather than a particular artist. And if the price is right, I'll purchase. A great starting point is www.printclublondon.com. You can pick up limited editions for as little as £50. There are 25 pieces in my collection; the star is a Reservoir Dogs Banksy, recently valued at £10,000-£15,000. Another favourite is a bold Haniboi I bought last year for £50, called High Voltage.
'I am a designer by trade, and was very fortunate to work in the industry from the late 1980s. Back then we had to trace our headlines, colour with pencils and glue pictures and copy onto a layout pad with wax. The thing I really love about screen printing is its old-fashioned methods. I'm a purist at heart.'
For more information on pop art and screen prints, see www.printclublondon.com
Juliette Wills
Collects: Vintage clothing/accessories
'My wardrobe is 80% vintage — from the 1940s and 1950s — and 20% current. I love the way clothes were made back then. The workmanship is outstanding, which is proven by the fact I'm able to wear things that are 70 years old and still going strong. My outfits can be a talking point: how often do you see someone wearing a 1950s Mexican skirt with a donkey on it?
'I've been known to sit at the computer for three hours after typing "vintage flamingo" or "1950s donkey" into the search bar and I dread to think how much I've spent over the years — but if you look after them, the value of the items will increase rather than decrease over time.'
For more information on vintage clothing, see www.judysvintagefair.co.uk