How to design a wine cellar that suits you
May 11, 2016
It's enough to make oenophiles pop their corks with delight – wine cellars are now almost as coveted as the precious vintages they house, as property expert Nicola Venning discovers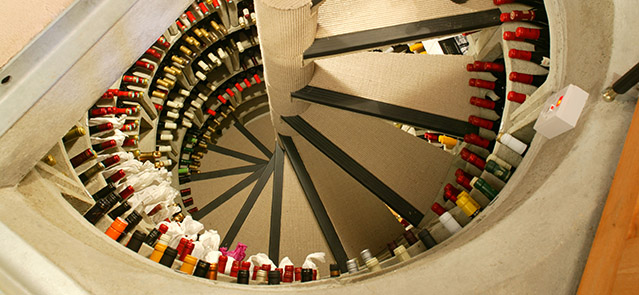 Photograph: Alamy
Once wine was stored below stairs in functional, often dingy, basements – but not any more. These days, people want bespoke wine storage to match the quality of the Burgundy and Bordeaux they contain.
Wine cellars have become aesthetically pleasing, temperature-controlled temples furnished with gleaming racks in polished stainless steel. Finished off with glass walls and doors, today's cellars are galleries for the true connoisseur.
'It's all about the wow, and people being able to view their collection almost as if it were a work of art,' says Lucy Hargreaves, managing director of Spiral Cellars. Of course, transforming your wine collection into a property talking point is not something that happens overnight…
Starting your collection
Most beginners start off with a small, climate-controlled cabinet. Perfect for those with small city flats, a bespoke cabinet can be specifically designed to fit into an alcove, such as a disused fireplace, and would not take up too much space. Then 'people can start collecting and enjoying their wine,' says Hargreaves.
An entry-level alternative for wine storage is a freestanding wine cooler, with two temperature zones for red and white. Though limited in size at only 49 bottles, it would fit into most kitchens and is very affordable, at about £400.
When the wine is on the wall
If you have enough space and bottles, a custom-made, climate-controlled wine wall is an elegant wine storage solution. Costs vary between £2,000, which would hold about 300 bottles, and £30,000 for about 1,000. With a depth of 600mm, which is roughly that of a bookshelf, a wine wall can easily be integrated into the kitchen or dining area.
Easily accessible, a wine wall is a convenient form of storage, and a stunning feature. However, it might be difficult to fit in larger bottles of wine, such as magnums, if the shelves are only designed for standard size bottles
Committing to a bespoke cellar
More than just storage, bespoke cellars are often designed for socialising too and include tasting stations with a table and comfy chairs. Traditional-style racks made of wood such as ash, walnut, pine or oak, are also popular as they evoke urbane 'gentleman-like clubs', says Hargreaves.
Demand for upmarket wine storage has increased dramatically over the past ten years. Hargreaves has seen her company's turnover increase from £1m eleven years ago, to over £6m now. 'More and more people, who might not have a large collection, still want to show off a smaller collection,' she says.
Though traditionally built under ground, a wine cellar can in fact be created almost anywhere, such as in a garage, a spare room, or within a custom built space – along a wall, for example. But whether it is a handcrafted gallery full of rare vintages, or a small cabinet with just a few bottles, there is a form of wine storage for everyone.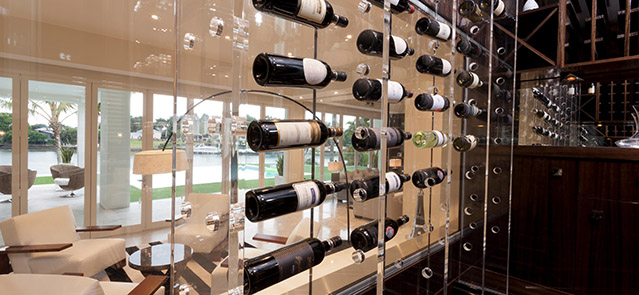 A wine wall can easily be integrated into the kitchen or dining area. Photograph: Alamy
A small spiral wine cellar, often installed under the dining or living room floor, starts from about £20,000 (although the total average spend is about £28,000) and would hold up to 1,800 bottles. Top-end basement conversions start from about £60,000 and hold 2,000-plus bottles, or a dedicated wine room could set you back about £250,000.
'Wine cellars are increasing in size as they become more of a focal point in peoples' homes,' says Tim Lewis, Sales & Marketing Director UK, of STC Wine Rack Group.
Going hi-tech with your vintages
Management of the cellar using the latest technology is also a growing trend, adds Lewis. Fingerprint recognition and wireless inventory systems, ensuring stock can be carefully monitored, are common features in today's high-end wine displays.
The latest trends include interactive wireless wine racks that use high-quality crystal and LED technology to allow owners to illuminate their bottles of choice and view them on smart phones or other digital technology.
Think smart storage
But whatever the size, quality wine storage has to meet certain prerequisites. It needs to be:
Vibration free.
Kept at a regulated temperature between 13 and 16 degrees.
Climate-controlled to maintain humidity levels between 60% and 70%.
Shielded from harmful UV light, often using glass walls fitted with a protective coating.
'Corks need a humid environment so they don't dry out, otherwise they would oxidise the wine,' says Hargreaves.
Once professional storage is in place, you can start buying, enjoying and investing in wine. Fine wine has been one of the best performing asset classes of the past 20 years.
At an auction in Hong Kong in late 2014, the record for the most expensive lot of wine ever sold, was broken when 114 bottles of Romanée-Conti Burgundy went for £1,035,000 – around £9,800 a bottle. As Hargreaves says: 'It's such a wonderful world to explore. You get a bit hooked.'
Nicola Venning is a regular property contributor to The Sunday Times, The International New York Times, Billionaire and Country Life