How do millennials get into art buying?
November 14, 2016
The art world is often seen as something that is reserved for the wealthy and experienced buyers, so how are Millennials expected to discover its secrets?
Galleries need to connect with a younger audience
"The art world can feel like a closed circle," says Joe Kennedy, founding director of independent gallery, Unit London. "There's an air of intimidation that stops younger generations from discovering it," he goes on to explain, and he believes his gallery helps to tackle the problem. As a millennial himself, Joe is dedicated to making art accessible to everyone regardless of age or education. Presented without context, contemporary art in particular can be seen as over-intellectual and even absurd to those without an education in the arts. The result is a feeling of intimidation. People don't understand the work but don't want to seem ignorant, so they simply don't engage. This air of exclusivity can put a lot of young people off from walking into a gallery in the first place. The idea of ringing a buzzer to enter a large, airy room filled with a deafening silence and judgemental eyes is unappealing to people who aren't already involved in the industry. To change this perception, galleries need to genuinely connect with a younger audience. To do that they need to understand how they operate, what their behaviours, are and what motivates them.
Hanging art on the walls is not enough
At Unit London, we try to create a genuinely engaging experience – one that's dramatic, immersive and, most importantly, human at its core. We know that simply hanging art on the walls isn't always enough for this generation. Millennials live online and they consume and share content at a breathless pace. They're obsessed with social media and constantly trading what I would call 'social equity'. By that I mean they consume content from their peers and then share their experiences for social validation. And all the while brands are competing for their attention with highly sophisticated campaigns, knowing that they have a matter of only seconds to engage with each person. Borrowing marketing techniques from music and film, we create a lot of new content – including trailers and artist films – to capture people's attention. We strive to engage them in compelling narratives in the hope that this might inspire them to find out more.
Results of Hiscox Online Art Buyers Survey 2016
672 art buyers were surveyed by ArtTactic
Social media offers a less intimidating way in
Social media can definitely act as a gateway into the art world for those who are just starting out. Seeing a photo of a piece of art on a friend's Instagram can spark inspiration. We have many passionate collectors who had never considered buying works before they discovered us on social media. The key is to show people a way into the art world that isn't intimidating. Social media lets people to discover art from the comfort of their own homes. I believe Instagram is the best platform for this at the moment because it's the most visual. Each social media platform has its pros and cons, but it's the visual and instant nature of Instagram that provides such good exposure for artists looking to promote themselves. Art-specific social media apps haven't worked so far, but watch this space.
Results of Hiscox Online Art Buyers Survey 2016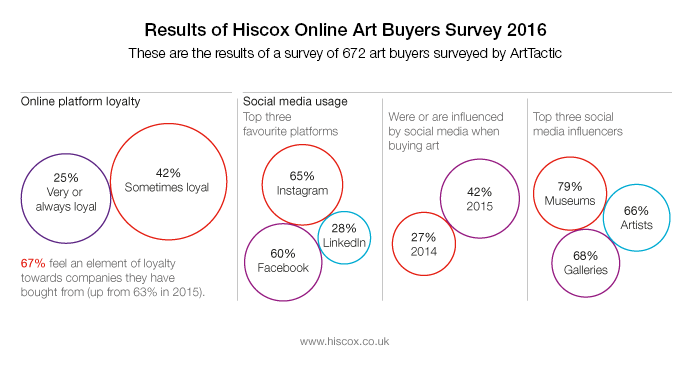 672 art buyers were surveyed by ArtTactic
We should be striving to break down barriers
We use live events and social media to create new communities, opening up the closed circles of the art world in the process. Our online content, which takes the viewer behind the scenes of the gallery or into the artist's studio, helps to break down barriers and can stimulate fascinating dialogue between the gallery and our audience. There's an air of openness and of transparency about the way we do things, which we feel earns the trust of those who might otherwise have been intimidated by the art world.

Art is a fundamentally human experience
While the internet is an excellent tool of discovery, it doesn't compare to being in a gallery and seeing the art up close in the company of others, or interacting with the artist themselves. Many of our sales happen online, but usually only after face-to-face meetings at the gallery. It's important to have a physical base where people can locate us and our artists. Our collectors are reassured by the knowledge that we have a space where the works can be seen. It all boils down to the fact that you can't replicate this element of social interaction online, which can be a drawback because art is fundamentally a human experience. Find out more about Unit London Find out about Hiscox art insurance