Hiscox is proud to insure UK's largest ever street party
June 08, 2016
As Hiscox is the official insurance provider for The Patron's Lunch, we look at why street parties are a fantastic way to bring together the neighbours who make your home more than just four walls…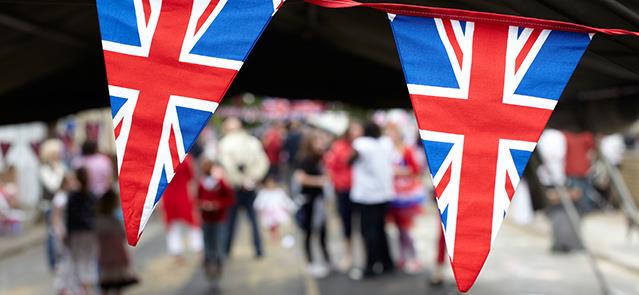 Photograph: Alamy
When the Duke and Duchess of Cambridge tied the knot in 2011, millions of Brits chose to celebrate by hosting or attending street parties. Countrywide gatherings of this size and scale hadn't been seen since the Queen's Silver Jubilee in 1977, and revitalised the trend for neighbourhood events.
The street-party renaissance gathered pace the following summer when Olympic fever hit Britain, and this year will see London host the UK's largest street party for 10,000 guests on The Mall next to St James's Park.
The resurgence of this quintessentially British tradition has served to remind homeowners that there's more to a home than the house they live in. Neighbours, neighbourhood, and community spirit are all vital components in making a home a pleasant place to live.
Hiscox is delighted to be able to contribute to this spirit, as insurance provider to The Patron's Lunch, which is to be held on Queen Elizabeth's 90th birthday. Hosted on The Mall on Sunday 12 June, the party will commemorate the Queen's patronage of over 600 charities.
As Martin Linfield, Head of Event Insurance at Hiscox UK, says, 'We've got over 30 years' experience insuring all kinds of events of this size. Obviously, no two events are the same, but this is a particularly unique occasion. There are 10,000 people attending, which poses lots of challenges for the event organisers. It's also outdoors and we all know what the British weather is like, but there will be a good wet-weather plan in place.'
With so many people expected to attend, the event is a huge undertaking. In attendance will be members of the Royal Family including Her Majesty The Queen, The Duke of Edinburgh, The Duke of Cambridge and Prince Harry, while many of the guests will be representatives and volunteers from the patron's charities. The event will be broadcast on television and on large screens in Green Park and St James's Park.
Linfield says Hiscox is particularly well placed to insure this event: 'We like to think we're the best at what we do and will always put the customer first. In fact, that's what The Patron's Lunch is doing: putting the people who do all the hard work at the centre of the event. That was something we really wanted to be a part of, more than anything else.'
Find out more about The Patron's Lunch