Is collecting watches time well spent?
January 18, 2017
We take a look at the world of luxury watches to see whether high-end timepieces can be considered an investment as well as a popular collectible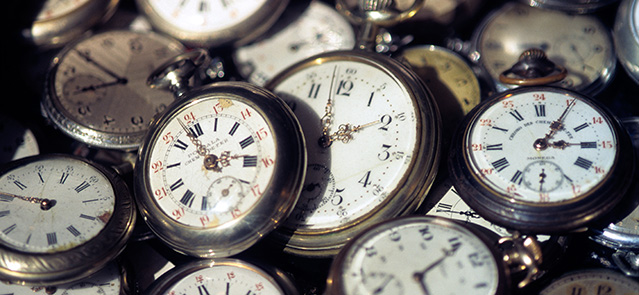 Photo: Alamy
The luxury watch market broke new records last year after a rare Patek Philippe watch became the most expensive wristwatch ever sold at auction. It smashed initial estimates of $3 million to fetch over $11 million at a sale in Geneva.
While interest in fine timepieces has grown in popularity in recent years, the auction set a new precedent for just how much collectors are willing to pay for specialist pieces, and caught the eye of international art and luxury goods markets around the world. But does a luxury watch offer collectors the same level of return on investment as, say, a classic car or piece of jewellery?
Follow the second hand
In general, prices of luxury watches sold at auction and retail have increased by a considerable margin across the board in the past 10 years, both in terms of purchasing and selling prices, according to Robin Armstrong, managing director of specialist vintage watch dealer Armstrong & Co.
'The huge number of private collectors now accessing ecommerce platforms such as eBay has helped generate a large price increase, as previously undervalued pieces are now levelling in price because they are reaching the marketplace much more easily than just through traditional auction houses,' he says.
'We are finding that the same watches that could be previously purchased at auction for say £200 are now £400 when they reach the market. This has limited the profit potential for collectors and dealers alike, but for those holding stocks for a long period, they are more likely able to capitalise on this growth,' says Armstrong.
An important point to consider when looking at buying a luxury watch is to separate contemporary pieces and those bought new at retail from vintage, even though both will often appear side by side in watch auctions.
'Except in rare circumstances, the modern pieces tend to be subject to depreciation whereas the value of vintage tends to climb,' says Adrian Hailwood, director and watch specialist at Fellows Auctioneers, which specialises in jewellery and watches.
Vintage collecting is still an expanding market, and with more people entering and the pieces, by their very nature, being limited, prices are steadily moving upwards.
Brands to watch
But not all vintage watches are made equal. If you are hoping for your watch to gain some value over time, there are a couple of brands and models that are currently more popular with collectors than others – namely Patek Philippe and Rolex.
The record-breaking Patek Philippe piece sold at auction last November was a rare steel watch the first of only four models of its kind, with the other three thought be in private collections. While Rolex models such as the GMT Master, Submariner and Sea Dweller are also popular models to look out for, according to Armstrong.
'The general rule of thumb is that unless the watch brand has more than 100 years of history in actual watchmaking then it will be a poor choice for investment. Those makes with the most historic and famous horological achievements are also regarded as the most important among collectors.'
For Armstrong, a sound investment means buying a proper mechanical watch made by skilled craftsmen and avoiding mass produced quartz watches with cheap movements, which have been styled and marketed by a fashion house.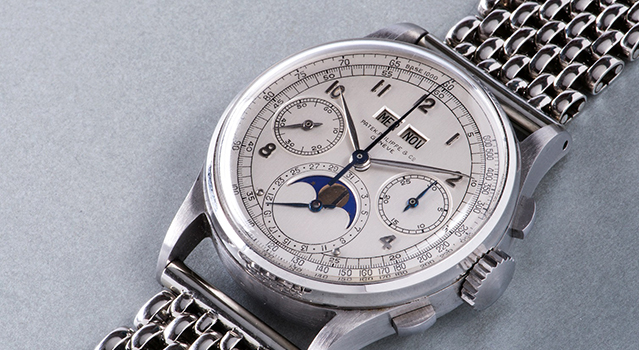 This Patek Philippe wristwatch fetched over $11 million at a sale in Geneva. Photo: Phillips/Phillips.com
Originality counts
Apart from certain brands and models, condition and originality also need to be considered. As many vintage watches were actually used as personal tools in sometimes difficult environments, pristine condition is very rare.
The vintage market is also awash with fakes and watches that have been constructed from a mix of real and fake parts. So if you are looking to buy, be selective and look for trusted auction houses or specialist dealers that offer in-depth technical knowledge, return policies, warranties and can guarantee the authenticity of the piece.
Original is always better than restored and, as you might expect, original and mint condition in a sought-after model stands the best chance of making money, particularly if the box and the paperwork have survived too, according to Hailwood.
Value over time
While there is a growing appetite for luxury timepieces, sellers and watch enthusiasts all agree that buying a watch in the hope of making serious cash quickly is unlikely and certainly not guaranteed even in the longer term. Only some select watches go for massive prices in auctions, and those instances should not be used as examples to predict outcomes.
'Buying watches as an investment is highly speculative. Most of the time buying a luxury watch is like buying a luxury car. That implies high depreciation and risk when trying to recapture value. Only rarely does value go up. It's really about minimising loss versus maximising gain,' says Ariel Adams, founder and editor of popular watch review and information hub A Blog to Watch.
'In order to do that you need to have not only deep knowledge of brands and consumer tastes, but need to make judgements on a piece by piece basis as not all watches from even good brands will fare equally.'
If after weighing the risks, you are still considering taking the plunge, collectors also unanimously agree there is one golden rule no matter what the price point or value: never buy what you don't like.
'Buy what is popular and you are more likely to have a ready market when you come to sell,' says Hailwood, adding that this is a soulless way to purchase. 'Owning a watch you don't really like in the hopes it will make money later is fine for an investment fund – but not recommended for individuals.'
We offer tailored watch cover as part of your Hiscox home insurance cover. To find out more about how to get high-value insurance for your swiss watch or designer timepiece, check out our Jewellery cover page.