Bright ideas for home illumination
February 16, 2017
Nothing spoils the mood more than a badly chosen fitting throwing off unappealing shadows. We recommend pendants and lamps by three top designers to show your interior in its best light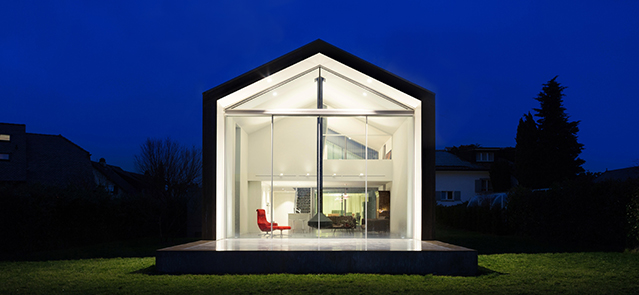 Photo: Alamy
Just as you obsess over the latest designs from Jasper Morrison, Patricia Urquiola or Philippe Starck, it's important to give equal consideration to all things that glow.
Good lighting maximises the impact of a space, and is integral to setting the right mood and tone. But before you switch on, take inspiration from three of the best designers around, who fuse the highest quality materials with the brightest ideas.
Form and function
Michael Anastassiades is one of the hottest creative talents working in lighting design, creating items that are both elegant and useful. He launched his studio – which now occupies a jewel box-like space on Lower Marsh near Waterloo Station – in 1994, and he has designed products with leading manufacturers such as Lobmeyr and Svenskt Tenn.
Anastassiades' first mass-production contract was with the Italian company Flos, for whom he designed lighting pieces including Ama, which is reminiscent of an impressively oversized pearl necklace and made of mouth-blown opaline glass and brass. It was inspired by Japan's female pearl-divers, and the piece was a standout of London Design Festival when it launched in 2014.
Speaking about how he got started, Anastassiades told T Magazine: 'I wasn't even trying to sell pieces at the time. I just wanted to express my ideas.' He highlighted his Tip of the Tongue lamp, which is formed from a sphere that seems to teeter atop its polished brass or nickel base, as 'being perfect for one's bedside table'.
Just right for dressing up the lounge room, Anastassiades' Loop collection, created in partnership with hip design store The Future Perfect, explores balance, colour and minimal shapes. Slender green rings, a bit like hula-hoops, hold three orbital lights. They are perfect for adding a sculptural touch to any living space.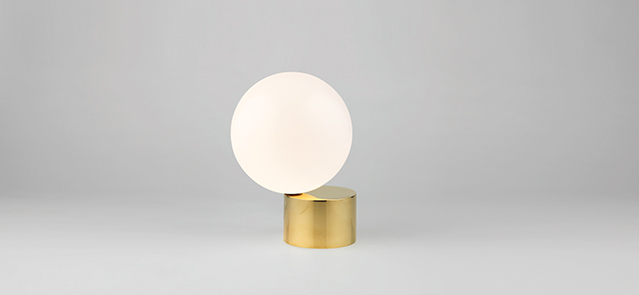 The Tip of the Tongue lamp is perfect for a bedside table. Photo: Michael Anastassiades Studio
Making a statement
Tom Dixon has become something of a design scene darling in London since he founded his eponymous lighting and furniture brand in 2002. This was followed by the establishment of Design Research Studio, his interior design practice, which undertakes commissions for high-concept interiors, large-scale installations and architectural design for restaurants, hotels, shops and corporate headquarters the world over.
With clients including the Mondrian London hotel, and the Paris-based Éclectic restaurant, Tom Dixon now sells products in more than 65 countries, most of it dreamed up at his HQ in London's Portobello Dock.
When it comes to making a statement, Dixon's range of domed Copper pendant lights are instantly recognisable, boasting a highly reflective metallic surface that makes them a high-spec, ornamental addition to the room. The fixtures come in various sizes and forms, and look particularly effective in a cluster.
Melt is Dixon's latest collection, which continues his interest in industrial-tinged materials, such as gold, copper and chrome. Each light features irregular concave indents, giving them a luxurious but organic quality.
Translucent when on and mirror-finish when off, the beautifully distorted forms of these lighting globes emit an attractive, mildly hallucinogenic light. And a bonus for small spaces is that they come in a mini table light version too.
Contemporary craftsmanship
Lee Broom is one of the UK's leading young product and interior designers. For his interiors at Dirty Bones in Kensington, Broom created an eclectic diner-style space, which was emphasised through mismatched pendant chandeliers.
To achieve a sense of cosy comfort at home, look no further than Broom's Decanterlight collection. Each pendant light in the series is made from hand-cut crystal, and designed to glow in eclectic clusters. There is a range of vessel shapes to choose from, from classic tulip forms to bell silhouettes.
Broom's best pieces combine delicate craftsmanship with a contemporary edge, as evident in his Chapel light, which Wallpaper* magazine awarded a coveted Wallpaper* Design Award in the category of Best Divine Inspiration.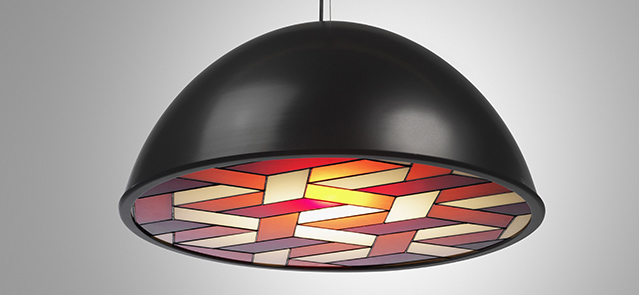 The Chapel light combines delicate craftsmanship with contemporary edge. Photo: Arthur Woodcroft
The hanging light utilised a thousand-year-old technique, and features a black, domed shade that houses the geometric pattern of a handcrafted stained glass window, which casts a warm and colourful light.
Just as impactful are Broom's table lights, which, whether placed on a side table or shelf, offer a more intimate glow. The Globe is a solid half-sphere of Carrara marble topped by a dome of lead crystal. It simultaneously creates a robust, striking presence in a lounge or bedroom, yet emits a beautiful, soft glow.
Finally, as fantastical as they are functional, Broom's Fulcrum light also uses fashionable marble to produce a monolithic take on the modern candlestick.
No matter how well dressed your home, if the lighting isn't right then you may find that the whole ensemble falls flat. Whether you're after a gentle wash of light or a high-impact talking point, give yourself enough time to find a fitting that matches your home interior's style and purpose.
Individual items or sets up to £15,000 are covered as standard – you don't need to list them or buy separate cover. Find out more about our home insurance