A guide to protecting your garden
February 18, 2016
While you diligently upgrade security in your home to ensure your valuables are protected, spare a thought for what lies within that sprawling patch of green just outside your back door. Garden expert Veronica Peerless explains how to make your garden a secure sanctuary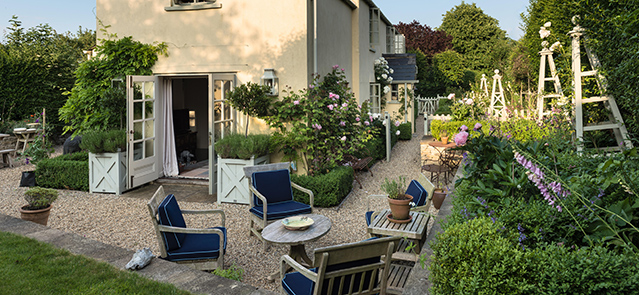 Photograph: Alamy
Whether you like to relax in your garden, tend to your borders or cook up a storm on the barbecue, you've probably spent more in your garden than you realise. Most of us have some furniture, a lawnmower and a couple of power tools – and some of us own much more than that.
Today's gardens are considered 'outdoor rooms', and homeowners are increasingly splashing their cash on them – sales of expensive all-weather sofas and dining sets, state-of-the-art barbecues, battery-powered tools and robotic mowers are all on the rise. Our outdoor spaces can offer rich pickings for opportunist thieves, especially in spring and summer when our garden goodies are more visible.
What's at risk?
It's estimated that around one in seven gardens fall victim to theft, and the British Insurance Brokers' Association (BIBA) reveals that garden equipment, furniture, iron gates, statues, plants and even garden gnomes have been spirited away by burglars. At best, this is an inconvenience, but it can become upsetting if the object is irreplaceable or of sentimental value. And, of course, it's not only thieves that can cause havoc in the garden – weather, pets, children and irresponsible adults can create damage too.
Fortunately, a Hiscox home insurance policy covers the garden too. 'You're covered for the main events that could affect your home, such as fire, damage and theft,' says Hiscox Direct Claims Team Leader, Hazel Allen, who explains that the garden can be broken down into three main elements:
The garden outbuildings (sheds, garages, greenhouses, etc.)
Items kept in the garden (lawnmowers, statues, garden furniture, etc.)
The physical garden itself – plants, trees and lawns
Within reason, they are all covered for most eventualities – although fences and fallen trees (unless they have damaged your property) are typically excluded.
That said, it pays to check that you have the right amount of cover. Just as people have a tendency to underestimate the value of the contents of their home, they do the same with their garden. 'A large proportion of people underestimate the level of cover they need,' explains Gareth Gwyn-Jones, Hiscox Property Claims Manager. 'Consider what an item would cost to replace – don't be underinsured.'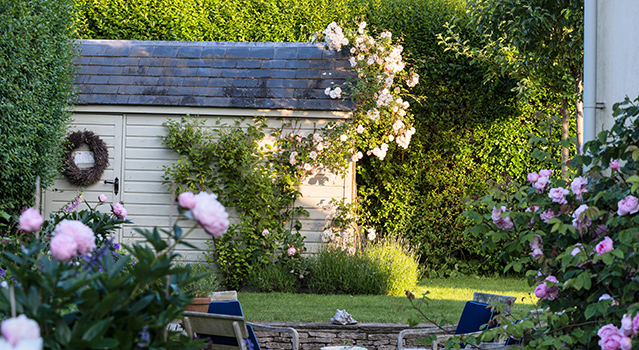 Lock your shed and put as much of the garden's contents as you can away at night. Photograph: Alamy
Simple security steps
Gardens aren't subject to the same security requirements as your house in the eyes of insurers, as it can be difficult to keep intruders out. Hiscox covers the contents of unlocked sheds, for example (although ride-on mowers must be kept in a locked building when not in use).
Gwyn-Jones recommends taking simple steps to secure your garden. 'If you have a gate, shut it. Lock your shed. Put as many as you can of the garden's contents, such as bikes and toys, away at night. Think about getting some security lighting – motion sensors can deter thieves. A gravel driveway is good, as it makes a noise when walked on. Tell your neighbours if you're going on holiday.'
Other good security measures include keeping tools and ladders securely locked up, so a burglar isn't able to use them to get into your house. You could also plant spiky living boundaries, such as berberis, pyracantha, hollies and climbing roses – hard for burglars to breach if planted as a hedge or along walls and fences.
Mowing the lawn
Gwyn-Jones suggests keeping your garden well maintained. 'Fallen trees can cause devastating damage to a house, so have them checked and trimmed regularly. If a tree is top heavy, with a large crown, alarm bells should ring – it needs to be kept in trim.' Allen adds: 'We have a lot of claims for thefts from sheds at the end of the garden. If your garden is overgrown, you can't see if an intruder is there.'
'In the case of theft, Hiscox can help by providing a swift and speedy response,' says Gwyn-Jones. 'But if someone has entered your property, there is going to be an emotional impact too. Take simple, sensible steps to keep your garden secure.'
Veronica Peerless is contributing editor at gardenersworld.com