A guide to keeping your bike safe and sound
February 22, 2016
You've just bought your dream bike, but how do you keep it safe? Whether you're commuting to work or planning a cycling holiday, bicycle pundit Richard Peace gives his top tips for keeping your two wheels spinning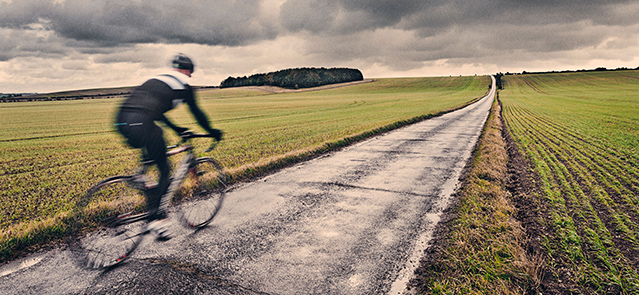 Photograph: Alamy
With state-of-the-art aluminium frames and carbon-fibre wheels no longer just the preserve of professional cyclists, bicycles are proving to be a magnet for thieves. Common sense tells you the first rule is to keep your bike secure when you're out and about – or even at home – but where do you start?
Under lock and key
The obvious first security purchase is a lock. There are two kinds to choose from, the chain and the shackle, with not much difference between them in terms of strength at the more expensive end of the spectrum. Whichever design you go for, I would advise getting one with the highest independent security rating: there are several such schemes, but Sold Secure is one of the best known. Look out for its gold-rated products.
Weight watcher
When buying a lock, bear its weight in mind – 1.5kg is a good target for gold-standard locks – but also look at thickness and length to make sure the lock will fit through your bike where required. Figure out how to mount the lock on the bike or if you will need to carry it in a bag. There are some nice variations on traditional designs, including alarmed locks and ones you can wear around your waist.
Keyless digital locks, which can be unlocked with smart devices, are still in their infancy but it's worth keeping an eye on this field and looking out for practical reviews to see how they perform.
Going to pieces
Lightweight bikes will have expensive removable parts that are a particular targets for thieves, most usually weight-saving seatposts, saddles and wheels. If this applies to your bike, think about getting axle and seatpost locks. These add little or no weight, as they replace existing components, and mean you don't need to carry extra locks to keep the wheels secure. Pinhead and Pitlock are well-known makes.
At home
Home garages and sheds are often a target for bike thieves. While garages are clearly preferable to leaving bikes locked in your garden, simple external garage padlocks are often weak points. Garage defender locks can be useful to protect flimsy 'up and over' garage doors and some carry Sold Secure ratings – again, go for the highest.
Perhaps the most secure method of all is to keep your bike in the house. If this appeals but you are struggling for storage space, UK brand Cycloc make a range of funky looking wall mounts that are easy to use and will let you use the mount as a locking point too.
Keep on tracking
Should the worst happen and your bike is stolen, you may be glad of a potential means of recovery, such as Selectamark (coded UV-paint technology) or one of the many GPS tracking technologies (this is a rapidly developing area). At least make a record of your frame serial number and consider registering it with one of the online databases that attempt to recover stolen bikes.

Photograph: Alamy
Get it covered
Good-quality insurance is crucial when it comes to protecting a bicycle. The latest figures reveal 380,000 incidents of recorded bike theft in England and Wales alone, so the risk of losing your treasured two wheels is not something to be taken lightly.
With Hiscox covering bikes through a number of different policies under its direct and broker channel home policies, Hiscox Property Claim's Manager Gareth Gwyn-Jones explains the insurance options:
'Our direct home insurance covers bikes as standard, up to our single-article limit of £15,000 per bike, while they are stored within the boundaries of your property,' says Gwyn-Jones. 'Away from the home the standard cover would be limited to a value of £3,500. Additional cover above these limits will also be considered. We can cover most kinds of bikes including electric bikes and special-needs bikes too. We also offer bike insurance cover as a standalone through specific schemes that are administered via cycle-cover specialists, such as Bikmo.'
Now that the insurance is taken care of, you can start planning the all-important route to work or, if you're feeling a little more adventurous, where you could push your legs a little harder on a cycling tour.
Richard Peace is a regular contributor to Cyclists Touring Club magazine and Cycle magazine
For more information on Hiscox Bicycle cover as part of  Hiscox Home Insurance, please go online at hiscox.co.uk or call 0808 2743 560 (Mon – Fri 8am – 7pm, Sat 9am – 5pm)