A guide to adventure travel
May 27, 2016
Golden beaches and opulent villas are all well and good, but what if you want a bit of an adventure? From Arctic exploration to Himalayan ascents, this is a guide for those looking for the road less travelled…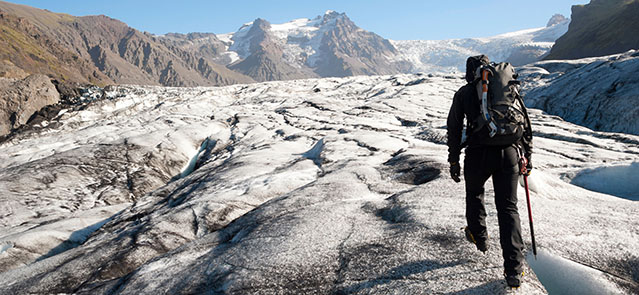 Photograph: Alamy
The search for the perfect poolside drink and sun lounger is no longer our top priority when it comes to holidays. Rather than view the world through the window of a shuttle bus from the airport to the villa, more of us want to live and breathe our destination.
According to the Adventure Travel Trade Association's most recent Adventure Tourism Market Study, growth in the adventure travel market has accelerated at a 65% yearly rate since 2009.
For Jonny Bealby, author and founder of the Wild Frontiers travel agency, adventure travel is the defining trend in the holiday market. With his company seeing 100% growth over the past three years, he reveals: 'We find people are no longer interested in just seeing a country's highlight sights; they want to get off the beaten track to see what life is really like for the local people.'
Attenborough fans
Bealby thinks that our taste for adventure might have something to do with increased exposure to exotic travel in the media. Perhaps he's right – we're a nation of David Attenborough fans, watching the naturalist and his crew travel to the wildest destinations might have inspired us to do the same.
The same can be said for programmes about explorers such as Levison Wood, presenter of TV show 'Walking the Nile', which pulled in 1.7 million viewers when it first aired in 2015. So too for our TV adventurers such as Bear Grylls and Ben Fogle, both of whom can regularly be found pushing their bodies to the limit in a canoe or hanging off a ravine in the jungle.
'Socio-economics and the media have also shifted perspectives,' says Bealby. 'We are seeing a lot of baby boomers being encouraged to travel by their gap-year children. Perhaps [they] are aware of the fragility of different cultures, and therefore want to experience them while they can.'
So, do you fancy decamping to a tribal stronghold in the jungle or packing your walking boots for an adrenalin-fuelled Arctic mission? With a world of options to explore, finding the right holiday might leave you feeling exhausted before you've even started your journey.
Fortunately, a new generation of adventure travel specialists is offering help with your itinerary; we've compiled a snapshot list of the most active holiday options to help you make your decision.
The self-drivers
Driving holidays can be some of the most rewarding, as they allow you to see a country at your own pace, stopping where you please. Imagine cruising with the roof down along Route 66 or the Highway 1 along the Californian coastline.
Abercrombie & Kent offers self-drive holidays and can create bespoke or pre-arranged itineraries with mapped routes and luxury accommodation included. On the other side of the pond they also run tours with Land Rover, driving from England to Scotland, or Spain, which will better satisfy the adventurer's itch. 
The icy explorers
Journeying with adventure travel agent Black Tomato on one of its epic trips takes you to the Pinnacles of Antarctica, where very few people have been before. You'll hike, sled and snow kite through a truly alien landscape and come back with a better appreciation of this incredible planet. Black Tomato also offers expeditions through Iceland, Canada, Norway and the Arctic, where you can hike glaciers, discover caves, stay in log cabins or camp. 
The culture mavens
How about living with a tribe for a week in Ghana or attending a local-level festival in India? Wild Frontiers likes to get right to the heart of a destination, arranging trips to areas as yet uncharted by most of the major tour operators. Their tours, such as the Afghanistan hiking route, use local guides, providing the best possible insight into life on the mountainside here, but also ensuring the money goes in to the pockets of local people. 
The off-roaders
How many people can say that their holiday was a world first? Black Tomato takes the phrase 'off-the-beaten track' to the extreme with treks that delve into the unknown.
Black Tomato's Guyana trip journeys deep into the virgin rainforest of western Guyana, with holidaymakers able to abseil from the top of Kaieteur Falls, the world's widest single drop waterfall, on the Venezuelan border to the jungle floor and become one of the first people to enter the cave behind the falls. These trips, where canopy camping is the norm, run for 12 days and are not for the faint-hearted. 
The water babies
For some the idea of doing anything but lying on a beach while on holiday is disturbing, but for those with a more active outlook, an adventure holiday is the perfect excuse to slide into a wetsuit.
In Greece, The Big Blue offers a huge number of trip options. Groups will spend the day swimming between the islands before meeting to feast on fresh fish and local wine in the evenings. SwimTrek – founded by coach and Channel swimmer Simon Murie – offers open-water coastal swimming and island-hopping from the British Isles and the Indian Ocean to the Galapagos Islands.
The pedal pioneers
Cycling holidays can take place pretty much anywhere – from Himalayan mountain bike challenges to Alpine road riding. To make the journey a little less taxing, your luggage is transported ahead and – unless you've opted for an off-road adventure – a support vehicle carrying water and vital spares is never too far behind. Whether you're a novice cyclist or an experienced enthusiast, KE Adventure Travel offers a stunning range of excursions in Africa, Asia, Europe and the Americas.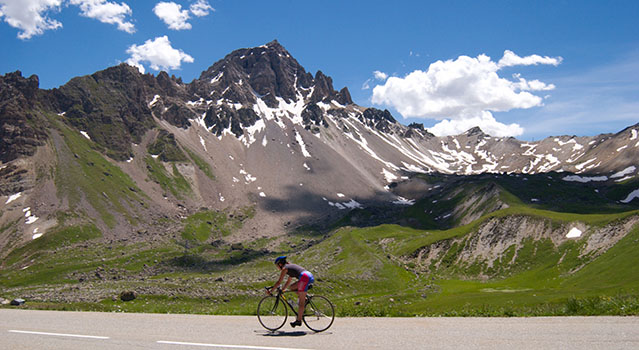 Cyclist on the road from the Col du Galibier in the French Alps. Photograph: Alamy
The fitness fanatics
Iron Man triathlons are becoming a popular way for people to spend their annual leave, often held in stunning locations such as Pescara in Italy or Stockholm in Sweden. You could book a few days off either side of the race to come back with a huge sense of achievement as well as having sampled some of the local culture. 
Extend the benefit­
As much as we all love to come back from holiday with stories of wonderful excursions and beautiful beaches, how about leaving something positive in your destination? Conscious, responsible travel can be extended to covering the building of orphanages and hospitals in Morocco or Brazil, and what better for an adventurous mind than the opportunity to also help others?
We've highlighted a selection of companies here but there are many other adventure tour operators available so do your research before you buy.
Find out more about Hiscox travel insurance