The Most Valuable Vinyl by English Artists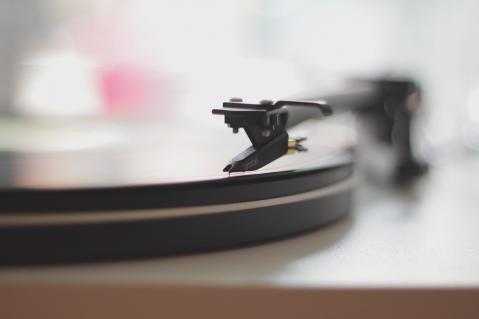 The so-called 'vinyl revival' shows no signs of slowing down, with the British Phonographic Industry announcing a 63% rise in vinyl sales (external link) at the beginning of 2016.
Both the rise of digital downloads and streaming spurring music fans to pursue high quality 'physical' releases and the soaring popularity of Record Store Day (external link), a celebration of independent outlets and special edition vinyl, has created a whole new generation of vinyl collectors.  
Alongside a growing number of consumers choosing to buy freshly pressed vinyl, vinyl stands at antiques fairs and vintage markets are buzzing with collectors both old and new.
Alongside a rise in interest comes a rise in value, and rare vinyl is both fun to hunt and own.
There's also a lot of potential for rare vinyl – special editions, original pressings, pressings with errors, releases by artists 'before they were famous' and novelty releases. The world of vinyl is a collector's dream, and some records can pull in huge valuations.   
We looked at the most valuable vinyl produced by British artists. If you spot one of these at your next flea market, be sure to snap them up:
£200,000: 'That'll Be the Day/In Spite of All the Danger' by The Quarrymen

You may have never heard of The Quarrymen, but you will definitely recognise their rebrand after they got a new drummer. This 1958 original song featured a certain Paul McCartney, George Harrison and John Lennon, alongside pianist John Duff Lowe and soon-to-be-ex drummer Colin Hanton. The vinyl is worth a gobsmacking 200K. But before you rush to check your own vinyl collection, there's only one of these in existence and it belongs to Paul McCartney himself.
£8,000: 'God Save the Queen/No Feelings' by the Sex Pistols

With the original sleeve and press release, this record is valued at nearly £10, 000, but it's estimated only nine exist. Without the cover and press release, an original record is still thought to be worth around £7,500. Only 300 copies of this pressing allegedly exist after the Sex Pistol's record label destroyed over 25,000 copies when they terminated the punk band's contract for bad behaviour. The Sex Pistols had only been signed for six days.
£7,000: 'The White Album' by The Beatles

A copy of the legendary 'White Album' on vinyl with a good serial number is worth around £7,000. However, you may struggle to come across one as New York collector Rutherford Chang has collected 1,400 copies, the rotter.
£6,000: 'Please, Please Me' by The Beatles

Not surprisingly, The Beatles make a second appearance on this list. This time it's for the first pressing of their 1963 debut LP 'Please, Please Me'. It features a publishing credit for Dick James Music Company rather than Northern Songs, which is credited on the later pressings of the record.
£5,000: 'Bohemian Rhapsody/I'm in Love with my Car' by Queen

The valuable pressing of England's favourite singalong is the EMI Records special edition that doubled as an invitation to an EMI company event. The record also came with branded accessories including pens, matches and a scarf.