High jewellery at The European Fine Art Fair
March 05, 2018
The highlight of the art world calendar, The European Fine Art Fair is now attracting lovers of couture jewellery. Sarah Royce-Greensill selects the pieces that will be catching the eye of the art-savvy crowd this March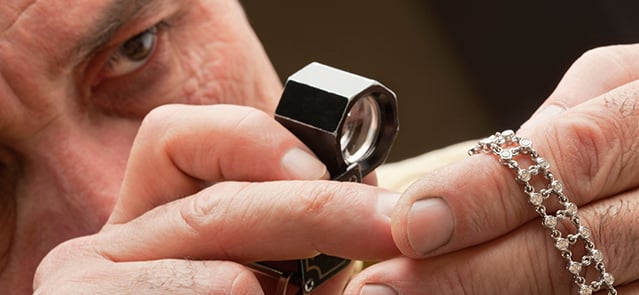 Photo: Alamy
Celebrating its 30th birthday, The European Fine Art Fair (TEFAF) is now a thrice-yearly affair, with the Maastricht edition running from 10 to 18 March. Widely regarded as the world's pre-eminent fair of art and antiques, TEFAF brings together 270 dealers from across the world to showcase their wares, spanning more than 7,000 years of art history.
With art lovers increasingly likely to be jewellery lovers too, the fair has evolved to include a section dedicated to high jewellery – or La Haute Joaillerie. From vintage treasures to one-of-a-kind contemporary designs, here are the collections to look out for in 2018.
Hemmerle's hidden treasures
German jeweller Hemmerle is also celebrating an anniversary: 125 years, with a handful of pieces inspired by its beginnings as a medal-maker. Having always known that the house supplied medals to the Bavarian royal family and the Vatican throughout the 19th and 20th century, this history came to life when Christian Hemmerle (great-grandson of one of the founders) and his wife Yasmin came across a box of ancient embossing stamps in the cellar of their Munich atelier.
The resulting Hidden Treasures range comprises 10 one-off pieces imbued with history and meaning. A pair of diamond-studded Pegasus horses prance on earrings of midnight-blue aluminium: a nod to the emblem for the arts that used to appear on the Bavarian Maximilian Order. Elsewhere, a segment of the star stamp used in the Order of St Gregory becomes a pair of beautifully articulated iron earrings, while tassels of sapphire beads dangle from regal iron crowns.
Signature style from Verdura and Herz-Belperron
Two historic jewellery houses with Hollywood-worthy stories, given new life by a family of jewellery connoisseurs: a visit to the Verdura/Herz-Belperron stand is a TEFAF highlight for any jewellery lover. This year both brands present vintage pieces alongside new creations.
Verdura unveils its Breaking Away: The Quest for Color collection, the highlight of which is the Ravenna cuff, originally designed by the dandyish Duke Fulco di Verdura in the early 1930s for Gabrielle "Coco" Chanel. The explosion of colour was a break from Chanel's monochromatic norm, with juicy amethysts, tanzanites, peridots and aquamarines against a background of black or ivory enamel. Other equally kaleidoscopic, Byzantine-style jewels reflect the boisterous mood of the era.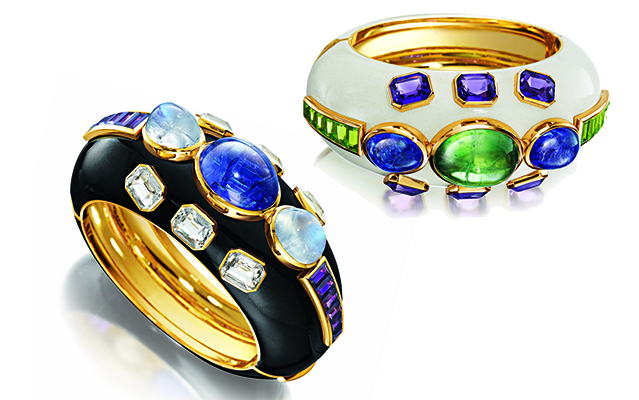 Verdura's Ravenna Cuff bracelet features a trio of gemstones at its centre
The only celebrated female master jeweller of the 20th century, Suzanne Belperron's legacy was in danger of being lost as she refused to sign her work, declaring 'my style is my signature'. Fortunately, her style lives on through original pieces as well as new creations brought to life from her vast archive of designs. The new Toujours collection features Belperron's signature fluid silhouettes stripped of gemstones and rendered in 22ct 'virgin' gold – everyday, but far from ordinary.
G is for Glenn Spiro
British jeweller Glenn Spiro was in the past an under-the-radar collector's secret, but that may be about to change as his house, G, is exhibiting at TEFAF for the first time. A gem-dealer by trade, Spiro revels in the rare and unusual. His aesthetically diverse jewels are united by a sense of contemporary exoticism that piques interest.
Take the zebra-like striped agate, set either side of a 4.40-carat marquise diamond in a cocktail ring of curious proportions. Or the arrow-shaped planes of carnelian that top a pair of gold bangles, ancient-Egypt-meets-Wonder-Woman style.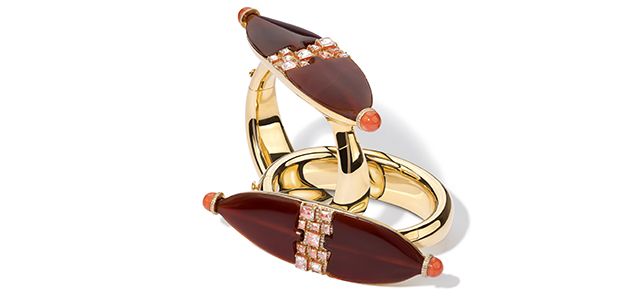 A pair of historical carnelian bangles by Glenn Spiro
Other gems are more familiar, but set in a way that makes them seem brand new. Baguettes of blue sapphire are interspersed with discs of diamond-studded rock crystal in chandelier earrings that have an almost intergalactic charm. A necklace of 33 colour-matched rhodolite garnets is strikingly simple – but leaves a triangular diamond trailing from the clasp as a clue to the designer's maverick creativity.
Vintage glory at SJ Phillips
British antique jewellery house SJ Phillips relocated last year from its historic store on Bond Street to a by-appointment-only boutique on Bruton Street, but its standing as one of the most-visited booths at TEFAF remains the same.
Vintage Cartier is a speciality, and this year over 100 pieces are on display, including an exceptionally rare seed-pearl choker, set with swaying diamond tassels and dated 1909. Along with this Cartier Paris beauty from the Belle Epoque era are pieces from London and New York: from a gold, ruby and diamond suite c.1960 to a diamond necklace that converts into a tiara.

The vintage Cartier pearl and diamond choker from SJ Phillips
SJ Phillips is also renowned for its selection of ornate gold boxes, and collectors will vie to get their hands on an extraordinary example from 1743, made by French goldsmith Jacques-Toussaint Lemire. Crafted in gold and scalloped mother-of-pearl with shell decorations, the mind boggles at what treasures may have been secreted within it over the centuries.
Vintage visit to Hancocks
Vintage jewellery specialist Hancocks brings its array of signed and unsigned treasures from Burlington Arcade to Maastricht, where one particular necklace will attract the lion's share of attention.
Signed 'JC' for Jacques Cartier and dated circa 1925, it's a thing of Art Deco beauty, with three rows of brilliant and baguette-cut diamonds suspended from geometric links. But provenance is its trump card. It belonged to socialite Deborah "Debo" Duchess of Devonshire, the youngest of the notorious Mitford sisters.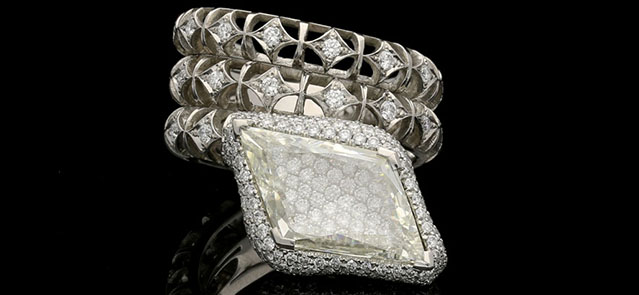 Amy Burton's Diamondback ring for Hancocks
Hancocks is also celebrating contemporary design, with jewels by Amy Burton, daughter of the owners. The Diamondback ring is the latest addition to Burton's Unum collection of one-off pieces designed around exceptional stones. Here a portrait-cut diamond becomes a stylised snake's head, its scales replaced by pavé diamonds visible through the antique stone.
Sarah Royce-Greensill is Jewellery and Watches Editor for The Telegraph
Find out more about our jewellery cover