Portmeirion Pottery - A Guide for Collectors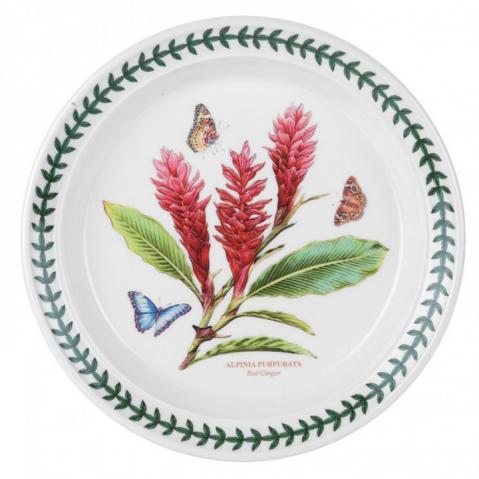 Since 1960, Portmeirion designs have enchanted British pottery enthusiasts, inspiring many to become collectors.
Started by Susan Williams-Ellis, the Stoke-based company takes its name from the Italian-style village designed by the eccentric architect Sir Clough Williams- Ellis on the coast of North Wales, best known as the setting for the cult 1960s TV series The Prisoner.
A factory shop selling Portmeirion designs can be found in the village and is popular amongst tourists who visit.
Susan and her husband Euan Cooper-Willis ran the gift shop at Portmeirion, and commissioned pottery pieces based on Susan's designs to make more profit from the quiet shop.
The two eventually purchased the pottery company A.R. Gray, who had been supplying the gift shop, and later combined it with another pottery company named Kirkhams to create the Portmeirion Potteries business. This allowed Susan to both create her unique, cylindrical shapes from scratch and apply the design and decoration.
For Collectors
Portmeirion pottery has mostly consisted of crockery, mugs, coffee sets, teapots and vases. The range has also grown to cookware and has included designers such as Sophie Conran since Susan Williams- Ellis's passing in 2007.
High value pieces include Susan Williams-Ellis's early designs, including Malachite and Moss Agate, which were not mass produced and were early indicators of her fondess for angular designs.
One of Portmeirion's first successes was the 'Totem' (1963) design, which consisted of a range of abstract designs inspired by Native American culture on rich colours with a thick, deep glaze.
1964's Jupiter range saw issues with its glaze, which marked easily, and had a very short run. This makes the design a highly desired collection amongst Portmeirion completionists.
Early ranges such as Magic City (1966) and Magic Garden (1970) are also valuable. Magic Garden, seen as a follow up to the popular Magic City range, had a shorter run after smaller sales, and has since boosted in value.
Botanic Garden
In 1972, Williams-Ellis launched the Botanic Garden collection, which grew into a signature design for the company and still sells incredibly well today. The collection features illustrations of flowers, plants, insects and butterflies, alongside the English and Latin names next to the pictures. Retired designs in the Botanic Garden collection include Cereus Cactus and Double Camellia, and are very popular amongst Portmeirion collectors. Rare Botanic Garden plates can reach as much as £200.
Botanic garden has now achieved 'classic' status, proving as popular as other patterns such the Willow Pattern.
Portmeirion designs tend to revolve around the theme of nature, and their Birds of Britain and Compleat Angler series has proved a hit with bird and fish lovers in the UK.  
Stamps
Every piece of Portmeirion pottery is stamped for authenticity at the bottom of the piece. A useful way to spot the age of a piece is to see if the stamp is either trophy or oval shaped. Any piece with a trophy back stamp will almost certainly be older (though it was revived recently, so it's best to double check), whereas oval stamps are applied to modern pieces.
A high value piece of Portmeirion should have bright, fresh colours, no cracks or chips, and ideally have its original box. Collectors also snap up unusual items that don't make up the core collection, such as salt and pepper shakers, coasters and even spoon rests.
Still based in Stoke-on-Trent, Portmeirion has been a British design success story, with the collections still proving to be incredibly popular, and the company purchased the Royal Worcester and Spode brands in 2009 to cement Portmeirion Potteries Ltd as the leading pottery manufacturer in the UK.  
Portmeirion's popularity continues to endure due to its affordability, quality, and the charm of its most popular ranges, particularly the Botanic Garden collection which has never been off the factory floor since 1972. Susan Williams-Ellis has continued her legacy through her children, who still work closely with Portmeirion on the marketing and design side of the company.
Portmeirion collectors attend collectors' day events held at Portmeirion village itself, where enthusiasts meet to have pieces valued, see new ranges and find bargains at the factory.