Photograph: Taper House, Mustard Architects by Tim Crocker
The blueprints have been agreed, building permission has been granted and the contractors are ready to go. Now you just have to decide one last thing about the project – should you stay or should you go?
Living on site while a major renovation or extension is underway has its benefits – you learn how the house works, save on rental payments, and you can oversee building work and keep things moving. But you'll also have to contend with the dust, there could be a lack of hot water and the power might be turned off, meaning the savings are just not worth the hassle.

We take a look at five things you should consider before opting for months tiptoeing through rubble or making the move to a temporary home.
1. Adding it all up
In an ideal world, most of us would probably prefer not to live on a building site as work gets done, but it often boils down to cost. This was certainly the case for forensic accountant Joe, his wife Eva, a Spanish teacher, and their two children. The family feature in Channel 4's Best Laid Plans, which is co-created with Hiscox and charts the ups and downs of major home extension and renovation projects in the UK.

The couple decided to build a two-storey, rear extension in their home in north Essex, making more room for a kitchen/diner as well as a lounge/snug area downstairs. With a side extension also planned to provide a room for the kids to hang out in, as well as an extra bedroom upstairs, the project was certainly going to cause disruption to the family's daily routine.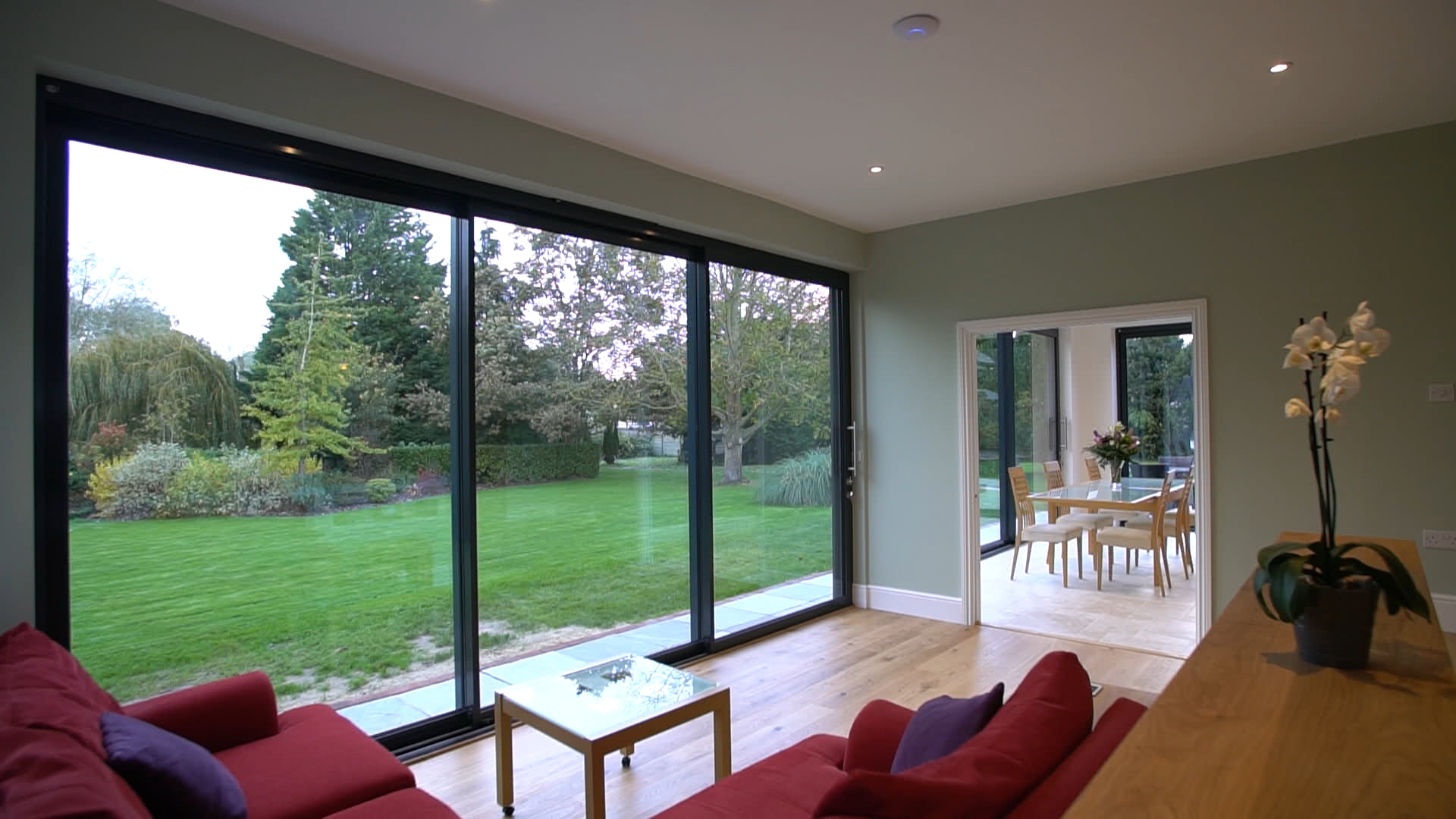 Photograph: Tern TV
Initially, the plan was to rent a property locally to escape the dust and dirt, Joe says, but a few factors made them reconsider. 'We looked into it and it was going to be quite expensive and the reality was we weren't sure how long we were going to have to rent for.'

At the time, it was looking like the project would take four to six months, yet most rental leases are looking for a year. 'We also had the problem of having a cat. We had been in the house for a few months before the building started so we weren't sure about moving somewhere else for six months and then moving back, which would have been monumentally confusing for him.'
2. The home within a home
Rather than paying rent on a house nearby, Joe and Eva opted for a large static caravan, which had a very flexible rental agreement and was much cheaper. This meant they didn't have to move off site while the project was going on, allowing them to watch the build, which the children were excited to see. It was also practical as things like their mailing address didn't need to be changed temporarily.

Director of London-based firm Mustard Architects John Norman believes that if a house is large enough and renovations are happening in just one part of the home, it can work for clients to stay put. In the case of one of their projects, Taper House, all the work happened on the ground floor, so there was enough space upstairs to live because the rooms weren't being touched.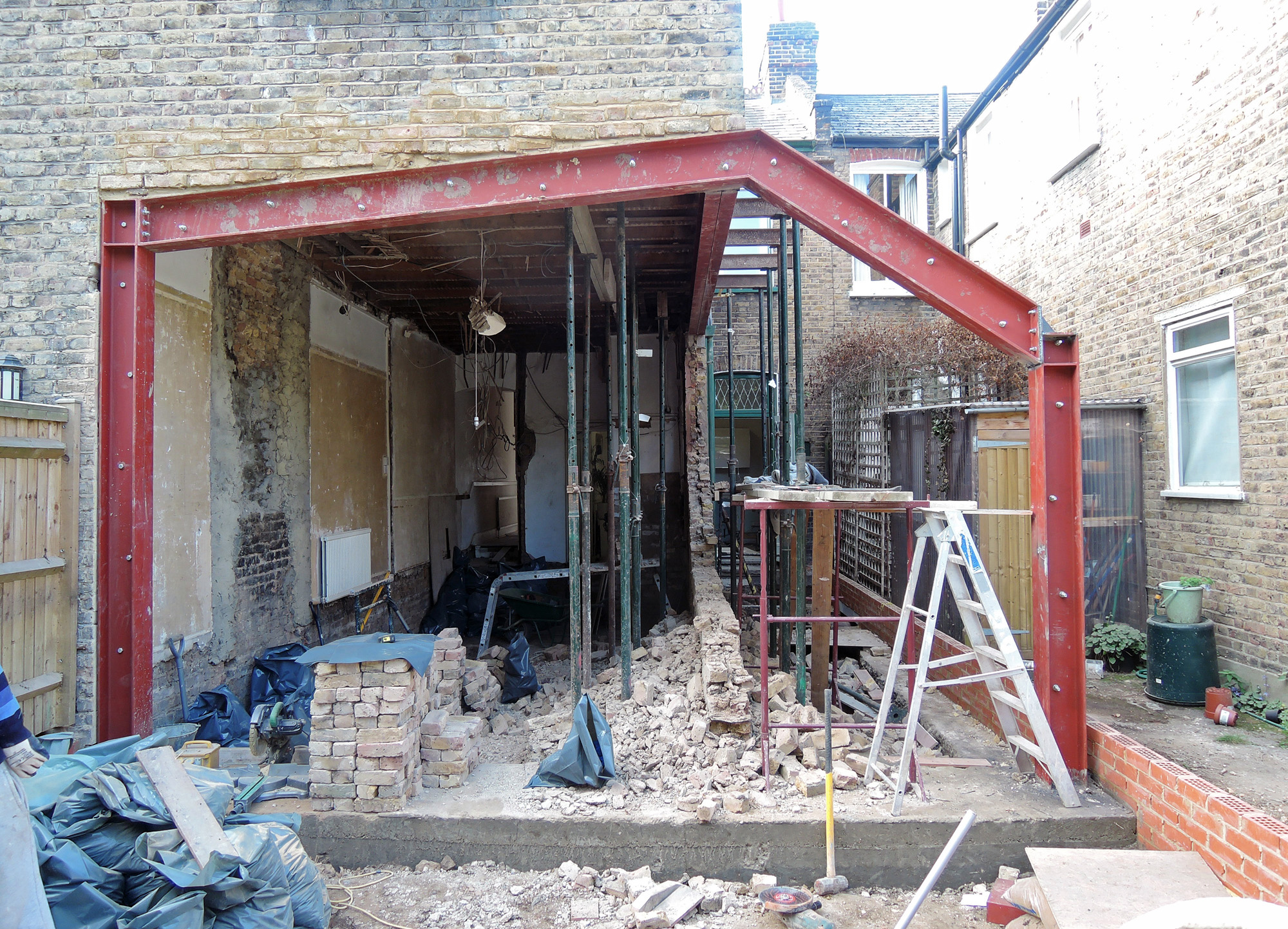 Photograph: Taper House, Mustard Architects by Tim Crocker
'To make this happen we asked the contractor to create some hoarding at the base of the staircase and our clients had their own lock and door, so they kind of had a flat within their house. We set up a temporary kitchen upstairs, reusing some of their old kitchen units and put in temporary plumbing,' explains Norman.
3. When the temperature drops
The time of year your building work takes place can impact on whether it's best to remain onsite or not. Because Joe and Eva's rear extension was to be completed mostly over the summer, the caravan was a viable option and they could make use of their spacious garden. But if you're staying on site during the winter months and are temporarily without gas, electricity, floorboards or hot water, the picture can look very different.

'There was no thermostat or timer in the caravan, so you had to turn it on manually and get out of bed. Because it was summer that was okay, but we had a couple of days in May where it dropped down to four or five degrees overnight and that was cold. We were also lucky with the shower, which was actually quite good. If it had been a horrible shower, I don't think I could have coped,' says Joe.
4. Getting in the way 
Another factor to consider when deciding whether to stay or go is how it will impact the build schedule. If you need to move from room to room in the house in order to make way for work to be done, for example, this can cause delays, as rooms need to be safe and completed before work on another space can begin.
'To maintain quality and cost, sometimes you have to give a little on speed. That's something our clients have to expect if they're moving around and the contractors are doing work on the spaces they're living in – it's going to slow things down a bit,' says Norman.

On the other hand, if you're project managing the site yourself, then being on site first thing in the morning and last thing at night can be a real advantage as you monitor the comings and goings of contractors. 'I think a young couple or maybe someone that lives on their own – rather than a family – would be able to do that and make it work,' says James Davies, director of Paper House Project architects.
5. Don't forget the safety aspect
One thing that is often overlooked is the safety of your home while major work is going on.  'Before the works start, it's difficult to imagine your pride and joy without walls, exposed to the elements or maybe having temporary structural supports in place to keep the structure from falling down,' says Tim Slattery, Hiscox Property Underwriting Manager. 
'Yet, these present real risks to the homeowner and should be considered as part of your plans, especially if you have young children running around'.
Top tips for living on site
Make use of any additional space – Joe and Eva turned their garage into a utility room
Take a pragmatic view – think of it as camping in your own home
Look into your buildings insurance policy – sites can be dangerous, so always check
Explore extra storage – Joe and Eva hired a shipping container for furniture and extra clothes and kept it on site
Best Laid Plans is a 10-part series co-created with Hiscox airing on Channel 4 every Saturday at 4.30pm.

Find out more about our Renovation and Extension Insurance