We've heard the one about the ice cream and the bike
January 26, 2016
It's always best to keep a grip on your bike – even when you're out of the saddle, as one of our clients learned.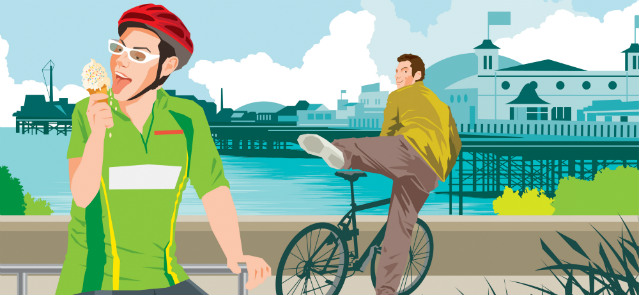 He was spending his summer's afternoon enjoying a pedal around Brighton, when he stopped for a cooling ice cream. Flaked out on the sunny seafront, he became distracted by his fast-melting cone. As he furiously licked his liquefying treat, he didn't notice a thief steal up on him and swipe his cycle.
Although our understandably cranky cyclist gave chase he was soon whipped, two tyred to pursue the bike burglar who showed a clean pair of pedals.
But having Hiscox 606 home insurance meant that, despite the unfortunate chain of events, he soon got some new gear after he spoke to us. Even though the bike he lost was no longer being made, we found him a like-for-like replacement, so he was soon on the road again.
Hiscox offers many different home insurance products, please check your policy documents to confirm the coverage you have in place. If you're interested in one of our products please talk to your insurance broker or visit the Hiscox Home Insurance page of our website.