We've heard the one about the cows finding the car udderly delicious
December 21, 2015
We've all heard how a cow's lick supposedly made a bald man sprout hair. But the mysterious properties of bovine drool don't have such a positive effect on a car's paintwork, however, as one of our customers discovered.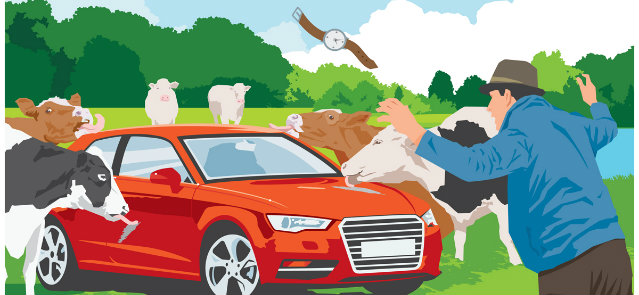 While fishing on a lake in a field, a herd of cows surrounded his car and began to lick off its paint.
As he shouted and waved frantically at the drooling dairies to moo've on, his expensive watch flew off his wrist and into the mud.
Pull the udder one, I hear you say. But it was the truth. Luckily, his flashy timepiece was covered by Hiscox watch insurance and we paid his claim on the day we received it. No bull.
Hiscox offers different home insurance products. Please check your policy documents to confirm the coverage you have in place. If you're interested in one of our products please talk to your insurance broker or visit the Hiscox Home Insurance page of our website for more details.
Read more:
We've heard the one about the meandering mower
We've heard the one about the luggage left on the motorway