We've heard the one about the horse, the swimming pool and the fire engine
February 01, 2016
No one likes an irritating nag – particularly one that's horsing around on your property, as one of our customers discovered. A pony from the stables next door made it over the fence but landed in his swimming pool.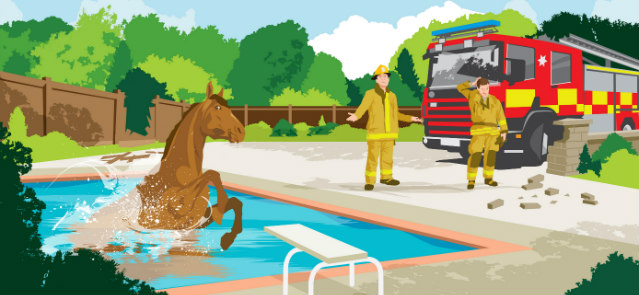 Determined the pony wouldn't be in there furlong, the neighbour raised the alert. A fire engine rushed over, but in the race to bale out the paddling pony, it didn't make it past the gate. Instead, it crashed right into it.
Saddled with a bill for the horseplay in his pool and another for his damaged front gate, it was no wonder our customer was left with a long face.
But we were soon able to end his night-mare. We paid for the damage to his pool and gate, and, after the neighbour's and fire brigade's insurers covered their share of the costs, we were able to return the excesses on his claims to our customer.
Hiscox offers many different home insurance products, please check your policy documents to confirm the coverage you have in place. If you're interested in one of our products please talk to your insurance broker or visit the Hiscox Home Insurance page of our website  for more details.