The ultimate guide to buying buildings insurance
March 02, 2016
Replacing the contents of your home is one thing, but where would you start if a flood or fire meant you actually had to rebuild your home? Hiscox highlights its six top areas for consideration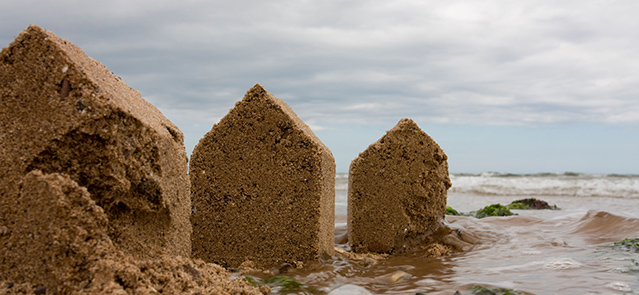 Photograph: Alamy
Buying buildings insurance is a condition of having a mortgage on a property. But even if you haven't taken out a loan to buy your home, or if you have paid off your mortgage, then you should still consider a policy simply because it protects what for many people is their biggest investment – their home.
Buildings insurance covers you against the cost of damage to your property from incidents including fire, flood and storm to subsidence or even a car careering into your front room. With buildings insurance not covering normal wear and tear, such as leaking gutters, it's worth taking the time to understand the value and risks that make up your four walls.
1. What to do before you get started
• If you are looking to insure a second home alongside your main home, or to find insurance cover for a UK holiday home, then some insurers will let you cover them all (including contents) on a single home insurance policy, which can save you money as well as time with only one renewal date.
• If your home is listed, you may need to advise your insurer as this could require specialist cover. With listed buildings prone to drainage, damp, decay and flooding problems, Hiscox can arrange bespoke cover for Grade I or II* listed properties in England and Wales on its 606 policy.
• If you rent, rather than own, a property, then it is your landlord's responsibility to buy buildings insurance. You need only to protect your belongings through contents insurance.
Expert opinion: Are you converted?
'If you own a converted flat in a house then you should inform insurers of that when you're getting quotes, as they might offer a special policy for these properties. Or it might be worth you and your neighbours taking out a block policy, which is specifically designed for multiple dwellings in one house,' says Tom Wilson, Portfolio Underwriting Manager at Hiscox.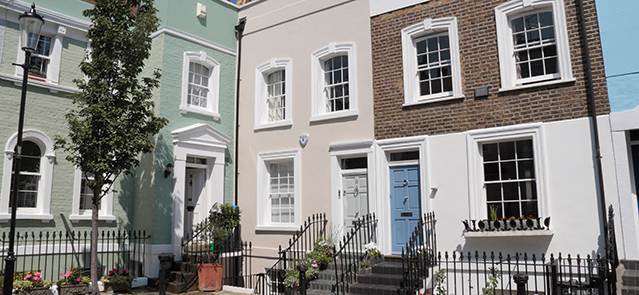 It's worth taking the time to understand the value and risks that make up your four walls. Photograph: Alamy
2. Working out the rebuild cost of your home
Buildings insurance can protect against the cost of rebuilding your house, rather than its market value. The cost of rebuilding is usually (but not always) less than how much your house would actually sell for on the market.
When it comes to rebuilding your home, some insurers set limits on the maximum rebuild cost, depending on things like the number of rooms in your home. You will also need to give your insurer a figure that comfortably covers the cost of the rebuild – otherwise you might be left with an unfinished house. You need to factor in not only the price of the materials and hiring the builders, but also fees for professionals and consultants, such as architects and solicitors, as you might need planning permission before rebuilding can start. Also, bear in mind that it could cost you a lot of money to clear the site before rebuilding can begin.
Giving an insurer the correct figure for your rebuild with any degree of accuracy can therefore be difficult, if not confusing. Hiscox understands that it's not always easy to put a price on the things you value the most and is able to insure most properties on an unlimited basis for buildings and contents.
If you want to find out how much it would cost to rebuild your home, the Association of British Insurers has a handy website that gives you an indication of how much it would cost, based on your local area and the size and type of your house.
Expert opinion: Know your limits
'The amount of buildings insurance you buy is the limit up to which an insurer will spend to recreate the house you had before it was damaged or destroyed. It isn't a guarantee that the insurer will spend that amount. So, for example, if you buy a policy for £400,000 and the rebuild cost comes to £350,000 you cannot expect the insurer to spend an extra £50,000 on fixtures and fittings,' says Tom Wilson. 'It's therefore obviously worth trying to make sure that you are fairly accurate when estimating the cost, so you don't buy more cover than you need.'
3. Hidden extras
Buildings insurance can offer a number of extra benefits, such as paying for alternative accommodation if you're forced out of your home, or footing the bill for clearing up and re-landscaping your garden following a flood or a windstorm.
These insurance extras are not to be sniffed at when you consider that the cost of chopping up and removing mature trees blown over in a storm could run into thousands of pounds. It's also good to know that your insurer will help you find suitable accommodation immediately for you and your family. If you have a major loss through flood or fire, Hiscox offers three years of cover and will put you up in a like-for-like home.
Buildings insurance also covers the cost of investigating leaks in and around your home, including domestic fuel tanks. For country homes, which are often heated by LPG or oil stored in underground fuel tanks, a leak causing damage to the surrounding area could result in a hefty bill for the property owner. If the leaking fuel pollutes local rivers and lakes, the clean-up costs – for which the property owner is liable – can be significant.
4. Choosing your excess
Many people regard buildings insurance as the ultimate safety net, covering you in the event of the very worst occurring – your house being badly damaged or even destroyed. As a result they are often happy to choose a relatively high excess (the amount you pay in the event of any claim).
Choosing a higher excess might mean that some minor claims are not covered, and it's also worth noting that some types of claims have standard excesses within the industry. So, for example, subsidence claims will usually have an excess of £1000.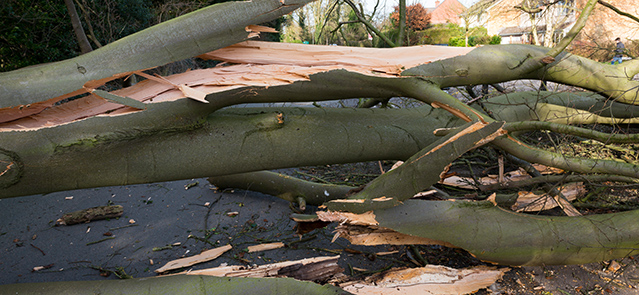 Buildings insurance can offer extra benefits, such as clearing up after a windstorm. Photograph: Alamy
5. Flood cover is changing
The way in which homes are insured against flood claims is changing. Launching in April 2016, Flood Re aims to give homeowners in high flood-risk areas more options as well as peace of mind when it comes to protecting their properties.
Flood Re is, essentially, insurance for insurance companies. This means that when a homeowner makes a flood claim, the insurer can pay out to the customer, and Flood Re will then reimburse the insurer.
Homeowners will not have to deal with Flood Re directly and should not have to do anything differently when it comes to making a claim. What high-risk homeowners should find, however, is that they can shop around for flood cover to find the policy that best suits their requirements.
Expert view: Head above water
'At the moment a homeowner may find they are very limited when it comes to buying home insurance if the property they live in is deemed very high risk and the flood-risk element of their policy carries a hefty premium. With Flood Re in place, though, the choice for many is likely to be improved as they will be able to approach any insurer participating in the scheme, a list of which will be available through Flood Re,' says Tim Slattery, Personal Lines Underwriting Manager at Hiscox.
6. And finally… beware of building work
If you are about to have major building work carried out on your home, such as an extension, then it's important that you tell your buildings insurer. There are increased risks to your property while it is a building site – everything from greater threat of fires and thefts to structural damage. If you don't have comprehensive extension insurance you could be left facing unexpected bills and a much more complicated home renovaiton project.
Check any existing policy documents to confirm the coverage you have in place. If you're interested in buildings insurance cover talk to your insurance broker or find out more details about Hiscox buildings insurance.