Kevin McCloud talks posh jackets, creating shadows and the kind of person who builds their own home
November 11, 2015
As the latest series of Grand Designs celebrates the perfect relationship between client and architect, Cover Stories meets the programme's presenter Kevin McCloud to talk about the primal need behind home building.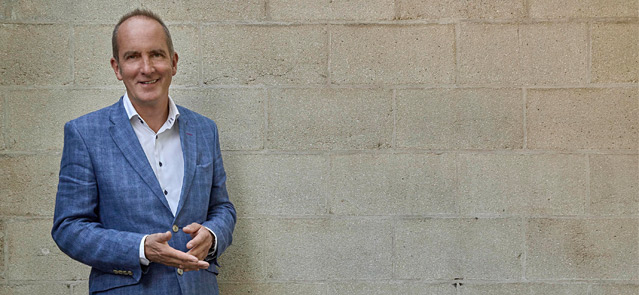 Since 1999, Kevin McCloud has followed a total of 141 homeowners in their attempts to design and build Britain's most extraordinary homes. As the presenter of Channel 4's enduringly successful series Grand Designs, he's pretty much seen it all. From an old fisherman's hut covered in black rubber to a Sussex cottage built entirely from wood felled from the surrounding forest, McCloud's career has opened up the exclusive world of modern residential architecture to the masses, inspiring a renewed passion for building from the ground up.
With Cover Stories launching its exclusive guide to building your own dream home, we catch up with the UK's architectural critic-in-chief at the launch of the latest Grand Designs series, which sees him venture into the shortlisted homes of the Hiscox-sponsored RIBA House of the Year Award 2015.
Related: A guide to building your dream home / Clare Dowdy
The houses had already been completed in this series before you visited them. What was it like doing it this way around?
Fantastic. I could finally wear my posh jackets! I didn't have to stand around in a muddy field all day talking about people having issues. In all seriousness though, it's my dream job. I get to look at beautiful buildings all day and what's not to love about that?
How difficult was it to decide on the shortlisted houses?
Grand Designs is all about celebrating architecture, so the whole idea of judging is very alien to me. But having spoken to the judges this year, they all voiced the importance of client engagement with the project. Occasionally, you visit a house where it's obvious the client had no interest at all and had just written a cheque, which is when you get a set of boxes that feel lifeless. Equally, there are houses where you feel the client has completely taken over and the house is clumsy as a result. So it's been glorious being able to visit properties where the balance of the relationship between architect and client was so obviously spot on.
Kevin McCloud accompanied the judges around the shortlisted homes for the RIBA House of the Year Award 2015 for the latest series of Grand Designs. Photograph: Channel 4
What do you think motivates people to build their own homes?
Sometimes the motivation is not always honourable. Sometimes it's about showing off. Many men of a certain age like to think that by building a house they are leaving some kind of physical testament to their success. But in most cases it's about a very primal need to make a home – to control and improve our environment. Here we are in the 21st century with our 21st century cars, and our 21st century clothing and gadgets. Why shouldn't we have a home to match? We don't have to live like our ancestors. What's fun about making this series is that finally we're emerging into a period of re-assessment where you can look back on what's been and re-invent for the future.
Is there a certain type of person who builds their own home?
People with money, obviously. But for those who are prepared to commission an architect, in a way I think humility is probably what's required because it demands collaboration. What you're essentially doing is giving all your money, your life savings, to a stranger and saying, 'Deliver my future.' That's a huge commitment. Certainly the architect feels it too. That's why any architect worth their salt will make the effort to get to know you.
What new trends have emerged from this latest series?
It's not necessarily a trend – architecture's too slow for trends – but probably the greatest innovation is the use of the design of the house to create shadows. Sussex House from the first episode of this series is a good example. It's essentially a timber box based on a glass base, but by shunting the upper timber storey forward you create a shadow that protects the glass lower level from overheating, but doesn't block out any of the light. So we're sort of in a period of shadows now. But who knows what comes next?
Sussex House, pictured above, was one of five extraordinary homes featured in the first episode of the latest series, Grand Designs: House of the Year. Photograph: Paul Riddle
The winner of Grand Designs: House of the Year will be announced on Channel 4, Wednesday 25 November. For more information about the finalists in the 2015 RIBA House of the Year, visit the RIBA website.
If you are about to get underway with a building project of your own, make sure that you are fully covered throughout the work period and once your new home is complete. With Hiscox Buildings Insurance you can get comprehensive cover for your home if it's undergoing building works over £75,000. For more details, visit our Renovations Insurance page.
Read more:
What does your home say about you? Dr Linda Papadopoulos
Can your home physically do you good?
What will the home of the future look like?