A guide to building your dream home / Clare Dowdy
November 11, 2015
Creating a custom home should be your proudest achievement rather than a self-build nightmare. Clare Dowdy guides us through six key considerations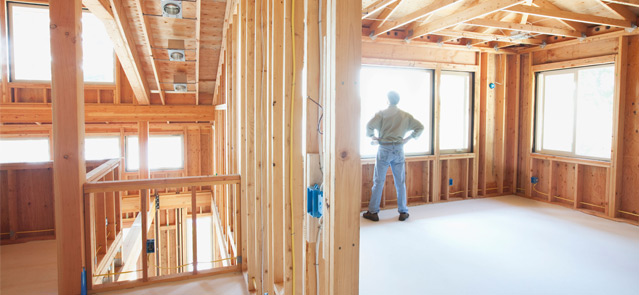 Photograph: Alamy
For some, a dream home is more than a Georgian mansion glimpsed through a hedgerow – it's something that only exists in glorious potential. Realising that potential, however, is no small undertaking. Regular viewers of Channel 4's Grand Designs have seen what happens when the dreamer becomes the client, taking on a role laden with responsibility and difficult decisions. However, with the right advice, a calm disposition and a bit of flexibility, anything is possible.
1. Finding a site: keep an open mind
Although you might have strong opinions about where you want to build, this may not be possible. 'It's quite tricky to be too specific [about location] because there aren't that many building plots around,' says architect Graham Bizley of Prewett Bizley Architects. This was his experience when he was looking to move out of the London house he built for himself to the countryside. He started with a certain corner of Somerset in mind, but 'ended up with a 50-mile radius.'
Graham suggests clients should keep an open mind about the exact location of their building plot, and 'decide on your criteria.' It's not all about views or position – for his Dundon Passivhaus in Somerset, a RIBA-nominated House of the Year 2015, Bizley was after a south-facing site, as the house was to be low energy. If the decision is proving difficult, help is at hand and Rob Earl, RIBA's client services manager, recommends the use of an architect to 'assess your site, set out the options, and carry out feasibility studies.'
Related: Kevin McCloud talks posh jackets, creating shadows, and the kind of person who builds their own home
Above, the RIBA House of the Year-nominated Dundon Passivhaus in Somerset. Photograph: Graham Bizley
2. Looking for an architect: start early
Your relationship with the architect is crucial and RIBA recommends self-builders employ an accredited RIBA Chartered Practice for peace of mind. 'They comply with strict criteria covering insurance, health and safety, and quality-management systems,' says Earl, and the institute can help people create a shortlist of architects from their 3,000-strong list. Earl recommends getting an architect on board as early as possible. One who has relevant experience is best. 'The first consultation is usually free so it pays to look around for the right practice,' he advises.
3. Working to a budget: be realistic
It's not unusual for building projects of all types to go over budget, because there are invariably unforeseen challenges. You should formalise a realistic cost plan, Bizley advises. He recommends that clients add in a 10% contingency at the start. 'You'll spend it on something,' he says, 'you just don't know what.'
4. Setting priorities: focus on the big picture
Bizley is a firm believer in getting the fabric of the house built well, which means focusing time and effort on the quality of light on space. And yet some clients can get bogged down in the minutiae. 'People become obsessed with fancy taps and light fittings,' he says, 'but you can never afford to do everything.' His advice is to compromise on smaller items like these with a view to upgrading them at a later date if they still seem important.
5. Choosing materials: think locally
Materials are often dictated by the site, says architect Charlotte Skene Catling of the firm Skene Catling de la Peña. Her practice's Flint House is a RIBA-nominated House of the Year 2015, and features with other RIBA-shortlisted properties on the latest Grand Designs: House of the Year programme.
Flint House was built near one of Lord Rothschild's favourite walks on his estate in Waddesdon, Buckinghamshire. On their first visit to the site, the architects spotted lots of large pieces of flint lying on the surface of a nearby ploughed field. 'This was the starting point of what is something like a forensic process at the beginning of any project – looking for clues from the site itself,' says Skene Catling. 'So both the forms, like jutting tectonic plates, and the building as series of strata or layers, originated in the flint pieces we first found on site.'
Flint House was designed by Charlotte Skene Catling of the firm Skene Catling de la Peña. Photograph: James Morris
6. Working to a plan: expect the unexpected
There are always unforeseen surprises on a building project, 'and many more unknowns when attempting things that haven't been done before,' cautions Skene Catling. Her firm experienced this first hand, when they began creating a 'river' to flow through Flint House. So it helps to build in not only extra funds but extra time, and patience too.
But Skene Catling believes that some of those 'surprises' can be avoided with good planning. 'Building a house can be one of the most thrilling, but also one of the most expensive and nerve-wracking experiences, very much depending on the level of preparation before starting on site,' she says. 'It is wise to use the right professionals early on, even if only to set the project up correctly and to set out realistic expectations.' RIBA's Rob Earl backs this up: 'Working with an architect from an early stage will help you turn your aspirations into reality.'
It took six men eight months to break each piece of the 180 tonnes of flint used to build Flint House. Photograph: James Morris
What's the next step?
Discover the right person to design your dream home with RIBA's find an architect service, which lets you create your own shortlist. If you're looking for inspiration, Hiscox is sponsoring the RIBA House of the Year Award 2015, which is given to the best new home designed by an architect in the UK. Broadcast over four weeks, Grand Designs is featuring the longlist and will reveal the shortlisted and winning homes.
'I was fortunate enough to meet all of the architects and the majority of the owners to see, first-hand, their passion for the homes they had created,' says James Standen, Senior Underwriter at Hiscox who sat on the panel of judges for this year's award. 'Of course, what they should also now do is make sure that they are appropriately protected to ensure that if the property is damaged, and they need to make an insurance claim, all of the wonderful architectural detail can be replicated using appropriate tradesmen.'
Design and architecture journalist Clare Dowdy has written for Wallpaper, Monocle, Wired and the Financial Times, where she wrote a regular column on product design
If you have your dream home make sure you protected it with a building insurance policy with Hiscox.