The technology sector in the UK is expanding 2.6 times faster than the rest of the UK economy. This, according to the 2018 Tech Nation Report, is an indication of not only how quickly tech companies are growing but how quickly the risks tech companies face are evolving.
High customer expectations and times pressures on tech companies sometimes lead to mistakes being made and this is when having the best team behind your client is key. Hiscox specialist technology underwriters understand your clients' business and offer broad, market leading insurance cover, whilst our in-house claims solicitors can help protect the reputation of your clients' business if something should go wrong.

How your clients can protect their business
Hiscox Technology Insurance has been developed to offer comprehensive and flexible cover to UK tech businesses of any size, from start-ups to multinationals and includes the following cover as standard:
Breach of contract
IP infringements (including patent and trade secrets, but not for US/Canada)
Negligence
Breach of confidentiality
Defamation
Dishonesty
Civil liability
Sub-contractors or outsourcers
Network security and personal data events
Key-person cover
Court attendance
Who is Hiscox Technology Insurance for?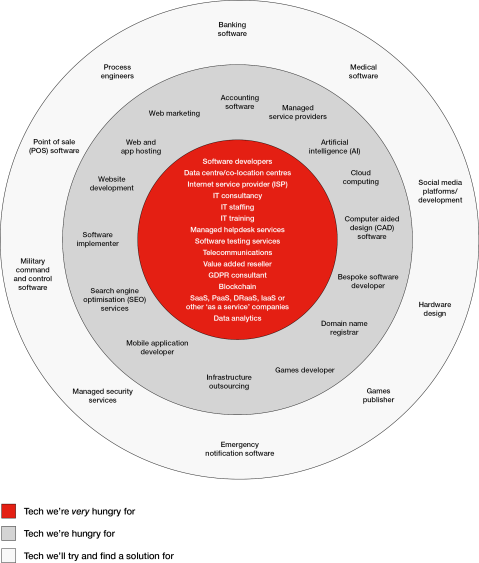 Why choose Hiscox Technology Insurance?
Dedicated in-house claims team
Our in-house technology claims solicitors handle over 80% of the technology professional indemnity claims that we receive. Rather than relying on external law firms, our solicitors are empowered to make decisions which speeds up the process of handling your clients' claim and keeps costs down, whilst giving your client a single point of contact throughout the settlement period.
Your client shouldn't leave legal requirements to chance. LawBite provides Hiscox Technology Insurance customers with a range of commercial legal services anytime, anywhere at half the cost of a conventional law firm for services such as contract reviews, intellectual property surveys and health checks. Find out more (external link)
Hiscox launched their first tech wording in 1994 and now insures more than 75,000 tech companies in the UK. As referred to in the Tech Nation 2018 report*, the risks tech companies face are evolving fast so we strive to ensure our cover is up to date. We are now on the seventh version of the policy wording meaning that we're providing cover that is cutting edge to the risks your clients face.
Hiscox Technology Insurance explained
Looking for a specific sector or product for your client?
Choose a sector or product below