We've heard the one about the meandering mower
December 21, 2015
Gardeners are used to enduring mishaps, from the weather to pests. But a green-fingered customer of ours suffered a more unusual misfortune: a meandering mower.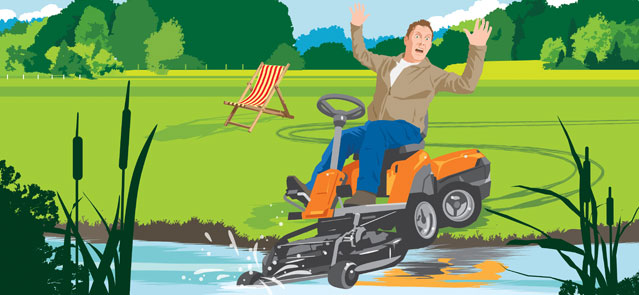 As he hit the brake to avoid hitting something on the grass, the mutinous machine instead rolled its way towards the garden lake.
Although he tried to rake control of his contrary clipper again, it trundled over the edge and into the water.
But every cloud has a silver lining. We were able to send him the money to replace his loved lawn trimmer on the same day he contacted us, because, unlike some, our home insurance covers garden machinery. His decision to choose Hiscox repaid him in spades.
Hiscox offers different home insurance products. Please check your policy documents to confirm the coverage you have in place. If you're interested in one of our products please talk to your insurance broker or visit the Hiscox Home Insurance page of our website for more details.
Read more:
We've heard the one about the cows finding the car udderly delicious
We've heard the one about the luggage left on the motorway