How to start building a jewellery collection
January 25, 2018
Amassing a beautiful jewellery collection is one of life's greatest pleasures. And while jewellery trends are constantly changing, investing in antique and vintage pieces can help ensure your collection is unique and continues to rise in value. But if you're just starting out, it can be hard to know what to buy due to the… View Article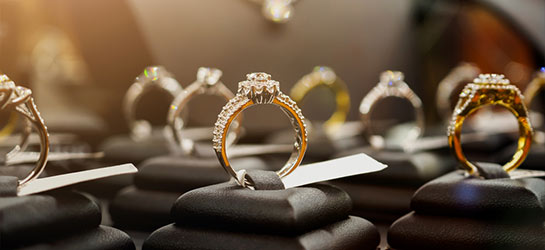 Amassing a beautiful jewellery collection is one of life's greatest pleasures. And while jewellery trends are constantly changing, investing in antique and vintage pieces can help ensure your collection is unique and continues to rise in value.
But if you're just starting out, it can be hard to know what to buy due to the sheer variety of jewellery on offer. To help, we've created a quick guide to understanding and identifying the different types of jewellery on the market, and how to distinguish between the high-value pieces and the low-value, the fakes and imitations from the real gems.
Estate, antique and vintage jewellery: what's the difference?
Estate, antique and vintage jewellery are generally considered the best pieces to invest in as they tend to be older and more likely to hold in value. But, the terms are sometimes used interchangeably (and not always correctly), so it's worth making sure you understand the terminology before spending hundreds of pounds on a vintage or antique brooch for example.
What is vintage jewellery versus antique jewellery?
Vintage jewellery refers to necklaces, brooches, bracelets and rings that are aged but not necessarily of antique age. By definition, vintage jewellery has to be at least 20 years old. The term usually refers to items from the 1920s onwards, including Art Deco pieces from the 1920s and 30s, and Retro jewellery from the 1945-1960 post-war period.
Antique jewellery, on the other hand, is usually at least 75-100 years old. It's typically made from natural materials and stones, and displays fine craftsmanship. Antique jewellery can vary in quality but, to have true value, it needs to be beautiful, rare and in excellent condition.
What is estate jewellery?
While the terms 'antique' and 'vintage' are key signifiers of an item's age, estate jewellery simply means an item that was once owned by someone else. Most people assume 'estate jewellery' has come from the collection of a deceased person, but there are other reasons an item can become available. A one-of-a-kind Art Deco or Art Noveau estate ring may be for sale because it no longer fits with the owner's collection or tastes, or the owner is looking to liquidate their collection.
Items of estate jewellery often have fascinating stories behind them. An estate ring or brooch may have been a family heirloom, or owned by a notable collector, which is what makes estate jewellery so appealing and a great investment. It goes without saying that estate jewellery can also be vintage or antique, but vintage and antique jewellery doesn't necessarily fall into the category of 'estate jewellery'.
What to look for when buying jewellery
While it's important to buy pieces that will keep their value, you should also buy jewellery you like aesthetically. After all, a jewellery collection should bring you enjoyment to look at too.
Different decades produced different jewellery styles: from the ornate metalwork of Georgian jewellery, to the nature-inspired designs in Art Noveau pieces. Reading a few jewellery books can help you narrow down which styles you like best. Doing some research will also help you identify the styles more easily when you're browsing in jewellery or dealers' shops.
When shopping for a vintage or antique piece of jewellery, remember to really inspect the item. Have a mental checklist that you can run though quickly. This should include: are there any dents, scratches or missing stones? Is the item in good condition? Are there any hallmarks or initials to confirm the piece was made in a certain period, and by the designer claimed? Are there any other features such as the type of hinge, clasp, and length of pin to help identify its date and origin?
When buying high-value items, it's always worth going through a reputable dealer. They should be able to fill in any gaps in your knowledge, and help you confirm the item's value, quality, history and provenance. They can also provide you with advice on how to identify vintage jewellery and antique jewellery at a good price, especially if you don't have time to read volumes of jewellery books.
How to clean vintage jewellery
Caring for your jewellery is an important part of building a collection and ensuring it looks beautiful for years to come. Silver jewellery can usually be cleaned with a silver polishing cloth or a tiny dab of silver polish. For other metals and materials, avoid detergents as much as possible. Often a soft toothbrush or cloth and some water is all you need to bring back a bit of sparkle to an antique pair of earrings, or jewel-encrusted ring.
Remember to store your jewellery in protective boxes so it doesn't get damaged, and with delicate necklaces it's worth hanging on a stand to avoid them getting tangled. For more information on maintaining your collection, see the jewellery care advice provided from expert jeweller Michael Rose.
Don't forget to protect your precious jewellery with comprehensive insurance too. That way, if your carefully collected items do get damaged or stolen, you won't be left at a financial loss. Discover the full range of jewellery cover available at Hiscox UK.