Anything but round: a history of Cartier watches
June 22, 2017
As an exhibition celebrates the elegant, unique work of Cartier, Tim Barber salutes the makers of the first watch designed specifically for the wrist and whose creations found their way onto Warhol's wrist
The cushion-shaped Drive de Cartier. Photo: Cartier
Picture a wristwatch in your mind and you probably think of something round. And fair enough, they mostly are. Unless your watch comes from Cartier, in which case it's likely to be anything but.
Right now at London's Design Museum, you can see quite how firmly Cartier, the great stylist of watch design, has stuck to the idea that a round watch is, quite frankly, an abandonment of ambition.
Elegant transformation
Cartier in Motion is an exhibition, curated by the architect Norman Foster, that takes a tour through 113 years of iconic Cartier watch styles, from the creative hotbed of turn-of-the-century Paris, through Art Deco, the modernism of the 1950s, the Swinging Sixties (when Cartier London was in the ascendancy) and beyond.
Foster has designed the exhibition to play out against a backdrop of the art, design and social and technological evolutions of the day – meaning that even if watches aren't your thing, it's still an absorbing show.
And throughout, there's very little on the watch front that's round. Over the past 100 years, Cartier has squeezed and pulled the watch into a great diversity of elegant forms, with descriptive names like Tortue (barrel shaped), Baignoire (oval), Santos (square) and, most famously, the Tank (rectangular), all with the same Belle Époque dial identity of blued hands and black Roman numerals against a white, sometimes guilloché-engraved background.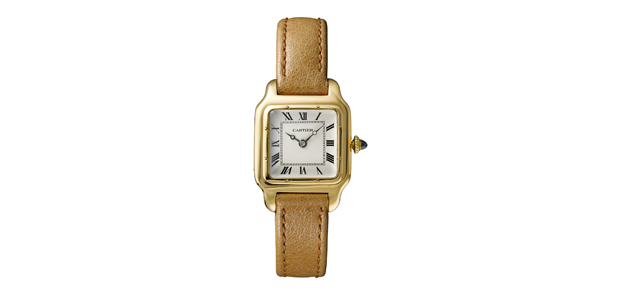 The Tank watch first appeared in 1919. Photo: Cartier
First on the wrist
Cartier's style is as identifiable as that of Rolex, and as cultivated and graceful as you'd expect from the grande maison of Parisian jewellery. That's just as it was back in 1904 when Louis Cartier produced a square wristwatch for the aviator Alberto Santos-Dumont, a glamorous maverick who wanted to be able to time his flights.
The watch Cartier made was a form-follows-function masterpiece, with a square dial surrounded by a thick, square bezel with revealed screws holding it into the tray-shaped case. This is thought to be, as it happens, the very first watch in the world designed specifically for the wrist (up to then, the only things comparable were pocket watches with lugs soldered on for threading a wrist band).
Louis clearly realised he'd come up with a bit of a doozy and put it into production, and so it has remained. The Santos (as it came to be marketed) is still a key Cartier style and has changed very little from its inception.
Tanks for the memories
One of three brothers who established the family business as a global luxury powerhouse, Louis was a true visionary. His exquisitely inventive attitude to watch design is his great legacy.
Louis' most famous coup was the Tank, a rectangular watch that appeared in 1919, though Louis first conceived it in 1917, during the First World War. Its elongated flanks, neatly holding the strap in place, gave it a resemblance to the newfangled tanks rumbling across the battlefields of Flanders.
The nickname stuck and the Tank, in a multitude of forms, has endured as a symbol of Art Deco sophistication – alongside watches like Omega's Speedmaster, a basic Rolex and Jaeger-LeCoultre's Reverso. It's an essential for any budding watch collection, and Andy Warhol, among many other prominent figures, was a notable Tank-wearer.
Of all the Cartier shapes to have appeared over the decades, the weirdest and most eccentric must be the Crash, which now comes in luxuriously skeletonized form.
The story of its creation is almost certainly apocryphal, but dramatic nevertheless: early in the 1960s, a Cartier Baignoire, the firm's celebrated oval cocktail watch, was supposedly found mangled and half-melted in the wreckage of a car crash in London. The resulting watch, reminiscent of Dali paintings, was an audacious symbol of that era's creative spirit.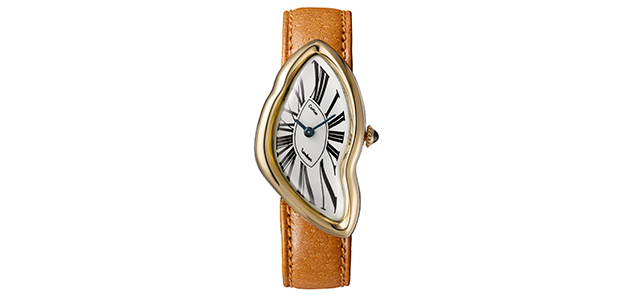 The design of the Crash was allegedly inspired by a melted oval cocktail watch. Photo: Cartier
Driving force
The quest for charismatic new watch shapes continues at Cartier. In 2015, the Clé de Cartier appeared, refining the broad lines of 1970s sports watches into something more recherché and dressy. Of broader appeal is the fabulous Drive, which appeared last year – an intriguing name for a watch that doesn't express any obvious connection to motoring.
Shape-wise, the Drive falls vaguely into the 'cushion-shaped' category, though you won't find many sofas adorned with this form. Almost a square, almost octagonal, somewhere in between, it is its own Cartier Drive-shape, and it is rather terrifically urbane, particularly in the two-hand black-tie style.
You can, of course, get a round watch from Cartier, the primary example being the Ballon Bleu, whose smooth contours give it the feel of a pebble in your hands. But I'm not sure Louis Cartier would approve of something so obvious. He'd prefer the Drive. Cartier has lacked a true, dedicated men's watch in its collections; the Drive has an attractive boldness and presence to meet the brief, without losing the elegant identity established by Louis Cartier a century ago.
Tim Barber is the Telegraph's Watch Editor and contributes to Spear's, Wired, Centurion and Business Traveller magazines
We offer tailored high-value watch cover as part of your Hiscox home and contents insurance.